Rustic cooking is unrefined and straightforward but also warm and inviting. This scallop shrimp and corn bisque is a rustic seafood bisque perfect for any fall or winter meal.
Shrimp and Corn Bisque
When I was younger, my mom made creamy shrimp and corn bisque every winter. Now, I'm married to a man whose two favorite foods are soup and seafood, so I figured a shrimp and corn bisque would be a hit in our house.
I texted my mom to ask for the recipe, and she told me a secret: it was all from cans! It was one of those Campbell's soup recipes where you dump a bunch of cans in a pot and mix it.
I do not hate this recipe my mom got from my Godmother (nanny); I have fond memories of it. These days though, I'm a cook from scratch and real-food ingredients only kind of woman. So I started my recipe from scratch.
Louisiana Shrimp Bisque Recipe
Bisque is a thick, smooth, creamy, seasoned soup of French origin, usually made with seafood and thickened with rice. You cook a small amount of rice in broth before blending it with heavy cream to thicken the soup.
Some Louisiana recipes I've found thicken bisque by making a roux, which is fine, but I find the rice method to have the correct flavor and texture. Using rice to thicken the bisque is easier too.
There is also an acidic component to all bisque recipes. Many bisques look brown because tomato paste is the main acidic ingredient.
I, naturally, went a different route. I wanted my seafood bisque to have an off-white creamy color, so I used sauerkraut as the acidic component.
Now listen, don't knock it until you try it because, y'all, this bisque is off the charts good. Like I should enter it into one of those cook-offs at a Louisiana church festival; it's that good. Be sure to use plain sauerkraut or garlic sauerkraut.
Seafood Bisque
Great news, you can use any seafood you want in bisque. I used seared scallops, shrimp, and smoked mussels (from a can). However, you can get creative and make it with lobster, crab, shrimp, crawfish, oysters, seared salmon, or any fish. Though, crustaceans are my favorite to use.
Something else I want to mention is to be sure you use green onions to make this bisque. Trust me; it makes a difference in the flavor.
I also used fermented garlic, but you can use fresh garlic if that's what you have. Lastly, please use fresh corn in this recipe, canned corn can work but fresh is best.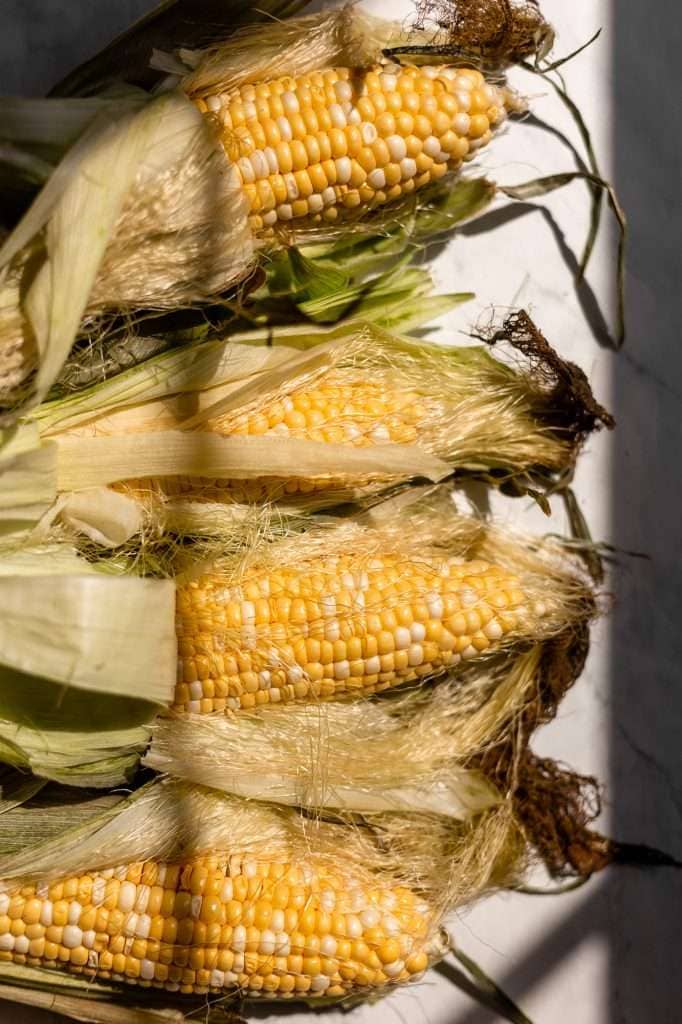 What to Serve with Scallop Shrimp and Corn Bisque
Print
Rustic Scallop Shrimp and Corn Bisque
Rustic cooking is unrefined and straightforward but also warm and inviting. This scallop shrimp and corn bisque is a rustic seafood bisque perfect for any fall or winter meal.
Author:
Prep Time:

15 minutes

Cook Time:

90 minutes

Total Time:

1 hour 45 minutes

Yield:

8 servings

Category:

Soup

Method:

stovetop

Cuisine:

Cajun

Diet:

Gluten Free
4 tablespoons

unsalted butter

1 cup chopped green onion


2

–

3

tablespoons minced garlic


1/2 cup

sauerkraut, drained and chopped

1/2 cup

white rice, dry

1 cup

heavy whipping cream

1 teaspoon

freshly ground black pepper

1

bay leaf

1/2 teaspoon

cayenne pepper, ground (or more to taste)

6 cups

chicken stock

1

pound shrimp, peeled and deveined


1

pound scallops

1

can of smoked clams, drained and patted dry

4

ears fresh sweet corn

, shucked

3 tablespoons

chopped parsley

3 tablespoons

chopped green onion tops
Sea salt
Extra butter
Instructions
In a 5.5 quart dutch oven, melt butter and saute onions and garlic until they turn soft.
Reduce the heat to medium-low and add the rice, sauerkraut, cayenne, and black pepper in with the butter and onions, stir and cook for about 2 more minutes.
Add the chicken stock, and bring to a simmer.
Reduce heat to low, add one bay leaf, cover, and simmer for about 30 minutes until the rice is soft.
Remove the bay leaf, stir in the cream, then using an immersion blender or in batches in a countertop blender, puree the soup until completely smooth. If using a countertop blender only fill it halfway when blending hot ingredients.
On low heat bring the soup back up to a very low simmer with occasional stirring.
Shuck the corn and carefully cut it off the cob.  Reserve about 1/4 cup for garnish, and add the rest to the soup.
Add the smoked mussels and parsley to the soup.
In a skillet over high heat, melt about 1 tablespoon of butter. once the melted fat beings to smoke, sear the scallops for about 1 minute on each side.
In the same pan sear the shrimp. Again, you want the pan to be smoking hot and you only need to cook the shrimp briefly, maybe 30 seconds on each side.
Add the shrimp and scallops to the pot of soup. (You can reserve a few for plating if you care about presentation)
Continue cooking the soup on low heat for about 30 more minutes, stirring frequently. Taste the soup and add sea salt to taste.
Serve garnished with parsley, green onions, fresh corn, and any reserved seared seafood.
Keywords: bisque, seafood, scallop, shrimp