Use up some of that sourdough starter discard in these buttery, flaky, delicious sourdough biscuits! Packed with flavor from your tangy sourdough starter, these ultimate flaky buttermilk biscuits are the best you'll ever have.
The Most Delicious Buttery Biscuit
After you try these sourdough discard biscuits, they're the only biscuits you'll ever want! I love eating them as little breakfast sandwiches with eggs, prosciutto, sauerkraut, and baby kale.
They're also excellent served with cheese grits, braised chickpeas, or soup.
Easy Sourdough Biscuits
These biscuits are simple to make, and you only need about 30 minutes of prep time while your oven preheats to make them.
This is a sourdough starter discard recipe, so there is no long rise time or stretch and folds. You mix the dough, cut, and immediately bake.
You get the best texture if you bake these biscuits immediately. You do have the option of long fermenting the biscuits, though.
If you want to, you can make the recipe, cut out the biscuits then place them on a baking sheet and stick them in the fridge for 24-48 hours before baking them. The long fermentation in the fridge develops the flavor and makes them easier to digest.
Jon loved these biscuits so much, so I'm planning to make them weekly with all the starter I don't use to make my sourdough bagels and boules.
Can You Freeze Biscuit Dough?
Yes! You can make them the night before and freeze the raw biscuits.
In the morning, preheat your oven, and they can go right into the oven still frozen. I like to make a double batch of this recipe so I can have homemade biscuits always ready to serve.
Ultimate Flaky Buttermilk Biscuits
Buttermilk biscuits are usually made with, well, buttermilk. Since we are using sourdough starter in this recipe, the starter provides enough acidity for the biscuits to rise and cook properly.
I wanted a flakier buttery biscuit, so I used cream and milk instead of buttermilk. In the recipe, you'll whisk the cream, milk, and sourdough starter together and let it sit for a bit, so it essentially has the sour flavor of buttermilk while being thicker and creamier.
How to Make Sourdough Discard Biscuits
These biscuits' delicious flavor comes from butter and tangy sourdough starter. Make sure the discard you are using is fresh and not too old. You're supposed to feed your starter every 24 hours, so your discard should never be older than 24 hours.
For the biscuits to rise and be perfectly flaky, you must follow all the ingredients and instructions exactly. Please make sure you use fresh baking soda, too; it's essential for the texture.
I also want to note the importance of using frozen real butter, and my favorite butter is Maple Hill Organic 100% grass-fed butter.
You can use a biscuit cutter to cut out the biscuits, but I use a mason jar or juice glass to cut them out, and it worked great.
Another option is to cut the dough into square biscuits so you won't have any of those not-so-perfect, re-rolled from scraps biscuits.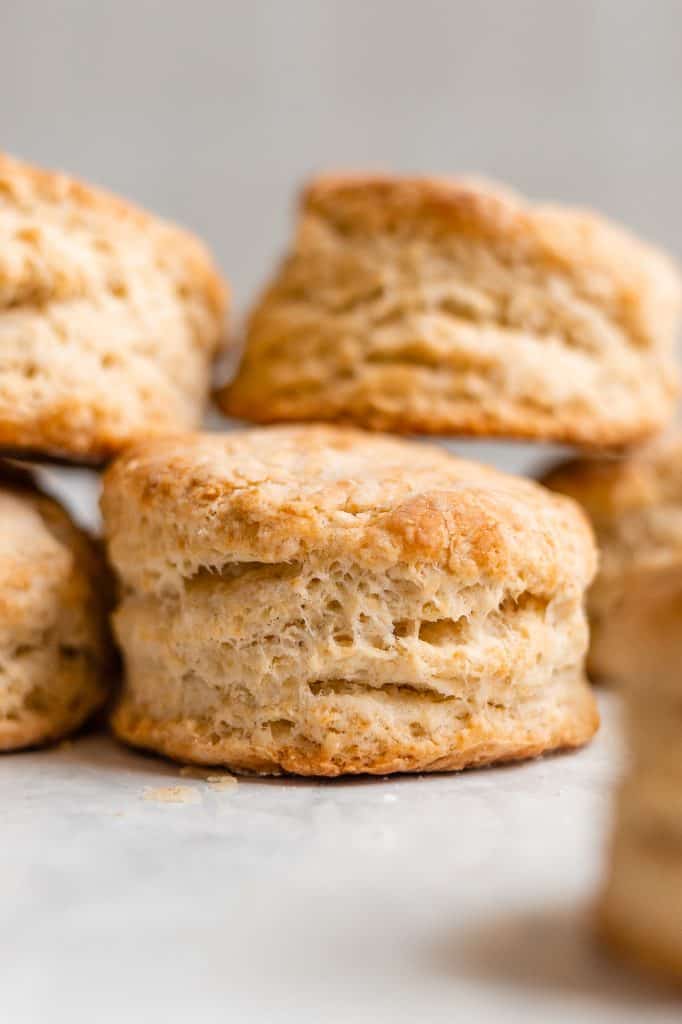 Print
Buttery Flaky Sourdough Biscuits From Scratch
Use up some of that sourdough starter discard in these buttery, flaky, delicious sourdough biscuits! Packed with flavor from your tangy sourdough starter, these ultimate flaky buttermilk biscuits are the best you'll ever have.
Author:
Prep Time:

30 minutes

Cook Time:

20 minutes

Total Time:

50 minutes

Yield:

8-10 biscuits

Category:

Sourdough

Method:

Baking

Cuisine:

American
2 cups

all-purpose flour

2 teaspoons

sugar

2 teaspoons

baking powder

1 teaspoon

sea salt

3/4 teaspoon

baking soda

1/2 cup

unsalted butter, frozen overnight

1 cup

active bubbly sourdough starter

1/4 cup

whole milk

1/4 cup

heavy cream
Instructions
Preheat the oven to 450 degrees F.
In a medium bowl, whisk together sourdough starter, cream, and milk until just combined. Let the mixture sit for about 15 minutes while you prepare everything else.
Line a baking sheet with parchment paper.
In a large bowl, combine flour, sugar, baking powder, salt, and baking soda. Mix with a fork until evenly combined.
Grate butter using the large holes of a cheese grater.
Add the cold grated butter into the flour mixture.
Add the milk, cream, and starter mixture to the flour mixture and stir with a spatula until a soft dough forms.
In the bowl, knead the dough 2-3 times until it comes together. Don't knead it too much, but make sure there are no really dry areas and the dough is all stuck together in one piece.
Lightly flour your counter, and using a rolling pin, roll the dough into a thick rectangle.
Cut out 8 rounds using a 2-inch biscuit or cookie cutter or the mouth of a mason jar.
Place biscuits onto the prepared baking sheet. Place in the oven and bake for 15 minutes, or until golden brown. I rotate the pan halfway through for even color.
Serve warm with butter and jam.
Notes
your starter should be wet (100% hydration), active and bubbly
when you measure your flour, spoon the flour into the measuring cup; do not pack the cup with flour.
Keywords: sourdough, biscuits, discard