This golden beet kvass tastes good because it is made the traditional Russian way, with sugar! Beetroot kvass is a sweet and tart sparkling drink made by fermenting beets with sugar, water, and rye bread.
What is Beet Kvass
The word Kvass in Russian means to ferment, and Russians have made beet kvass for hundreds of years as a sparkling and refreshing soft drink. You make kvass with beets, sugar, water, and a little piece of rye bread (more on that later).
Also, Poland, Ukraine, Latvia, and other Eastern European countries have their versions of kvass.
I think it is essential that I tell you what the beverage beetroot kvass is not. It is not "lacto-fermented beets," it is not made with salt and shouldn't taste like salty dirt.
Slavic and Russian kvass drinks all use sugar, not salt. The fermentation process of kvass and the microbes involved are similar to kombucha, a yeast and acetic acid fermentation that requires sugar.
Beets contain a lot of fructans, which are natural fermentable sugars, so adding sugar leans into the natural way beets ferment.
The Salty Version of Fermenting Beets
It's common in other Slavic countries for people to ferment beets with salt and then cook it into borscht, a beet soup. Since kvass just means "to ferment" salt-fermented beets are also called kvass, but there is a huge difference between the kvass destined for cooking and the kvass meant to be enjoyed as a beverage.
When you compare beets fermented with sugar and beets fermented with salt, there are stark differences in flavor, microbes, and fermentation byproducts. (To learn more about fermentation science you can join our online course!)
Americans, unfortunately, culturally appropriated and popularized salty beet kvass as a full-on drink, when it's not usually used as a drink.
Eventually, American health food bloggers and even book authors started regurgitating kvass beverage recipes with salt on their blogs, calling it a drink. Essentially, they erased knowledge of how the drink kvass historically was made with sugar—erased it from the first page of google, anyways.
So let's get back to making the kind of kvass you drink, the time-tested, historically healthy way, with sugar.
Beet Kvass Benefits
Russians believe that beet kvass has healing powers, and I do too! It's often called "the elixir of youth."
It's proven to help with blood pressure issues, to boost energy levels, support brain health, reduce inflammation, provide probiotics, balance gut health, provide electrolytes for mineral balance, cleanse toxins, and support healthy blood flow.
Since beet kvass is fermented, vitamins like folate (vitamin B9), manganese, potassium, iron, and vitamin C are more bioavailable. Fermentation also dramatically reduces the oxalates in beets, making it one of the most healthy ways to consume the benefits of beets.
Beet kvass is an excellent way for people with IBS to get the benefits of beets. Beets are a high FODMAP food, often problematic for people with IBS to digest.
Through the fermentation process, the microbes digest the FODMAPs, making it much easier for you to digest and absorb all the beneficial vitamins and minerals from beets.
How Much Beet Kvass Should I Drink Per Day
Since most people's first experience with drinking kvass is the salty kind, there is this bad reputation that it can cause digestive upset, so you should start with a tiny amount and adjust to it. (I'm rolling my eyes).
Beet kvass is not supposed to cause diarrhea, or as some people call it, "bowel cleansing." LOL. Adverse effects from fermented foods and drinks are 99% of the time caused by someone not fermenting or producing it correctly.
When you make it the traditional way, beet kvass should not cause any digestive distress. You should be able to drink a glass of kvass the same way you would drink a glass of kombucha, and it even tastes similar.
I drink an 8-ounce glass at a time, usually once a day when I have some made. I love to drink it around 3 pm because it boosts my energy.
If you have kidney stones, bladder disease, gout, stomach ulcers, or rheumatoid arthritis, or if you are pregnant, you should consult your doctor before trying beet kvass.
How to Make Beetroot Kvass
I am well versed in developing fermented vegetable recipes from scratch because I studied that process in college. But when it comes to cultural recipes I don't have much experience with, I turn to recipes passed down by grandparents and great-grandparents to learn.
I think there are two ways to get fermentation right. The first is understanding the microorganisms and creating a recipe that caters to the natural physiology of the microbes. The second is historical and time-tested recipes passed down for generations within families, meant to be followed precisely.
I learned how to make kvass from a Russian food blogger, Peter. He grew up drinking beet kvass made by his dedushka (Russian grandfather).
After learning from Peter's blog, I developed my golden beet kvass recipe, with different ratios of ingredients and precise measurements. I also incorporated a secondary fermentation to carbonate it.
I want to add a note on the rye bread I mentioned earlier. It's an optional ingredient, but Peter's dedushka always added a piece of crusty rye bread, so I added it. I think it's a good source of yeast and flavor.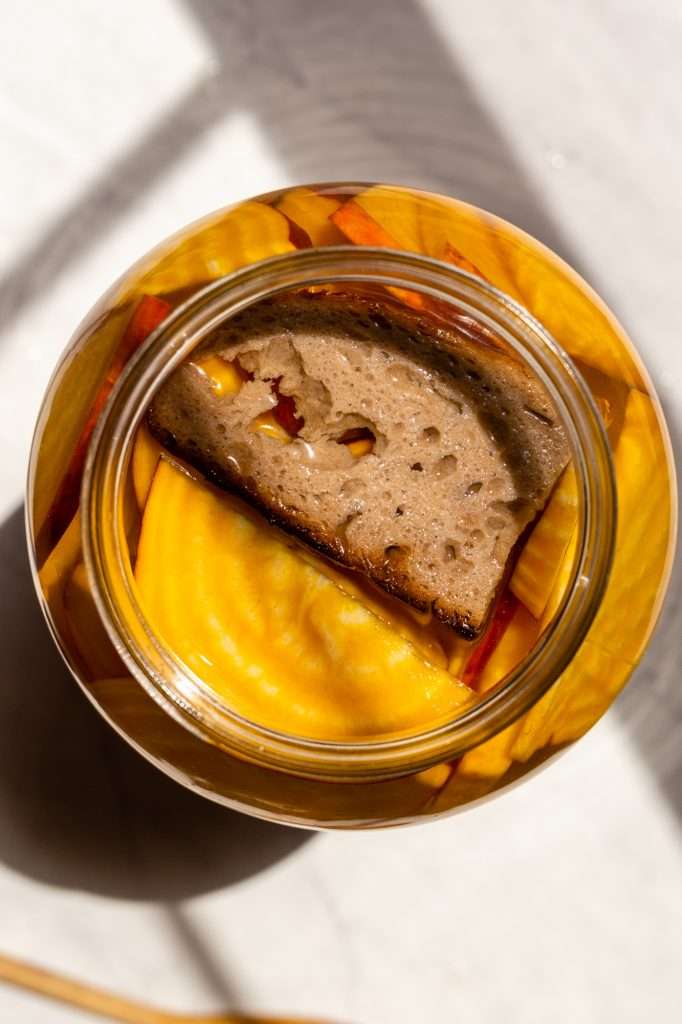 Golden Beet Kvass Recipe tips:
Use a 1-gallon glass jar covered with a tight weave cloth.
You should use homegrown or farm-fresh organic beets for the best results. Do not use frozen or processed chopped beets; use whole fresh beets with the peel.
It's ok to skip the rye bread, but it is a delicious addition.
Do not use salt; it's never been in the original beverage recipe.
You can incorporate added yeast or a tablespoon of raw kombucha to ensure a robust fermentation.
You need to stir the kvass twice daily with a clean spoon before it is bottled. IF YOU DO NOT STIR IT, YOU WILL ENCOUNTER PROBLEMS. DO NOT FORGET TO STIR IT.
Always make sure you use pressure-safe bottles for part two.
You can use the beets more than once, but the color will fade with each batch. I'd only use them twice.
Print
Sparkling Golden Beet Kvass Made the Traditional Way
This golden beet kvass tastes good because it is made the traditional Russian way, with sugar! Beetroot kvass is a sweet and tart sparkling drink made from beets, sugar, water, and rye bread.
Author:
Prep Time:

10 minutes

Fermentation Time:

6 Days

Total Time:

144 hours 10 minutes

Yield:

1 gallon

Category:

Fermented Drinks

Method:

Fermentation

Cuisine:

Russian
3

large gold beets, rinsed and sliced

150 grams

organic cane sugar
filtered water

1

small piece crusty rye bread
Strained kvass from part 1

20 grams

maple syrup or honey
Instructions
Part One
Please see the recipe notes before you get started.
Clean and sterilize your glass jar.
Scrub any dirt off the beets and rinse clean with cool water. Slice the beets and set aside.
Add the beets and sugar to the jar. Fill the jar with filtered water. Stir to combine until the sugar is completely dissolved.
Add the small piece of rye bread (optional).
Cover with a cloth lid, and allow to ferment for 3-4 days at room temperature (about 75° F).
Stir the mixture twice a day with a clean utensil during the 3-4 days.
You should see it begin to bubble within 24-48 hours. You'll also notice the mixture become cloudy and vibrant in color.
Part Two
After 3-4 days, strain and reserve the liquid from the fermented beet mixture. I suggest straining through a cheesecloth-lined colander. 
Using a funnel, add 20 grams of organic maple syrup to your pressure-safe bottle. I used a 1-liter bottle. (tip: For higher levels of carbonation, try using 30 grams of honey instead)
Fill the bottle with the strained fermented liquid from part one, leaving only a little head space, about 1/2 an inch.
Allow it to ferment and carbonate in the bottle for 2-3 days, then store it in the fridge. You can check the carbonation at 2 days by carefully opening the bottle in the sink. If it is not as bubbly as you would like it, allow it to ferment at room temperature longer without opening the bottle.
Enjoy chilled.
Notes
Optional: you can add 1/4 teaspoon cider yeast or a tablespoon of kombucha to part one, this results in the best carbonation.
If it is cold in your home, parts one and two may take longer. Once the mixture in part one becomes cloudy, vibrant, and bubbly, and ferments like that for about 24-48 hours, you can move on to part two.
The level of carbonation is dependent on how long the mixture was fermented in part one, the temperature in your home, and how long you leave it in part two.
You may notice the liquid becomes thicker and slightly viscous in part one, this is completely normal and the natural state of beet kvass. The viscosity will decrease the longer it is bottled and stored in the fridge.
yes, you can use red beets instead of gold.
Keywords: kvass, beets, russian, beet kvass