Moroccan preserved lemons are so easy to make! This is the best way to preserve lemons, and the whole lemon is used. You only need two ingredients, lemons and sea salt. This recipe takes about 10 minutes to prep and four weeks of fermentation time.
What are Moroccan Preserved Lemons?
Cured lemons have long been a part of Mediterranean and Middle Eastern cooking, although most people associate them with North African, and particularly Moroccan cuisine.
Sometimes a plain squeeze of lemon juice on top of a dish is not enough, and that's when we want to use preserved lemons. They add BIG flavor. The flavor can be described as highly citrusy, floral from the oils in the peels, and full of umami flavors from fermentation.
Preserved lemons add a fermented quality that regular lemons do not.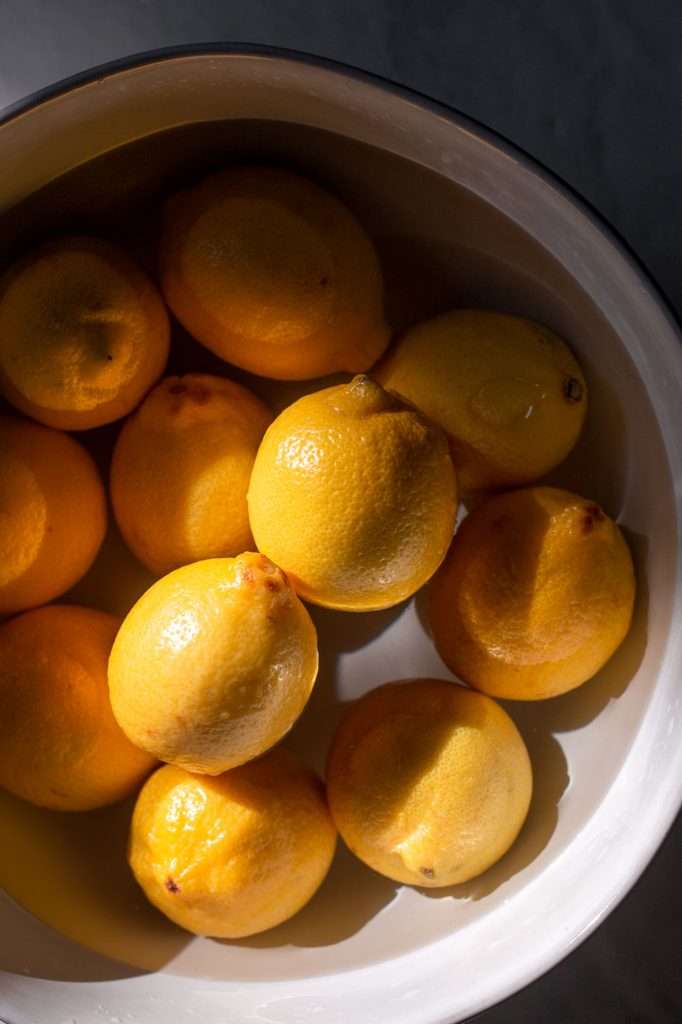 Moroccan Preserved Lemons
Long ago, as lemon trees spread from Morocco to India, so did the want and need to preserve them. Originally, lemons were preserved for the same reason all things are preserved—to store and eat them even when they are out of season.
Before refrigeration, preservation almost always happened through salting and/or fermentation. The earliest recipe for preserved lemons is recorded in the 12th-century Egyptian treatise On Lemon, Its Drinking and Use, by the Arabic-speaking court physician Ibn Jumay.
Jumay's 900-year-old recipe is almost exactly like the preserved lemon recipes we see today. According to Toby Sonneman's Lemon: A Global History, the recipe calls for "slitting the fruit and filling the gashes with salt, then pressing them into a jar, covering with lemon juice and letting them ferment for weeks." In this recipe, we follow similar methods.
The hardest part of this recipe is quartering the lemons without slicing them all the way through. It helps to cut the ends off the lemons so you can stand them flat on a cutting board to quarter them.
You want the quarters to stay attached on one end so that the lemons kind of open up like a flower to hold the salt.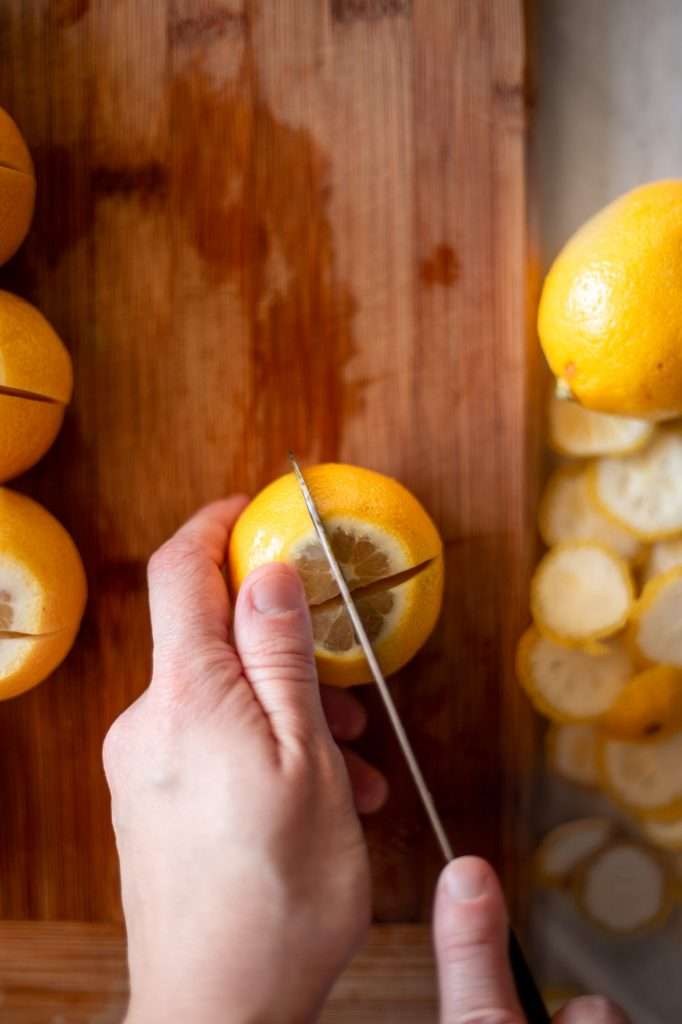 Recipes with Preserved Lemons
This is the traditional historical recipe I've based mine off of… except I use weight measurements for consistency. Limes and grapefruits can also be preserved the same way, leading to all kinds of fun fermentation experiments and recipes this summer.
I plan to let mine ferment for a month; then they will keep in the fridge indefinitely. I'll probably use them in salads and light, fresh meals on hot days this summer. I'd love to develop a Mediterranean lamb burger recipe that calls for preserved lemons.
To use these fermented lemons, you can chop and use them as is for a source of lemon flavor and salt, or you can rinse the lemons. I mostly discard the pulp, then rinse the rind well to chop and use anywhere I'd use lemon zest.
It doesn't take much fermented lemon to add a delicious bright lemon flavor to recipes.
Click here to try my shrimp ceviche recipe with fermented lemon.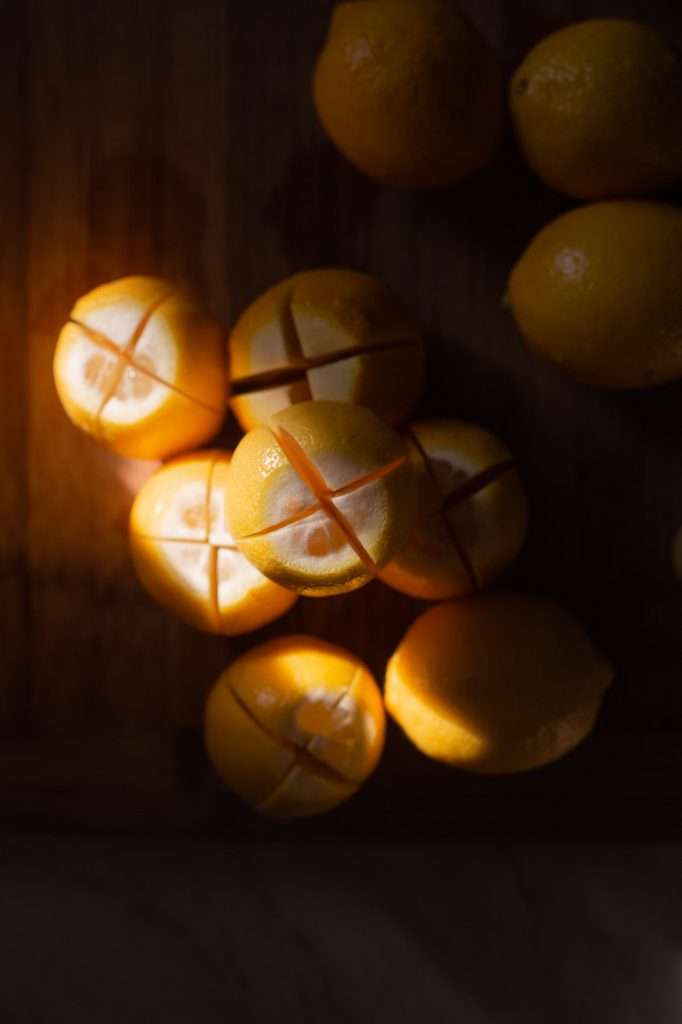 Preserved Lemon Recipe
Here are the supplies you need:
Standard Metal Mason Jar Lid (this can rust in the presence of salt)

or you can use a Weck Jar (without the gasket; only use the clips to secure the lid)
Sea Salt

Mixing Bowl
Fermented Lemons
Here are the fermentation conditions for these lemons:
20% Salt
4 weeks of fermentation
60-80°F
Final pH about 3
Store in the refrigerator indefinitely; these lemons also keep at room temperature for a year.
Other Fermentation Recipes to Try
Print
How to Make Moroccan Preserved Lemons with Sea Salt
Moroccan preserved lemons are so easy to make! This is the best way to preserve lemons, and the whole lemon is used. You only need two ingredients, lemons and sea salt. This recipe takes about 10 minutes to prep and four weeks of fermentation time.
Author:
Prep Time:

10 minutes

Fermentation Time:

4 weeks

Total Time:

672 hours 10 minutes

Yield:

32 Ounces

Method:

Fermentation

Cuisine:

Moroccan
1300 grams

fresh lemons (about

8

to

10

small lemons)

250 grams

sea salt

2

extra lemons for juicing (if needed)
Instructions
Wash all of the lemons, and weigh out 250 grams of salt in a bowl
Cut the ends off the lemons, then starting at one end, cut each lemon into quarters, without cutting all the way through (see photos above).
Over a large bowl, fill the crevices of the lemons with copious amounts of salt.  Fill each lemon with salt until all the salt is used up.
Start packing the whole lemons into a clean large jar. A quart mason jar worked well for me, but depending on the type of lemon you use, you may need a bigger jar. You will have to wedge them in as tightly as possible, and lemon juice will be released in the process.
Once the jar is full make sure all the lemons are submerged in lemon juice. If you need to, juice two lemons and add the juice to the jar.
Place a lid on the jar and allow the lemons to cure at room temperature for 4 weeks. You can allow the lemons to cure for up to a year at room temperature. They will darken the longer they cure.
Once opened, store in the fridge indefinitely. Rinse off any excess salt and brine before using the preserved lemons in recipes. You can discard the pulp and use the well-rinsed rind anywhere that you'd use lemon zest.
Keywords: lemons, cured lemon, preserved lemon