My vegan beet burger patties won't fall apart on the barbecue grill! These beet burgers are perfect for grilling season and make a great plant-based option for any summertime barbecue.
Vegan Beet Burger Recipe
Combining the right ingredients in the right ratios to form a vegan burger patty that doesn't fall apart can be difficult, but not with this recipe! We cooked these burgers in the oven AND outside on the BBQ grill… and they stayed together in cute, vibrantly colored little patties. 
I include oven-baking as the main cooking method in the recipe card, but you can grill the patties on the barbeque. To grill the burgers, start by following the exact directions. After you baste the burgers with oil, grill them on your BBQ grill for 6-8 minutes on each side.
When grilling these burgers on the BBQ, it helps to clean your grill first. Before starting your grill, clean the grates. Then, rub a high smoke point oil on the grates using paper towels to coat them. I suggest using avocado oil or saturated fat, like tallow.
Ingredients to Make a Grillable Beet Burger
The main ingredients for this veggie burger recipe are pretty simple. Here's what you'll need:
Beets: adding cooked beets helps keep the burger patties soft and juicy. I don't like my veggie burger patties to be dry, so adding beets helps provide beautiful color.
Chickpeas: You can use any bean in this recipe, like white beans or red beans, but I prefer Chickpeas as the main source of protein in these veggie burgers.
Quinoa: Cooked quinoa adds texture and helps hold the burgers together. Quinoa also adds protein and fiber.
Rolled Oats: I love adding rolled oats to my veggie burger recipes. Oats contain beta-glucan, so if the mixture is too wet, oats help absorb excess moisture and bind everything together.
Other ingredients: Besides the main ingredients above, you'll need miso, garlic, onion, vegan steak sauce, tamari, smoked paprika, and tahini.
Can You Use Frozen Beets for Beet Burgers?
Yes! That is what I call for in the recipe. The beets should be cooked frozen beets, without the peel.
You can use fresh beets to make vegan beet burgers, but you will need to cook them and peel them first. To cook the fresh beets, you can boil them or roast them. I think roasted beets are nice in this recipe.
To roast your beets, first, peel them, then place them on a sheet pan lined with parchment paper. Roast them at 425 until they are fork tender.
I also want to mention that you can use golden beets in this recipe. The color of the patties will, of course, be different. I've tried golden beets in these vegan burgers, and everyone loved them.
Ideal Toppings for Veggie Burgers
You can use whatever burger toppings you enjoy most. We used arugula, mustard, red onion, and fresh cucumber for the pictures.
Some other toppings I suggest trying:
Avocado
Classic lettuce, tomato, and pickles combo
Spinach
Vegan Cheese
Recipes to Pair with the Veggie Burgers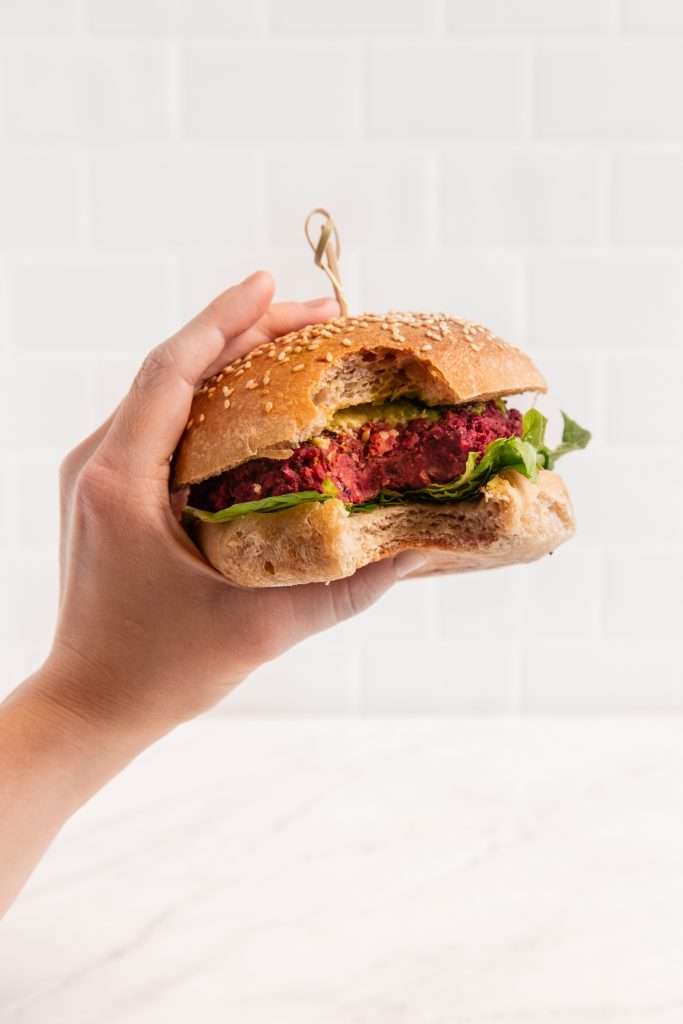 Print
The Best Vegan Beet Burger Recipe
My vegan beet burger patties won't fall apart on the barbecue grill! These beet burgers are perfect for grilling season and make a great plant-based option for any summertime barbecue.
Author:
Prep Time:

30 minutes

Cook Time:

30 minutes

Total Time:

1 hour

Yield:

6 servings

Category:

main

Method:

grilled/baked

Cuisine:

American

Diet:

Vegan
1 Cup

Frozen Beets, Cooked 

2 Cups

Chickpeas, Cooked

1 Cup

Quinoa Cooked 

1 Cup

Rolled Oats

1/2

Medium Onion Minced 

2

Garlic Cloves Minced 

2 Tablespoons

Tamari 

2 Tablespoons

Vegan Steak Sauce 

1 Teaspoon

Smoked Paprika

2 Tablespoons

Tahini

2 Tablespoons

Miso

2 Tablespoons

Rice Flour

1 Tablespoon

Olive Oil
Toppings
Burger Buns 
Avocado
Lettuce
Mustard and Other Condiments
Instructions
In a food processor, pulse all of the burger patty ingredients except the olive oil until evenly combined.
Place mixture in the fridge for two hours.
Line a baking pan with parchment paper and preheat your oven to 400 F.
Form the burger mixture into patties, by rolling into a ball then press it down onto the parchment paper-lined pan.
You can make these patties any size you'd like.
Brush the patties with olive oil.
Bake for 15-20 minutes, then flip and bake for another 15-20 minutes.
Assemble the burgers with patties and toppings, serve and enjoy!
Notes
to cook on the grill, brush the patties well with oil and grill on each side for about 6-8 minutes.
Keywords: Veggie Burger, Beet Burger, Grillable Veggie Burger, Vegan Burger