My dutch oven chicken pot pie recipe is an easy sourdough chicken pot pie made in a 5.5-quart dutch oven, topped with buttery sourdough biscuits.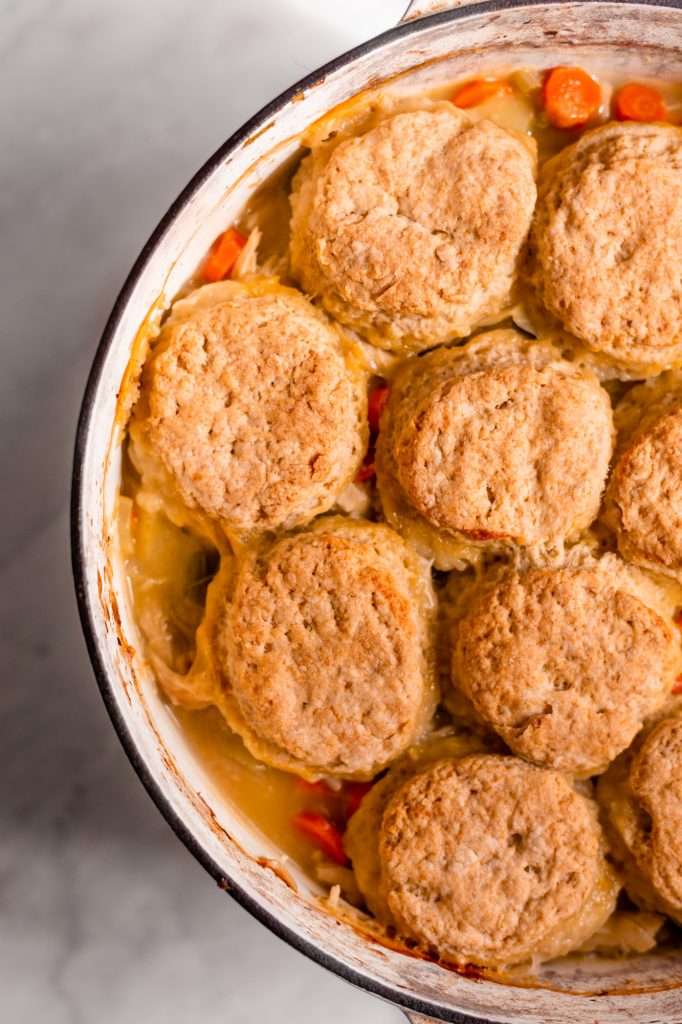 Sourdough Chicken Pot Pie
The first time I made this recipe, Jon and I sat down to eat with a glass of wine and he said at least three times "you can make this again and I wouldn't be mad." Which is his way of saying to put this recipe in the regular winter meal rotation.
He and I both love large-batch meals we can eat for a few days.
My sourdough chicken pot pie is a very healthy dinner option too. Often people think of pot pie as an indulgent, not-so-good-for-you meal. However, when you make it from scratch with bone broth, fresh vegetables, organic cream, and long-fermented sourdough biscuits, it's a nutrient-dense and healthy dinner.
Dutch Oven Chicken Pot Pie with Sourdough Biscuits
I like to think that pot pie is just a really thick and creamy chicken soup with vegetables and biscuits on top.
So that's how I created this recipe. I adapted my chicken noodle soup recipe, added cream and more vegetables, and used my flaky, buttery sourdough biscuit recipe for the topping.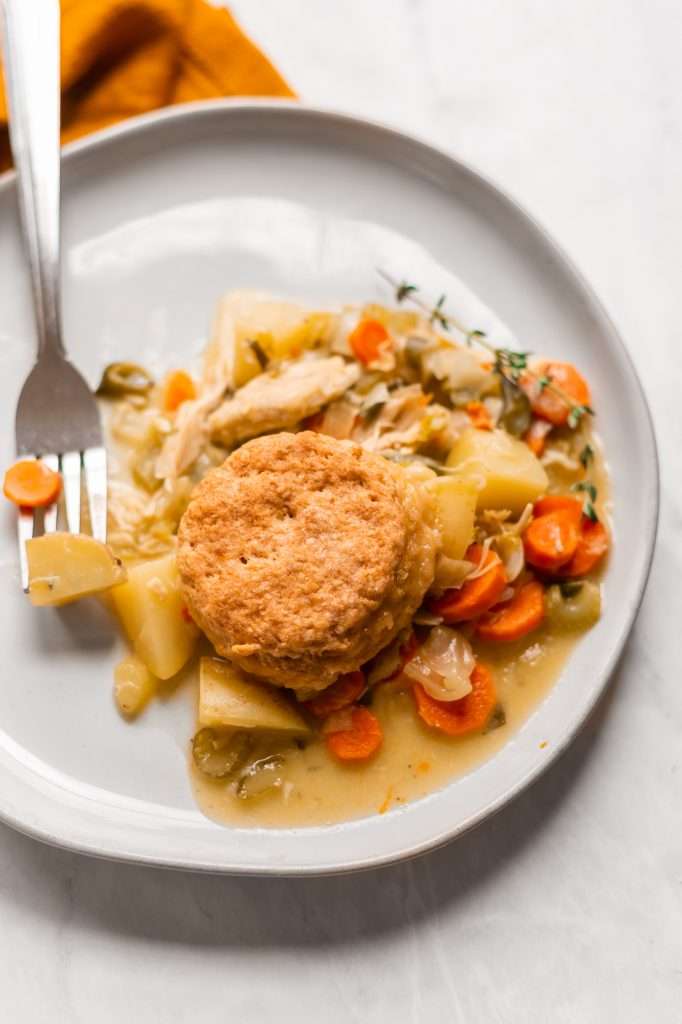 Dutch Oven Chicken Pot Pie Ingredients
If you scroll down to the recipe card you may be initially overwhelmed by the ingredient list. Yes, it looks long, but it's pretty basic and really just a lot of vegetables and herbs.
So make sure your knives are sharp and get out your cutting board because the most difficult part is chopping. Other than your basic aromatics, you'll need bone broth, cooked chicken, heavy cream, and sauerkraut to make the pot pie base.
I love using organic rotisserie chicken from whole foods in this recipe. You can use any cooked chicken though.
You only need simple ingredients for the biscuit topping too. The most important thing I'd like to note about the biscuit ingredients is the butter. It needs to be frozen. I like to freeze a stick of butter overnight, but putting it in the freezer for about 3 hours will suffice.
Chicken Pot Pie Dutch Oven Recipe
The thing I love most about this recipe is that it's a one-pot meal! You only need one dutch oven to cook everything.
I suggest using a 5.5-quart dutch oven for this recipe. I have a milo dutch oven that I use for recipes like this and it's a lovely addition to my kitchen. My milo dutch oven is great for baking sourdough boules too.
More Warm and Nourishing Dinner Recipes to Try
Print
Dutch Oven Chicken Pot Pie with Sourdough Biscuits
My dutch oven chicken pot pie recipe is an easy sourdough chicken pot pie made in a 5.5-quart dutch oven, topped with buttery sourdough biscuits.
Author:
Prep Time:

20 minutes

Cook Time:

1 hour

Total Time:

1 hour 20 minutes

Yield:

8 servings

Category:

sourdough

Method:

baking

Cuisine:

american
Chicken Pot Pie
2 cups

baby potatoes, chopped

2 cups

carrots, sliced

2 cups

celery, chopped

1/4 cup

butter

1

medium yellow onion, minced

4

garlic cloves, minced

4

fresh thyme sprigs

3 cups

chicken bone broth

4 tbsp

flour

1/2 cup

fresh parsley, chopped

2 cups

green beans, chopped

4 cups

chicken, cooked

1 cup

sauerkraut, drained

1/2 cup

heavy cream
fresh cracked black pepper
Sea salt, add to taste depending on the saltiness of your broth and kraut
Sourdough Biscuit Topping
2 cups

all-purpose flour

2 teaspoons

sugar

2 teaspoons

baking powder

1 teaspoon

sea salt

3/4 teaspoon

baking soda

1/2 cup

unsalted butter, frozen

1 cup

active bubbly sourdough starter

1/4 cup

whole milk

1/4 cup

heavy cream
Instructions
Make the biscuit topping
If you want to long ferment the biscuit topping, start this recipe the night before you plan to eat pot pie.
In a medium bowl, whisk together sourdough starter, cream, and milk until just combined. Let the mixture sit for about 15 minutes while you prepare everything else.
In a large bowl, combine flour, sugar, baking powder, salt, and baking soda. Mix with a fork until evenly combined.
Grate butter using the large holes of a cheese grater.
Add the cold grated butter to the flour mixture.
Add the milk, cream, and starter mixture to the flour mixture and stir with a spatula until a shaggy dough forms.
In the bowl, knead the dough 2-3 times until it comes together. Don't knead it too much, but make sure there are no really dry areas and the dough is all stuck together in one piece.
Lightly flour your counter, and using a rolling pin, roll the dough into a thick rectangle.
Cut out 8-10 thick rounds using a 2-inch biscuit or cookie cutter or the mouth of a mason jar.
Immediately move on to making pot pie, or ferment the cut biscuits in the fridge overnight and continue the recipe the next day.
Pot pie
Preheat your oven to 450° F
Add the garlic, onion, carrots, celery, potatoes, thyme, and butter to your dutch oven and sauté on medium heat for 30 minutes until they are soft.
Remove the thyme sprig stems, and turn the heat to low.
Add bone broth, flour, and parsley.
Next, add the green beans, the cooked chicken, sauerkraut, and heavy cream.
Mix and cover with a lid and cook for 10 minutes.
Stir and cook uncovered for about 25 more minutes with regular stirring until the liquid is reduced and the mixture is quite thick.
Top with sourdough biscuits and place in the oven for about 20 minutes. Until the tops of the biscuits turn golden brown.
Allow cooling for a few minutes before serving.
Keywords: sourdough, chicken, pot pie