Try these caramelized, sticky, crispy miso chicken wings this weekend. These oven-baked marinated chicken wings are impossible to put down and perfect for football parties.
Marinated Chicken Wings
I wanted to make my first chicken wing recipe special, so I used two fermented ingredients to make a delicious marinade: kimchi and miso. Kimchi and miso are two of my favorite fermented foods, and since they are rich in salt and umami flavor, they make a fantastic marinade.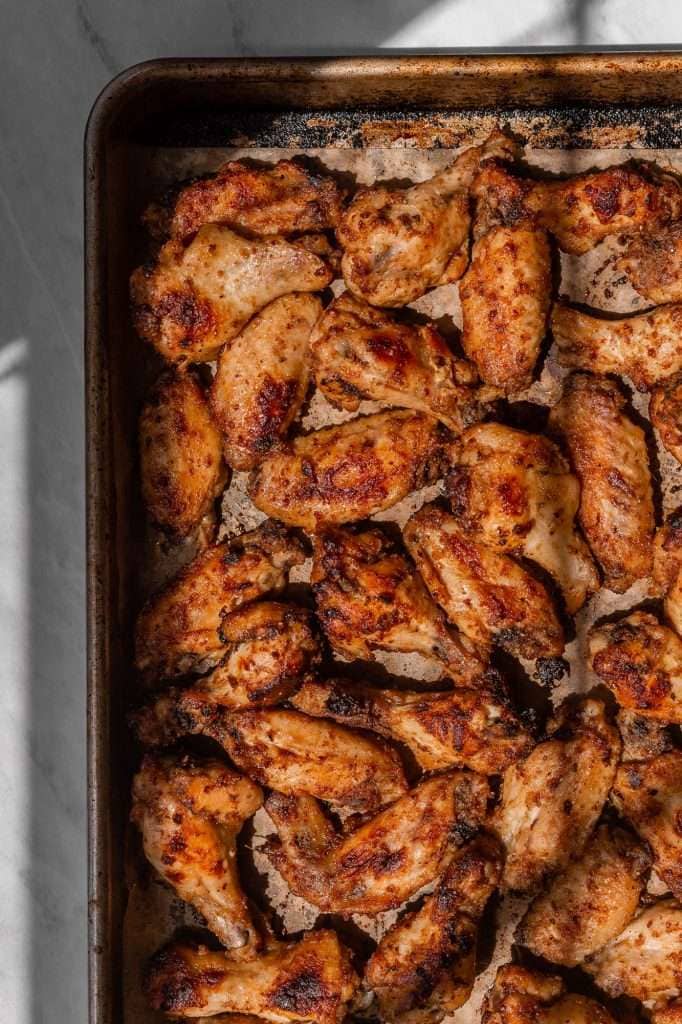 Miso Chicken Wings
I'm a huge fan of hot and lemon pepper wings, but miso wings are by far the best.
Kimchi miso chicken wings are unique and addicting, with the sweetness of maple syrup and kimchi's spiciness. Bring these miso wings to any tailgate or watch party, and you'll be a crowd-pleaser.
How to Marinate Chicken Wings
Marinating chicken wings is simple. You do need a blender to prepare the marinade in this recipe.
Once you prepare the marinade, add everything to a large mixing bowl and toss to coat the chicken wings evenly. The marinade is thick and forms a paste that sticks to the chicken wings well.
Getting Your Oven Baked Chicken Wings Crispy
I know what you're thinking; how do I make oven-baked chicken wings that are crispy and not soggy? I have two tricks for that.
The first option is to use a grated baking rack that fits a sheet pan, and you can bake the chicken wings on that. The grated rack will allow the juices and fat to drip down into the sheet pan and off the chicken so it can get crispy.
The second option is to use a parchment paper-lined pan, drain off the fat and juices halfway through baking, and replace the parchment paper halfway through baking. I do not have a grated baking rack, so I used the parchment paper and draining trick.
Baked Marinated Chicken Wings
Here are all the ingredients and supplies you need to make baked marinated chicken wings:
3 pounds of organic chicken wings
Miso ( I used red bean garlic miso that I teach students to make in the Fermented Foods Semester Course)
Maple Syrup
Grass-Fed Butter
Gochugaru
Salt
Blender
Large mixing bowl
Print
Oven-Baked Marinated Chicken Wings with Kimchi and Miso Sauce
Try these caramelized, sticky, crispy miso chicken wings this weekend. These oven-baked marinated chicken wings are impossible to put down and perfect for football parties.
Author:
Prep Time:

1 hour

Cook Time:

1 hour

Total Time:

2 hours

Yield:

6 servings

Category:

main dish

Method:

oven baked

Cuisine:

american
3

lbs chicken wings

1/4 cup

miso

1/4 cup

kimchi

1 tablespoon

maple syrup

3 tablespoons

melted butter

1/4 cup

warm water

2 tablespoons

melted butter

2 tsp

gochugaru

2 tsp

maple syrup
pinch of salt
chopped cilantro
green onions
Instructions
To make the marinade, blend the miso, maple syrup, kimchi, 3 tablespoons of melted butter, and water in the blender.
Add the marinade and the chicken wings to a large bowl and toss to combine.
Marinate for 1 hour in the fridge.
Preheat your oven to 475° F and line a baking pan with parchment paper*
Place the marinated chicken wings on the pan in one layer.
Bake for 20 minutes, then carefully remove the wings from the oven and drain off all excess fat liquid from pan.
Reduce to the heat to 425° F and bake for 20 more min until lightly crispy.
Prepare the sauce by mixing the two tablespoons melted butter, gochugaru, maple syrup, and a pinch of salt.
Remove the wings from the oven and carefully transfer them to a clean mixing bowl. Toss the hot wings in the sauce.
Replace the parchment paper on the pan with a new sheet, and place the wings back on the pan.
Bake for 15 more minutes until golden brown and crispy.
Top with chopped cilantro, green onions and a sprinkle of salt.
Notes
alternative to parchment paper you can use a baking pan with a fitted baking rack.
Keywords: chicken, wings, miso, kimchi