Making fermented vegetables at home can be confusing and daunting, but I've got you covered with some easy fermented vegetable recipes for beginners! Since I develop all of our fermentation recipes to be simple, exact, and safe, you're guaranteed to get great fermentation results on the first try when you use these fermentation recipes for beginners. Get ready to become a confident home fermenter.
Fermentation Recipes for Beginners
The best fermentation recipes for beginners are sauerkraut recipes! After you master sauerkraut, I suggest trying out fermentation for pickles and other "vine-growing" vegetables. By vine growing, I mean it grows on a branching plant from a flower.
Here are my top five easy fermented vegetable recipes for beginners.
I advise starting with number one, then working your way through number ten.
By the time you make the tenth recipe, you'll feel like a cultured guru too!
The main supplies you need for these recipes are a large mason jar, a fermentation weight, some sea salt, and a kitchen scale.
How to Make Old Fashioned Sauerkraut with Caraway Seeds
Enjoy this delicious Bavarian-style sauerkraut recipe made with caraway seeds. In this step-by-step recipe, you will learn to make old fashioned sauerkraut with caraway seeds in a mason jar.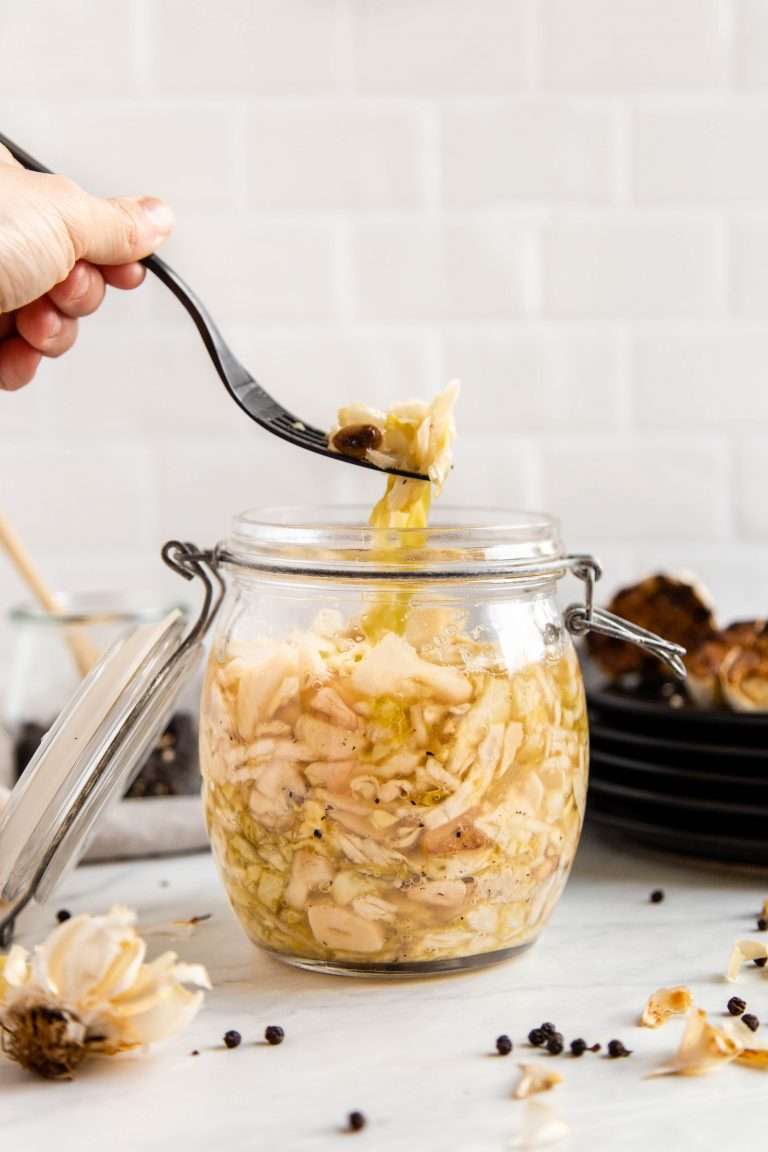 Roasted Garlic Sauerkraut with Black Pepper
This recipe is a traditional, wild fermented sauerkraut with roasted garlic and black pepper incorporated. If you love garlic, crisp sauerkraut, and a light pepper flavor then this Roasted Garlic Sauerkraut with black pepper recipe is for you!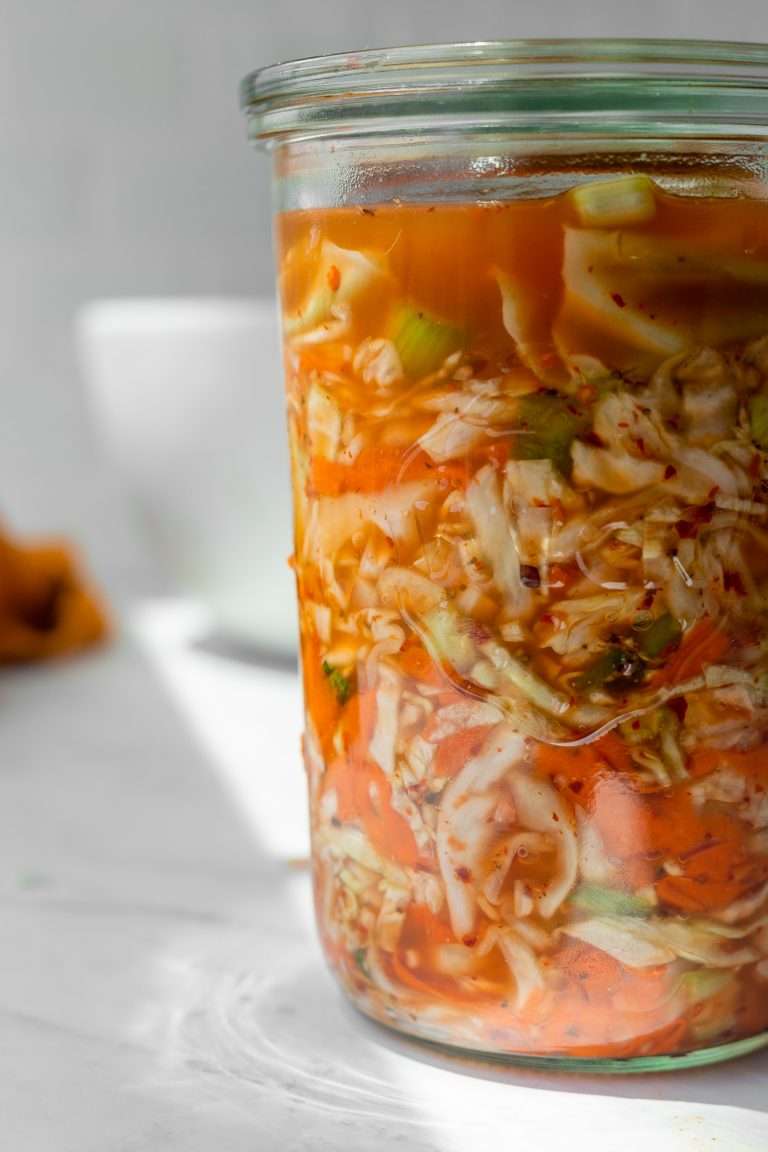 Homemade Kimchi Inspired Spicy Sauerkraut Recipe
What does kimchi taste like? It's spicy, umami, sour and absolutely delicious! Learn how to make kimchi sauerkraut, a spicy sauerkraut recipe with delicious kimchi flavor.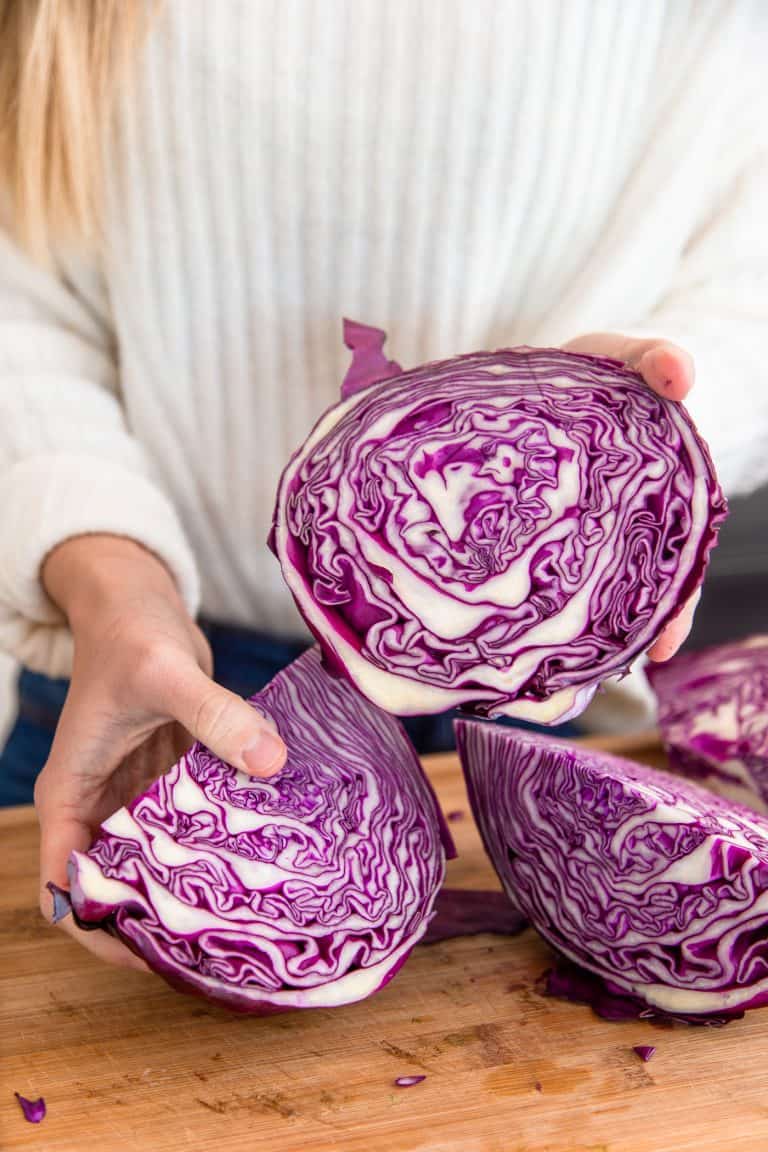 Fermented Beet and Red Cabbage Sauerkraut
This fermented beet and red cabbage sauerkraut recipe is the best way to make fermented beets and cabbage. Beet sauerkraut is ready to eat in three weeks.
Turmeric Napa Cabbage Sauerkraut
If you ever wondered if you can make sauerkraut with napa cabbage, the answer is yes! This delicious turmeric sauerkraut recipe is a simple napa cabbage sauerkraut, perfect for preserving in-season fall and winter cabbage.
How to Ferment Sauerkraut with Orange, Sesame, and Ginger
Learn how to ferment sauerkraut with orange sesame and ginger. With only six ingredients and some patience, you can make this flavorful sauerkraut incorporating fresh orange, sesame seeds and freshly grated ginger root at home! Wild fermented sauerkraut contains billions of gut-healthy microorganisms, lots of vitamins, and prebiotic fiber.
Fermented Cucumbers: Fermenting Sliced Cucumbers Two Ways
This fermented cucumbers recipe makes it easy to ferment pickles that stay crunchy and crisp. Learn the best techniques for fermenting sliced cucumbers.
The Best Lacto-Fermented Green Beans with Ginger and Scallions
Green beans are one of the best and easiest vegetables to ferment! With just salt, water, fresh green beans, spices, a fermentation weight, and a mason jar you can make these probiotic-packed fermented green beans at home. This recipe requires a kitchen scale for measuring ingredients and two weeks of fermentation at room temperature.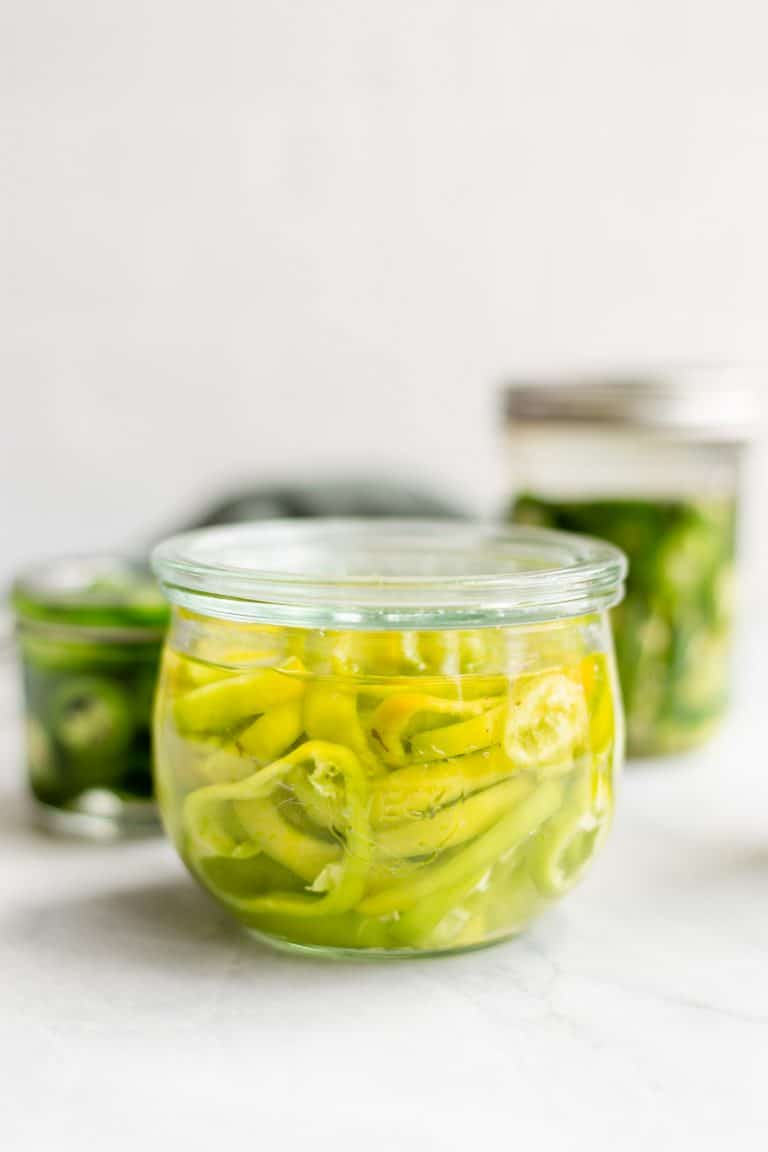 Pepper Fermentation Recipe: Learn How to Ferment Any Type of Pepper
How do you make fermented peppers? What is the best salt ratio for fermenting peppers? how long to ferment peppers? With our Easy Pepper Fermentation Recipe you'll have the best fermented peppers in just 5 weeks! Learn how to ferment peppers at home.
Easy and Nutritious Fermented Giardiniera
Giardiniera is a mix of pickled vegetables in vinegar or oil in Italy, but here we used wild fermentation to create a delicious fermented Giardiniera. For this recipe, we developed a spicy, pleasantly sour preserved vegetable mix, made even more nutritious through fermentation. By the way, in Italian, it is pronounced jar-din-AIR-ah, and it literally means "from the garden."
More Fermenting Recipes for Beginners