Light, sour, briny, and full of flavor. You're going to love this fermented celery with shallots and black pepper. Use it anywhere you would use sauerkraut or pickles. Fermenting celery only takes a few ingredients and a couple of weeks.
Fermented Celery
I've wanted to share this one for a long time! Fermented celery is so delicious and easy to ferment. It's quite similar to sauerkraut. So if you like kraut, you're going to love this recipe.
Make sure you start with fresh crisp celery, and I recommend organic if you have access to it.
Here are all the ingredients you need to get started:
celery
sea salt
water
shallot
black pepper
How to Ferment Celery
Because of the way celery is shaped, it can be really dirty between the pieces. So before mixing your ingredients, you need to wash the celery well. I like to shred the celery first and then wash it off.
I usually shred the celery with a vegetable peeler, then add it to a colander and rinse it a few times. No matter how you cut it, getting all the dirt off is easier after cutting. You can also rinse it before cutting and rinse it again after cutting.
After the celery is rinsed, we prepare it similar to sauerkraut. You will add 2.5% salt by weight, then allow it to ferment for 21-28 days (more on this below).
Celery is about 96% water, so you will get a lot of brine once you add salt. I still added a bit of water to this recipe because I love to have extra brine for my wild heirloom culturing recipes.
Fermenting Celery with Black Pepper and Shallot
I recommend fermenting your celery for at least 14 days before eating, with 21-28 days being the best fermentation time for optimal flavor and health benefits. This timeline is very similar to sauerkraut. I like how the shallot and black pepper flavors develop after 21 days of fermentation at room temperature.
Naturally, fermenting vegetables takes time. By checking the progress of microbial stages under the microscope, we have provided you with a handy timeline below! If you follow our recipe and directions, your timeline of celery fermentation should approximately match ours!
Note that temperature will influence how fast or slow celery ferments. This timeline is applicable between 70-80° F. If you keep your home colder, the process is slower. If your home is warmer, it will be faster.
Timeline for Fermented Celery
24 – 48 hours: All contents in the jar should be submerged beneath the brine. At this time, there are still Gram-negative bacteria and possible pathogens present.
48 hours – 5 days: After 48 hours, you should start to see lots of bubbles being produced. This is when the ferment enters stage two of vegetable fermentation. Leuconostoc bacteria begin to thrive, and Gram-negative organisms die off.
5 – 10 days: The bubbles in the brine will decrease as the ferment leaves stage two and enters stage three. The ferment will become cloudy, the color will change, and a pleasant sour smell will develop. You should also recognize shallot and pepper smells. Lactobacillus species begin to thrive at this time.
10 – 21 days: Next, Lactobacillus make up most or all of the microbial population. They produce copious amounts of lactic acid, making the fermented celery smell even more pleasantly sour. This is when the celery becomes naturally preserved.
21 – 28 days: This is when you want to smell and taste test. Wait for the celery to smell and taste as you like, and refrigerate when you find the smell and taste most pleasant! We like ours best when we refrigerate at about 25 days.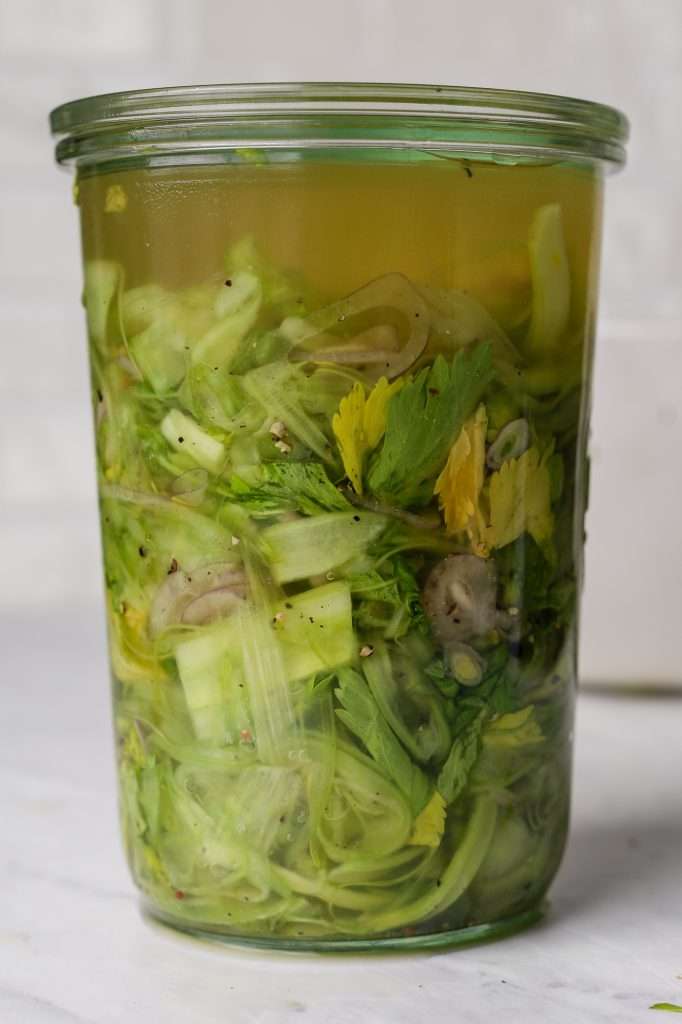 Fermented Celery Benefits
The benefits of fermented celery are similar to regular celery or celery juice. However, when celery is fermented, all the benefits are more bioavailable. There is also the obvious added benefit of live probiotic bacteria in fermented celery.
Celery contains vitamin C, vitamin K, potassium, beta carotene, and phytonutrients, which are all more bioavailable after the microbial action during fermentation. These compounds can reduce inflammation in the digestive tract, cells, blood vessels, and organs.
Celery is also a wonderful source of fiber that can help keep your gut microbiome balanced. That's one of the things I love most about fermented vegetables. They are naturally prebiotic and probiotic and the best choice for gut health.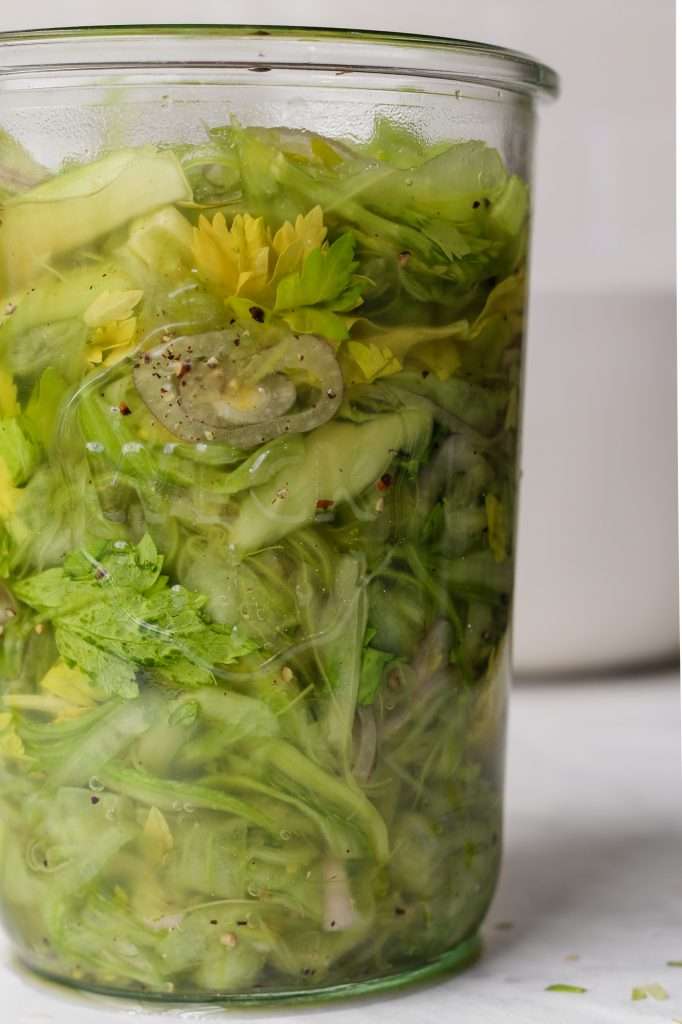 Supplies You Need for Fermenting Celery
For the best sauerkraut flavor and texture, you should use weight measurements for your fermentation ingredients. That means you need a kitchen scale. Weighing your ingredients gives you consistent and superior fermentation results. This is the scale we use in our home kitchen.
Here is the equipment you will need to make it:
32-ounce Wide Mouth Mason Jar
Fermentation Weight
Standard Metal Mason Jar Lid (this can rust in the presence of salt)
OR Rust-Free Plastic Lid
or you can use a Weck Jar (without the gasket; only use the clips to secure the lid)
Sea Salt
Mixing Bowl
If you would like to read more about the best jars and lids for fermenting vegetables, click here.
More Fermentation Recipes to Try
Print
Fermented Celery with Shallots and Black Pepper
Light, sour, briny, and full of flavor. You're going to love this fermented celery with shallots and black pepper. Use it anywhere you would use sauerkraut or pickles. Fermenting celery only takes a few ingredients and a couple of weeks.
Author:
Prep Time:

10 minutes

Fermentation Time:

21 days

Total Time:

504 hours 10 minutes

Yield:

24 ounces

Category:

Fermented Vegetables

Method:

fermentation
450 grams

celery

15 grams

unrefined sea salt

100 grams

filtered water

50 grams

shallot, finely sliced
Fresh cracked black pepper, to taste
Instructions
Wash your fermentation equipment (jar, weight, and lid)
Chop off the end of the celery and lightly rinse with cool water.
Using a vegetable peeler, shred the celery (or cut it however, you like). After you shred the celery, you can rinse it again to ensure all the dirt is off.
Place your kitchen scale on the counter. Turn it on and set it to weigh in grams.
Place a mixing bowl on your kitchen scale and tare/zero the scale.
Add the designated amounts celery, shallot and black pepper.
Remove the bowl from the scale and set it aside. Place a small, empty bowl on your scale and tare/zero the scale. Weigh out the salt.
Add the salt into the bowl with the celery, and mix with your hands until the celery becomes wet.
Place your empty, clean jar on the scale, and tare/zero the scale. Make sure your scale is still set to grams, and weigh out the filtered water in your jar.
Add the water into the bowl with the celery and salt. Mix everything well.
Add the entire contents of the bowl into your jar, and pack everything down.
Place your glass fermentation weight in the jar, fully submerging the celery shreds and weight into the liquid.
Secure the solid lid to the jar.
Ferment for 21-28 days. Don't forget to burp the jar daily during the bubbly phase.
After the 21-28 days, remove the weight and store it in the fridge.
Notes
Place the jar in a bowl or dish to catch any drips
this recipe at 1x works best with a 25 to 32 ounce jar
Keywords: celery, fermented