Learn how to make the most delicious fermented mushrooms with garlic and rosemary. Fermenting mushrooms is easy! You can ferment mushrooms in just 48 hours with this simple method.
Can You Ferment Mushrooms?
Over the years, many people have asked me if it's possible to ferment mushrooms. The simple answer is yes!
However, I do not recommend wild fermentation. Wild fermentation is when you add vegetables to a salt brine and allow the wild microbes on the surface of the vegetables to facilitate fermentation in an anaerobic environment.
Instead, I recommend a unique fermentation process that I call wild heirloom culturing. It's a type of lacto fermentation process I came up with to ferment higher-sugar vegetables.
What is Wild Heirloom Culturing?
This method employs fermented sauerkraut brine (or any fermented vegetable brine; brine is the liquid in a jar of already fermented vegetables) and apple cider vinegar to ferment fresh vegetables. The wild heirloom cultures found in the fermented brine ferment the vegetables.
This fermentation method is more similar to yogurt fermentation than to something like sauerkraut fermentation… and it's very similar to refrigerator pickling but with beneficial microbes included.
Fermented Mushrooms
Certain mushrooms naturally contain a lot of fermentable sugars called FODMAPs. If you try to wild ferment high FODMAP fruits or vegetables, it usually leads to alcohol fermentation instead of lacto fermentation.
So if you can ferment in already acidic brine with many Lactobacillus already present, you can skip the first two stages of wild fermentation (you know, the part with all the bubbles). Lactobacillus bacteria only make lactic acid; they can't make alcohol. So the mushrooms still ferment, but only the desirable fermentation occurs.
I'm not saying it's impossible to wild ferment mushrooms in a salt brine. However, it is difficult and not consistently successful. Oftentimes, it ends up quite gross.
Other high FODMAP vegetables that can be difficult to wild ferment include garlic, onions, asparagus, artichokes, beets, and zucchini. Again, it's not impossible to wild ferment these. It's simply easier and tastier to use wild heirloom culturing.
Lacto Fermented Mushrooms
Another reason we want to use wild heirloom culturing for lacto-fermented mushrooms is that we must boil the mushrooms first. Since we boil them, there won't be any wild microbes on the mushrooms left to start the fermentation.
So we rely on the microbes in fermented sauerkraut brine and apple cider vinegar to ferment the cooked mushrooms.
How to Ferment Mushrooms
You can try different mushrooms for this recipe, but I highly recommend baby portobellos; that's what is pictured here. Here are all the types of mushrooms I recommend trying in this recipe:
baby portobellos
shiitake
enoki
button
oyster
Fermented Mushrooms supplies
Supplies you need to ferment mushrooms:
Fermentation Weight to fit your mason jar
Standard Metal Mason Jar Lid (this can rust in the presence of salt)
Unrefined Sea Salt
Mixing Bowl
or you can use a Weck Jar
Fermenting Mushrooms
These fermented mushrooms are very easy to make. Since they are made with already fermented vegetable brine and apple cider vinegar, not much can go wrong. You need to remember a few things:
Keep your fermenting mushrooms at a temperature between 70-80 degrees F. Keep out of direct sunlight
Since this is a fermentation with added cultures from the sauerkraut brine, you only need to ferment the mushrooms for a short time.
Keep refrigerated and consume within six months for full probiotic benefits!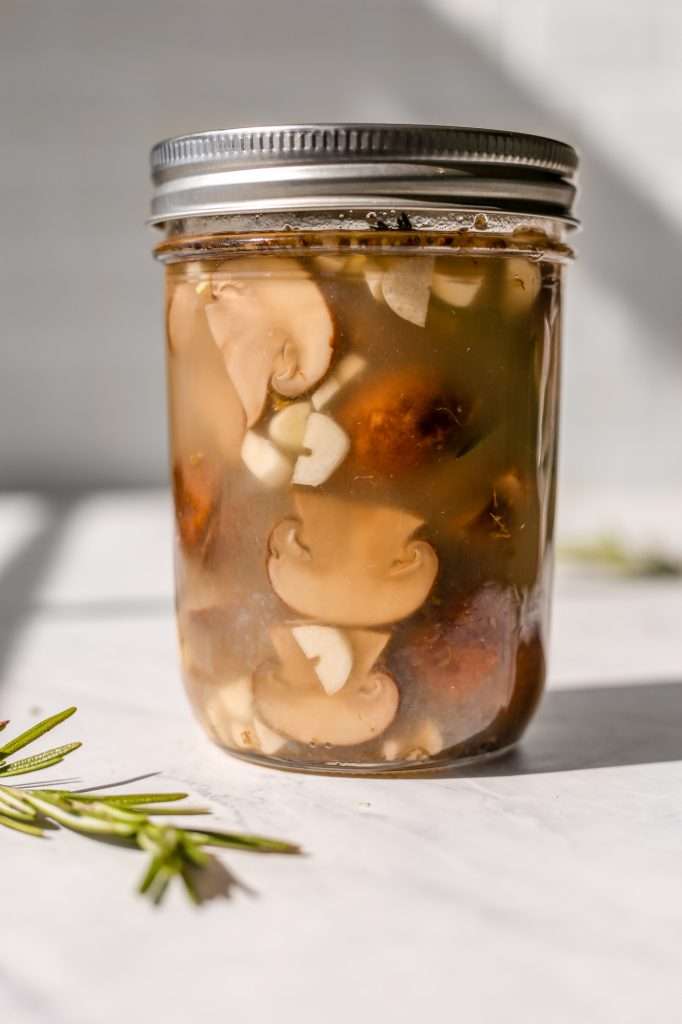 More Fermentation Recipes to Try
Print
Fermented Mushrooms with Garlic and Rosemary
Learn how to make the most delicious fermented mushrooms with garlic and rosemary. Fermenting mushrooms is easy! You can ferment mushrooms in just 48 hours with this simple method.
Author:
Prep Time:

10 minutes

Cook Time:

5 minues

Total Time:

18 minute

Yield:

4 servings

Category:

Fermented Vegetables

Method:

Fermentation
250 grams

mushrooms, raw

1/2 cup

white vinegar, 5% acidity
Water

100 grams

apple cider vinegar, 5% acidity

200 grams

sauerkraut brine

1

sprig rosemary, fresh

1 tsp

oregano, dried

1 tablespoon

garlic, minced

5 grams

sea salt
Instructions
Wash mushrooms well in warm water, removing any dirt.
Add the mushrooms to a pot with enough water to submerge them. They will float, but there should be enough water in the pot to press them all under the water.
Add 1/2 cup white vinegar.
Bring the mushrooms to a boil for 5 minutes, then drain immediately.
Allow the mushrooms to cool to room temperature.
Add the mushrooms, salt, rosemary, oregano and garlic to a clean glass jar.
Top with the sauerkraut brine and apple cider vinegar.
Close the jar with a lid and shake until it is well mixed.
Allow the mushrooms to culture at room temperature for 48 hours.
Refrigerate immediately and keep refrigerated.
Notes
this recipe at 1x works best in a 16 ounce jar.
Keywords: mushrooms, fermented