How do you quick pickle and ferment red onions at the same time? Easy, you just need sauerkraut brine, apple cider vinegar, lime juice and some thinly sliced fresh red onions!
The Best Pickled Red Onions
The way I ferment red onions is different from the way I usually ferment other vegetables. I've done quite a few fermented red onion recipe tests using traditional wild fermentation techniques… and I wasn't too fond of them. So I turned to my other favorite method of fermentation called wild heirloom culturing. This method employs using fermented sauerkraut brine (or any fermented vegetable brine; brine is the liquid in a jar of already fermented vegetables) and apple cider vinegar to ferment fresh vegetables using wild heirloom cultures found in the fermented brine. 
This method of fermentation is more similar to yogurt fermentation than it is to something like sauerkraut fermentation… and it's very similar to refrigerator pickling, but with beneficial microbes included.
Lacto Fermented Red Onions
I know you may be curious why the traditional lacto fermentation process isn't great when trying to ferment onion.
Basically you don't want to wild ferment any vegetables that are high in fructose and fructans, because it leads to more of an effervescent alcohol fermentation. This is true no matter how much salt you use.
So if you can just dump already acidic brine with a lot of Lactobacillus already present, you can skip the first two stages of wild fermentation (you know the part with all the bubbles). Lactobacillus bacteria only make lactic acid, they can't make alcohol. So the onions still ferment, but only the desirable fermentation occurs.
Making Fermented Onions
Supplies You Need:
Fermentation Weight to fit your mason jar
Standard Metal Mason Jar Lid (this can rust in the presence of salt)
Unrefined Sea Salt
Mixing Bowl
or you can use a Weck Jar (which is what is pictured here)
Fermented Red Onions
In this recipe we will still ferment red onions, but this is a different kind of vegetable fermentation: We call this wild heirloom culturing. I made it up one day, and it's phenomenally delicious. We use wild fermented sauerkraut brine and apple cider vinegar to culture the onions with wild Lactobacillus. This method only requires a 48 hours fermentation time, before refrigerating.
Always Trust your sense of smell: Fermented onions should smell pleasantly sour and a bit oniony. Never eat anything that smells repulsive.
Never eat anything that had mold growing on it: By following directions you should not encounter this problem. The effectiveness of this recipe does depend on the quality of wild fermented sauerkraut you use. If sauerkraut was not fermented properly, or to completion, you may encounter effervesce or yeast growth over time.
Taste test at 48 hours: If you prefer the onion to be more tart and sour, let them ferment 12 more hours.
Apple Cider Vinegar Pickled Onions
These fermented quick pickled red onions are very easy to make, and since they are made with already fermented vegetable brine and apple cider vinegar, not much can go wrong. you just need to remember a few things:
Keep your fermenting red onions at a temperature between 70-80 degrees F. Keep out of direct sunlight
Since this is a fermentation with added cultures from the sauerkraut brine, you only need to ferment the onions for a short time.
Keep refrigerated and consume within 6 months for full probiotic benefits!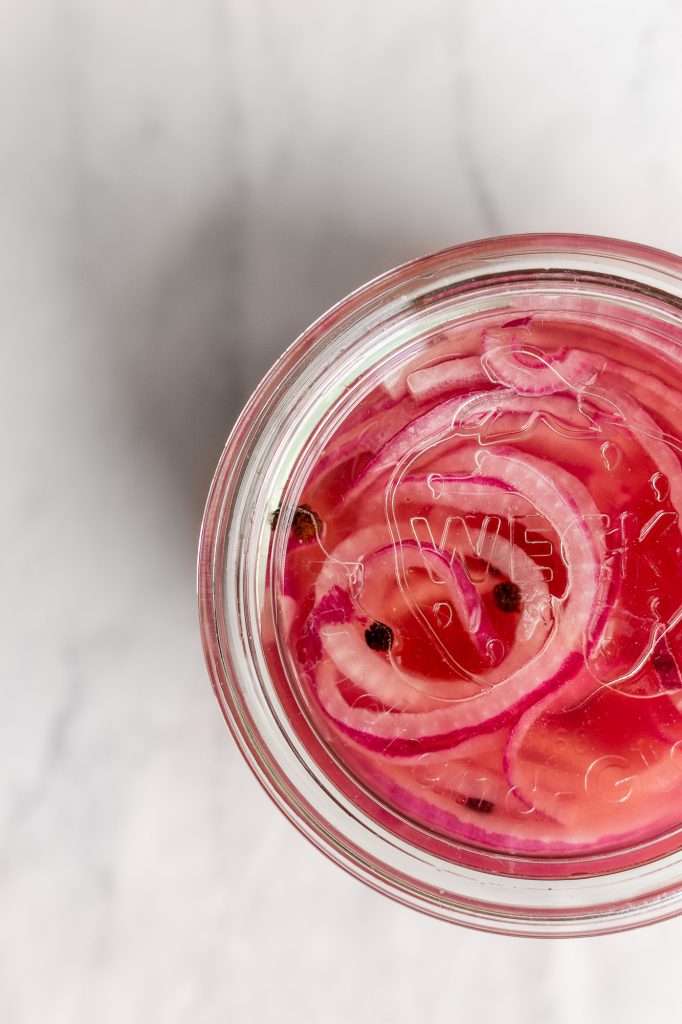 Inspired By Mexican Pickled Red Onions
I also use lime juice in this recipe, which gives it the a similar flavor profile to Mexican pickled red onions. The pickling process with the lime juice included mellows the pungent flavor of the red onions. In just a few hours, they are perfectly flavorful and balanced with a pleasant acidity.
Recipes with Pickled Onions
Here's a short list of some of my favorite recipes you can use these fermented quick pickled red onions in:
Print
Fermented Quick Pickled Red Onions
How do you quick pickle and ferment red onions at the same time? Easy, you just need sauerkraut brine, apple cider vinegar, lime juice and some thinly sliced fresh red onions!
Author:
Prep Time:

10 minutes

Total Time:

10 minutes

Yield:

16 Ounces

Category:

Fermented Foods

Method:

Fermentation

Cuisine:

Mexican

Diet:

Vegan
200 Grams

Chopped Red Onion

5 Grams

Sea Salt

100 Grams

Raw Apple Cider Vinegar

200 Grams

Sauerkraut Brine
the juice of one small lime
Mustard Seeds or peppercorns
Instructions
Wash your fermentation equipment (jar, weight and lid)
Peel then wash your red onions in cool water. Using a knife, slice your onion to desired thickness.
Place your kitchen scale on the counter. Turn it on and set it to weigh in grams.
Place a mixing bowl on your kitchen scale and tare/zero* the scale. 
Add chopped onion into the bowl on your scale until the scale reads 200 grams.
Remove the bowl from your scale and set aside. Place your empty, clean mason jar on the scale, and tare/zero the scale. Make sure your scale is still set to grams and add 200 grams of Sauerkraut Brine and 100 grams of apple cider vinegar to the jar. Add the juice of one small lime
Add the 200 grams of onions from your bowl, into the mason jar.
Place a small bowl on your scale and tare/zero the scale. Weigh out 5 grams of salt. Then add the 5 grams of salt to the jar of onions.
Add in about a teaspoon of mustard seeds or peppercorns (optional). 
Place your standard mason jar lid on the jar, and secure. shake the jar vigorously for 2 minutes.
Leave at room temperature for 8 to 24 hours, stirring the onions a couple of times, then refrigerate.
Refrigerate for at least 1 hour before serving.
Notes
*Taring/zeroing the scale with a container on it subtracts the weight of the container, allowing you to weigh only what is added to the container. After taring/zeroing the scale, the scale should read 0.0 with the container on it.
this recipe works best with a 16-20 ounce jar

Keywords: red onions, pickled onions, fermented onions