These Greek meatballs only take 20 minutes to prepare and 30 minutes to cook and pair perfectly with freshly cooked rice, tzatziki sauce dressing, and vegetables. We made these easy greek meatballs with bison, which is nutritious lean meat perfect for a gut-healthy dinner recipe.
Gut Healthy Dinner Recipe with Greek Meatballs
Eating for gut health doesn't have to be complicated or restrictive. This recipe is easy on the stomach and good for digestion. Even though we include meat in this recipe, it's still full of nutritious plant fiber for gut health. Here are all the gut-healthy ingredients you need for this recipe:
Ingredients for greek meatballs:
extra virgin olive oil
salt
cumin
oregano
red pepper
fresh parsley
fresh mint
dill
red onion
black pepper
garlic
Ingredients for tzatziki sauce dressing:
kefir or yogurt
lemon
fresh dill
extra virgin olive oil
your choice of vegetables
Is Bison Red Meat?
Yes, bison meat is considered red meat, but healthy and lean. Bison are large hoofed animals in the Bovidae family, like cows. Any meat from large ruminant animals such as cows, bison, and elk is considered red meat. Bison is a nutrient-rich protein source containing iron, B vitamins, selenium, and zinc. It's even healthier when the bison meat is used in a recipe like this and turned into greek meatballs. The herbs, spices, and onions add a lot of nutritional benefits.
Bison vs Beef
Beef and bison are pretty similar. Bison contains less saturated fat than beef but with a similar taste and nutrient profile. Because of the different fat content, the texture of bison is different from beef.
The ways farmers raise bison and beef are vastly different. Most bison meat comes from free-range, grass-grazed animals on regenerative farms. While the majority of beef available in stores is from poorly cared for animals on factory farm feedlots. This difference in farming practices makes bison a better choice overall.
Is red meat good for gut health?
The answer to this question is not so simple. Most scientific studies are skewed and not applicable to natural, healthy lifestyles.
For instance, here's an excerpt from a study: "To figure out how diet influences the microbiome, scientists put volunteers on two extreme diets: one that included only meat, egg, and cheese and one that contained only grains, vegetables, and legumes." Of course, a study so polarized will have vastly different effects on the gut microbiome. We should not look at these things in a vacuum. We are robust ecosystems that thrive on having a variety of quality and natural foods in our diets.
Eating a lot of plants right away boosts the types of gut bacteria associated with good gut health and lower levels of inflammation. However, diets that do not include animal-based foods lack many nutrients, minerals, and vitamins and can lead to poor thyroid and metabolic function.
In comparison, if someone cuts out all fiber and vegetables from their diet, they are also cutting out sources of essential minerals and vitamins like potassium and vitamin C. This, of course, will impact the microbiome negatively.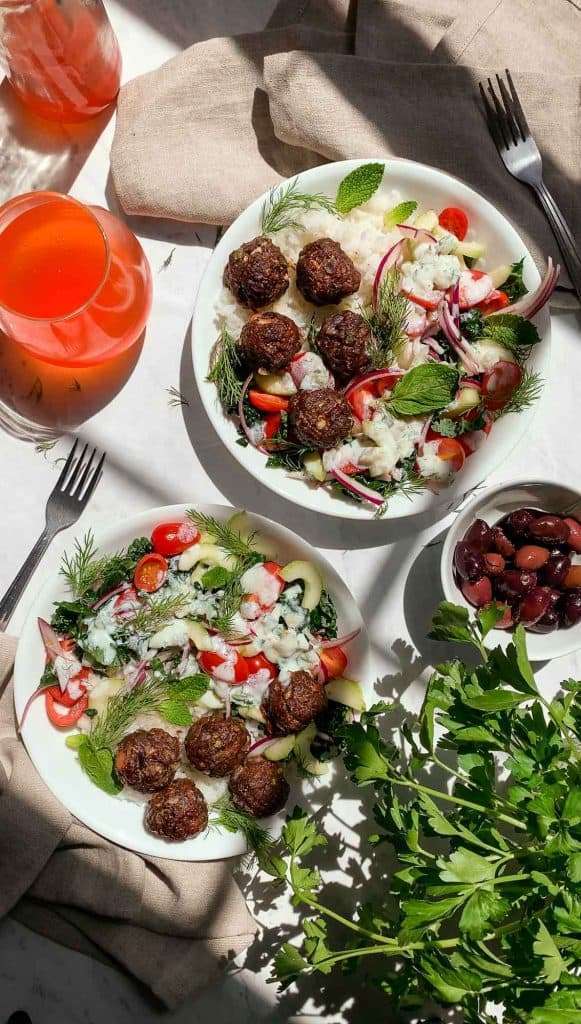 What is the best meat for gut health?
It is foolish to conclude that meat is "bad" from such extreme dietary studies like this. If you want to eat a steak, eat a small quality portion with some grilled asparagus and a beet greens salad. It's about balance, and more than that, it is about the source of your animal-based food.
When you are wondering if red meat is good for gut health, it is essential to ask yourself a few questions:
Is it free from antibiotics?
Was it butchered, packaged and sold in clean, trust-worthy conditions?
Does the farm practice nose-to tail use?
All of these things are important because meat being "good for gut health" or not comes down to the quality of the meat. How the meat was raised and farmed also impacts gut health because it impacts the earth. If we want food to be good for us and to remain good for us, we have to care for the lands and soil we consume from. The best way to do this is to support regenerative agriculture.
What to Eat tzatziki Sauce With
My favorite thing to eat tzatziki sauce with is greek rice bowls. I make greek rice bowls with all sorts of ingredients, and one of my favorites is these bison Greek meatballs.
The tzatziki sauce is easy to make, and you have options. I used milk kefir to make it thinner and more like a salad dressing for this recipe. Traditionally you use greek yogurt to make tzatziki, and it's thick. Feel free to use either one in this recipe. Both turn out delicious, with slightly different flavors.
Print
Easy Greek Meatballs with Tzatziki Sauce Dressing
These Greek meatballs only take 20 minutes to prepare and 30 minutes to cook and pair perfectly with freshly cooked rice, tzatziki sauce dressing, and vegetables. We made these easy greek meatballs with bison, which is nutritious lean meat perfect for a gut-healthy dinner recipe. 
Author:
Prep Time:

20 minutes

Cook Time:

30 minutes

Total Time:

50 minutes

Yield:

6

servings

1

x
Category:

Dinner

Method:

Baking

Cuisine:

Greek

Diet:

Gluten Free
Greek Meatballs
2 tablespoons

olive oil

2

pounds ground bison

2 teaspoons

salt

1 teaspoon

ground cumin

2 teaspoons

oregano

1 teaspoon

red pepper flakes

2 tablespoons

chopped fresh parsley

1 tablespoon

chopped fresh mint

1 tablespoon

chopped fresh dill

1/2 cup

diced red onion

5

fresh garlic cloves minced 
Tzatziki Sauce
1/4 cup

finely minced Cultured Guru Dill Pickles

1/4 cup

fermented milk kefir or Greek yogurt

1 tablespoon

chopped fresh dill
the juice of one lemon

2 tablespoons

extra virgin olive oil
salt to taste
Instructions
Preheat your oven to 425° F and line a baking pan with parchment paper.
Add all of the meatball ingredients to a bowl and use your hands to mix everything together until it is well combined.
Scoop about 2 tablespoons of meat mixture and roll in between the palm of your hands to form a ball.
Place the meatballs on the parchment paper-lined pan.
After you have rolled all the meatballs, bake them at 425° F for about 30 minutes until they are slightly browned on the top and cooked all the way through.
While the meatballs cook, make the tzatziki sauce dressing and prepare some rice and vegetables.  For the tzatziki sauce, add all of the sauce ingredients to a bowl and whisk to combine. Add salt to taste and keep the sauce in the fridge until you are ready to serve.
Serve the meatballs with rice, vegetables, and tzatziki sauce. Enjoy! 
Keywords: meatball, greek, bison, tzatziki