Our raw milk yogurt instant pot recipe includes everything you need to know to make plain whole milk yogurt in an instant pot with a yogurt setting. This recipe works with goat milk, cow milk, raw milk, and pasteurized milk. Enjoy the instant pot raw milk yogurt chilled with fruit and granola.
Instant Pot Raw Milk Yogurt Recipe
Various probiotic bacteria play important roles in the production of yogurt. Most often, species of Lactobacillus, Bifidobacterium, and Streptococcus are the microbes found in various types of yogurt.
Specific types of yogurt, such as Greek and Bulgarian, are distinguished by the species of bacteria used to culture animal-sourced milk into yogurt.
When in animal-sourced milk, the bacteria can use lactose for energy. This produces a byproduct of lactic acid. Lactic acid builds up in the milk causing the coagulation of milk proteins.
This transforms the milk into a semi-solid mass with a drastic change in taste. It's delicious yogurt!
Here are the species of microbes that classify yogurt as "Greek":
Streptococcus thermophilus
Lactobacillus bulgaricus
Click here to buy my favorite Greek Yogurt starter cultures.
Plain Whole Milk Yogurt Using Our Raw Milk Yogurt Instant Pot Recipe
Yogurt is what I call a "sterile" culturing process. The "substrate" (the milk) is heated and then inoculated with chosen microbes.
Even when using raw milk, you should always heat it to 181° F for 30 seconds or 145° F for 30 minutes before making yogurt.
Heating serves two purposes. First, if you heat the milk, your yogurt will come out thicker. Second, heating the milk ensures that only the yogurt cultures grow in your yogurt and no other microbes.
So your yogurt will taste better and last longer. You'll have yogurt within just 12 – 24 hours of inoculating heated and then cooled milk with friendly bacteria!
You don't need to worry about the heat destroying the benefits of raw milk; all the great benefits will remain there. The yogurt microbes add more enzymes and bioactive vitamins and minerals to the milk as it becomes yogurt.
I highly suggest using organic goat or cow milk from the farmer's market. Raw milk works wonderfully, but you can also use pasteurized milk.
I use Kalona Super Natural low temp pasteurized, non-homogenized milk in this recipe every week.
Raw Goat Milk Yogurt in an Instant Pot
You can also choose between using goat or cow milk in this recipe! Goat milk yogurt is naturally thinner than cow milk yogurt because goat milk has less lactose and different fat composition.
You should use cow milk if you prefer thick and more solid yogurt. You can also do a half goat and half cow milk mix and then strain off the whey with a yogurt strainer to thicken it.
Here's what you will need to make this Instant Pot raw milk yogurt:
Here are the settings you will use to make this recipe.
First, heat the milk on the high setting at 181° F
Then, you allow the milk to cool
Next, add your starter cultures or already-made yogurt
Last, you will incubate the yogurt for 12 hours on the medium setting at 107° F or a custom setting of 104° F.
Is this Raw Milk Yogurt Instant Pot Recipe Good for You?
Naturally fermented yogurt, kefir, and some cheeses are absolutely part of a healthy diet. The key is to watch out for ultra-processed and sugar-loaded products. The best part of making yogurt at home is that you don't have to worry about hidden sugars and filler ingredients!
Since cheese, yogurt, and kefir are cultured and fermented by beneficial microbes before you consume it, these foods are very nutritious and loaded with bioavailable vitamins and minerals.
Plus, these types of fermented foods can provide a species-rich dose of probiotics for gut health! I highly suggest shopping at your local farmers' market for fermented dairy products or even milk to make your own… because the animals on small local farms are healthier, and the milk products will be healthier.
You can read more about my thoughts on dairy products and gut health here.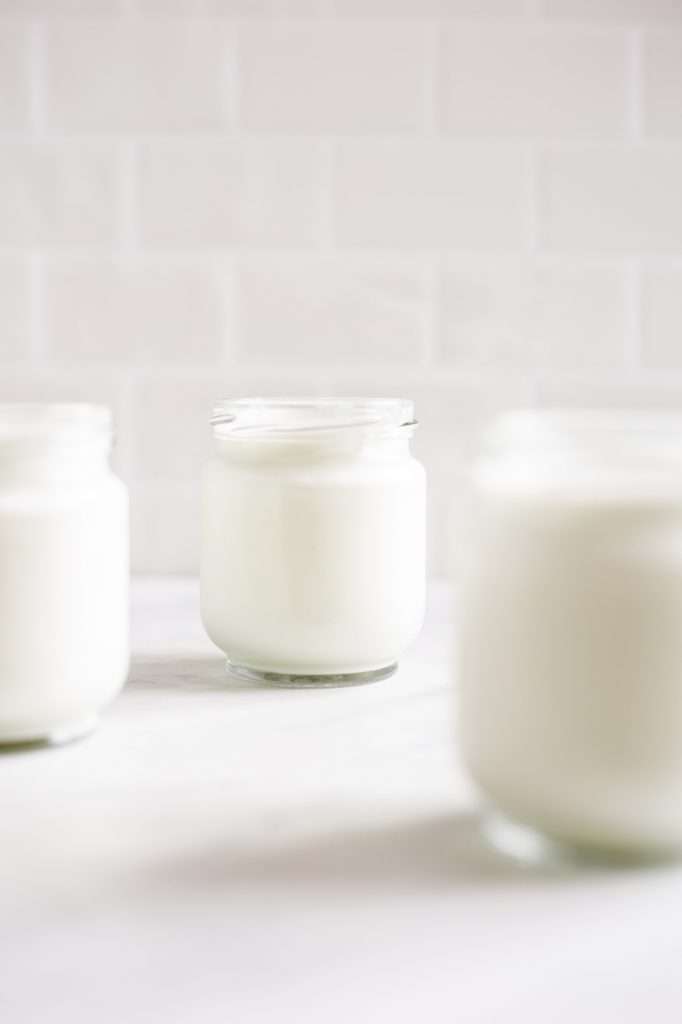 Raw Milk Yogurt Instant Pot Recipe
I just can't get over how quick and easy this plain yogurt recipe is!! This is a simple recipe for plain yogurt, but you can easily add any flavor.
You can add flavor components (like strawberry puree, or mango puree) before heating the milk, or you can just flavor the plain yogurt right before eating. Here are some recipes to try with this instant pot raw milk yogurt:
How to Make Thick Yogurt
Greek and Skyr yogurts from the store are strained to make them thick. A lot of people who make yogurt for the first time as the question, "why is my yogurt kind of runny and lumpy?" It's because that's what yogurt looks like when the whey is still in it.
All thick, perfectly smooth yogurts are strained to make them that way. And you can strain your yogurt too! Straining separates the liquid whey from the coagulated proteins and fat in the milk.
To strain your yogurt, follow all the directions in the recipe. Once the yogurt is incubated, set it in the fridge until cold. Then place the yogurt in a yogurt strainer overnight in the fridge. The next morning the whey will be in the bottom of the yogurt strainer, and your beautifully thick and smooth yogurt will be in the top.
Save the whey for smoothies, water plants with it, add it to lemonade, or sprinkle on your dog's food.
Print
Raw Milk Yogurt Instant Pot Recipe an Easy Plain Whole Milk Yogurt
Our raw milk yogurt instant pot recipe includes everything you need to know to make plain whole milk yogurt in an instant pot with a yogurt setting. This recipe works with goat milk, cow milk, raw milk, and pasteurized milk.
Author:
Prep Time:

5 minutes

Fermentation time:

12 hours

Cook Time:

10 minutes

Total Time:

12 hours 15 minutes

Yield:

16 servings

Category:

Yogurt

Method:

Fermentation

Cuisine:

Greek
Instructions
Plug in and turn your instant pot to the yogurt setting.
Pour the milk into the instant pot insert container and secure the lid in place.
Adjust the yogurt setting to boil/high at 181° F. Then press start. The milk will be heated to 181° F for 30 seconds.
When the instant pot beeps and the heating cycle is over, turn off the instant pot.
Remove the insert container so the milk can cool. 
Place a thermometer in the milk to monitor when it reaches about 115° F. This may take some time, so be patient. (tip: you can place the instant pot insert into a big bowl of ice water to cool it down faster)
Remove the thermometer, you may see a film on the surface of the milk from the heating process. You can remove it with a clean spoon or stir it in. 
Add in the two tablespoons of yogurt with live active cultures or starter cultures. (tip: dissolve the yogurt or starter cultures in a small bit of milk before adding it to the lot of milk, it will mix in easier)
Whisk until the starter culture yogurt is evenly combined with the milk.
Place the insert container back in the instant pot, and adjust the yogurt setting to medium (107° F) and adjust the time to 12:00 for 12 hours of incubation. 
Secure the lid in place and press start. 
The time readout should say 0:00. It will incubate for 12 hours. Once you press start, the timer will indicate the time passed. You can incubate for up to 24 hours for more tart yogurt. Simply taste test at 12 hours, then restart the yogurt setting to incubate for longer if you wish. 
After 8 to 12 hours of incubation, the yogurt should be slightly set, and a jelly-like consistency. 
Allow the yogurt to cool at room temperature for a couple of hours, then transfer to jars and store in the fridge.
If you want to make thicker yogurt: place the instant pot insert in the fridge to chill and set. Once it is chilled, you can strain the yogurt through a cheesecloth-lined colander or a yogurt strainer. Allow it to strain undisturbed for about 8 hours in the fridge. Then, jar it and store it in the fridge.
Notes
You may see a lot of liquid whey separation after incubation, or you might find the yogurt lumpy in some spots. for thicker smooth yogurt, you can strain off the whey. Use a yogurt strainer or a cheesecloth-lined colander.
Reserve some whey or some of the yogurt to culture your next batch.
This yogurt should keep in the fridge. It stores well for 4-6 weeks.
You can use a freeze-dried starter instead of already made yogurt. Just use the amount as directed on the package.
Goat milk yogurt is naturally thinner. For thicker yogurt, use cow milk instead.
You can use raw milk, non-homogenized low temp pasteurized milk, or plain pasteurized milk for this recipe.
Keywords: yogurt, raw milk, instant pot