Learn how to make vegan yogurt with oat milk and vegan yogurt starter. This creamy and thick oat milk yogurt recipe is so easy! You can enjoy oat yogurt with fruit, honey, and granola, or try it savory with miso butter jammy eggs and toast.
Oatmilk Yogurt
Making vegan yogurt at home doesn't have to be complicated, but the process is very different from traditional dairy yogurt.
Due to the nature of plant-based milk and the microbiology of yogurt making, plant-based milk will not thicken into a yogurt-like substance just by adding a culture. Cultured full-fat coconut cream will be a semi-solid mass at room temperature because it's' full of saturated fats… but dairy-free milk, like oat milk, will not.
Vegan Greek Yogurt
Various probiotic bacteria play essential roles in the production of yogurt. Most often, species of Lactobacillus, Bifidobacterium, and Streptococcus are the microbes found in multiple types of yogurt.
Specific types of yogurt, such as Greek and Belgian, are distinguished by the species of bacteria used to culture milk into yogurt.
In animal-sourced milk, the bacteria can use lactose for energy. When microbes use up lactose, they produce lactic acid.
Lactic acid builds up in the milk causing the coagulation of milk proteins. Once proteins coagulate, the milk transforms into a semi-solid mass with a drastic change in taste.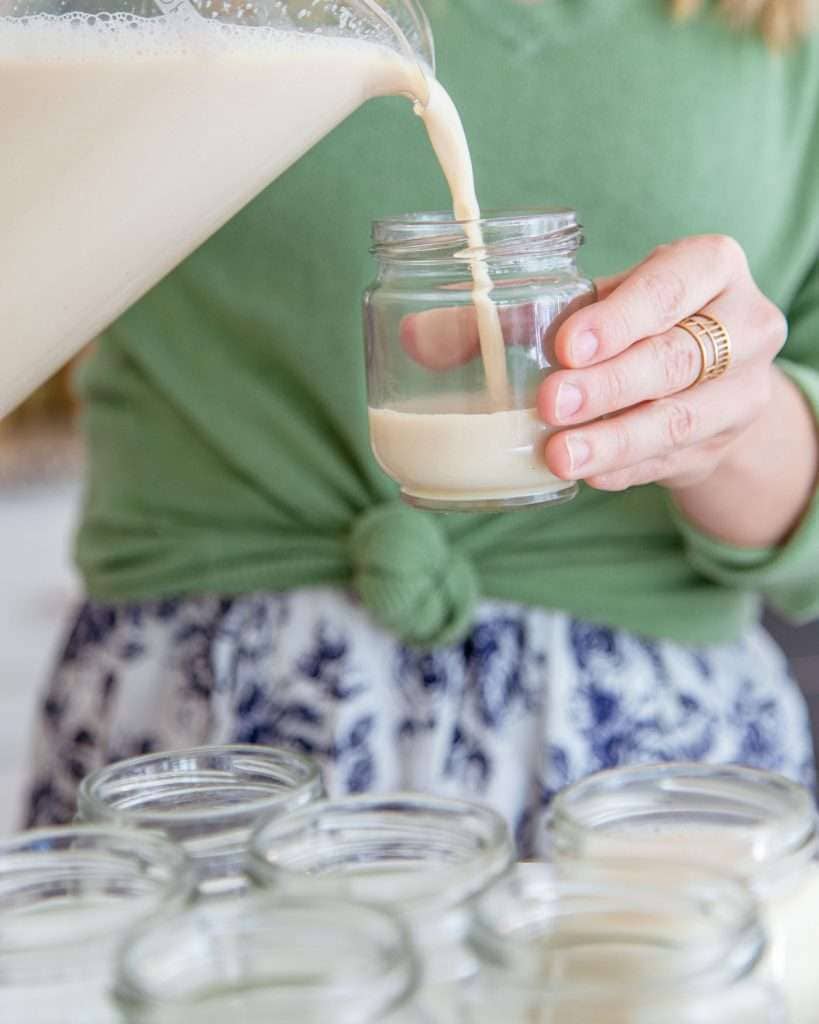 Vegan Yogurt Recipe
Lactic acid fermentation is not the same in dairy-free/vegan yogurt made with oat milk. Plant-sourced milk does not contain lactose.
Instead, bacteria utilize other sugars and proteins for metabolism and reproduction. The bacteria still produce some acid in dairy-free milk, so the flavor is slightly tart. However, plant-based milk does not have the same proteins that coagulate in the presence of an acid as in animal-sourced milk.
We have to add a thickener to create dairy-free yogurts that are thick and creamy. Our favorite thickener to use when making dairy-free yogurt is Agar agar. Agar is vegan and made from a type of sea vegetable.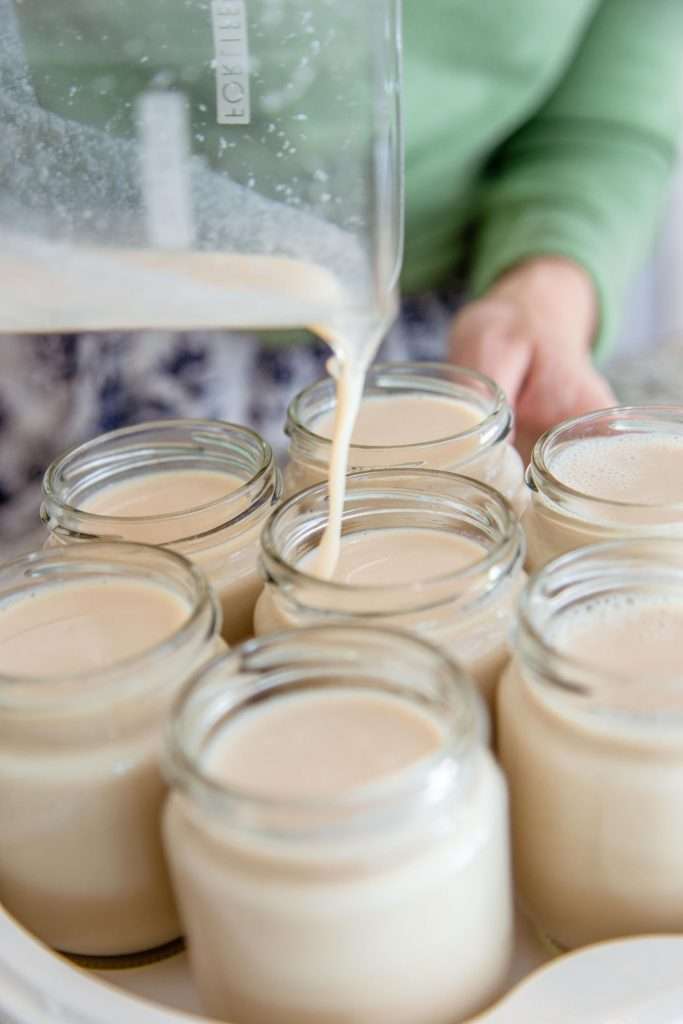 Oat Milk Yogurt
The plant-sourced milk that works the best with vegan starter cultures is soy milk. However, other plant-based milk can work.
For this oat milk yogurt recipe, we used a mix of coconut cream and homemade oat milk, and it's delicious! Feel free to use or blend any plant-based milk for this recipe. Just verify that the milk and coconut cream you are using does not contain any thickening agents.
Vegan Yogurt Starter
You might be wondering how to make vegan yogurt with starter culture. You have two options when culturing yogurt: Use a starter culture or already made vegan yogurt.
We like the second option because already-made dairy-free yogurt is easily accessible from stores like Whole Foods.
So is yogurt culture vegan? It depends on where you get it. If you prefer to use a starter culture, you can order a high-quality vegan starter culture online, like this one.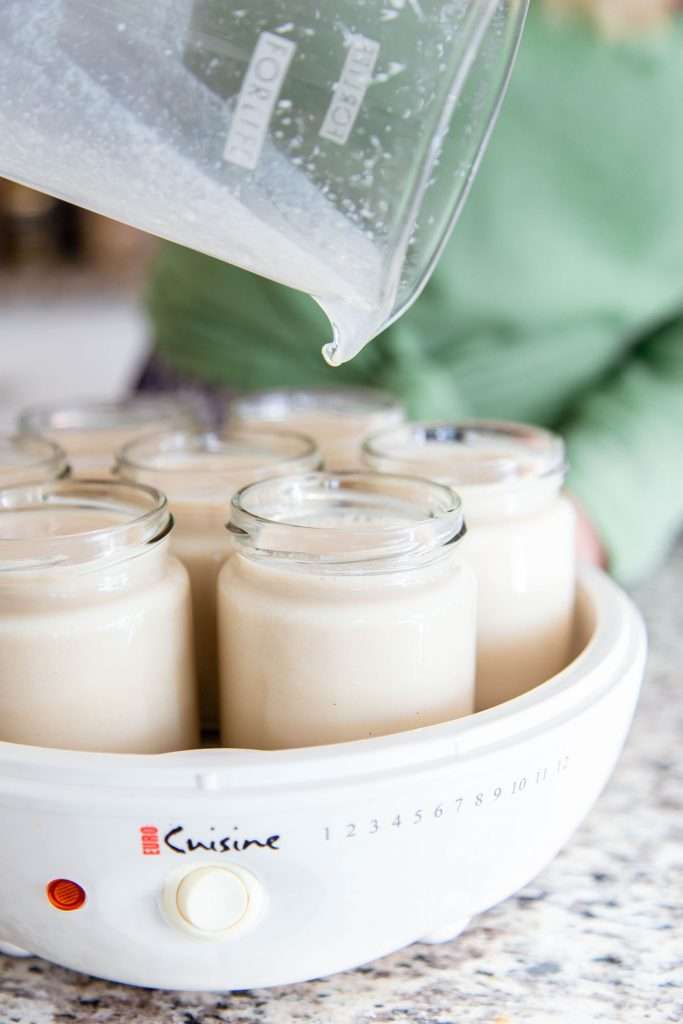 High Protein Dairy Free Yogurt
To make this a high-protein yogurt, without concern about it being vegan, you can add collagen powder to the recipe. You can blend in a scoop of collagen protein when you blend in the starter cultures.
Oat milk yogurt recipe
Here is a list of all the supplies and starter cultures you need to make this recipe:
Print
Thick and Creamy Oat Milk Greek Yogurt
Learn how to make vegan yogurt with oat milk and vegan yogurt starter. This creamy and thick oat milk yogurt recipe is so easy! You can enjoy oat yogurt with fruit, honey, and granola, or try it savory with miso butter jammy eggs and toast.
Author:
Prep Time:

30 minutes

Cook Time:

10 minutes

Total Time:

30 minutes

Yield:

12

servings

1

x
Category:

Fermented Foods

Method:

Fermentation

Diet:

Vegan
950

milliliters oat milk (NO THICKENERS) **

350

milliliters 100% Full Fat Coconut Cream (NO THICKENERS)**

5 grams

agar agar*

50 grams

of already made vegan yogurt, or a packet of vegan yogurt starter culture

50

milliliters Lemon Juice

50

milliliters Maple Syrup
Instructions
Pour the oat milk into a saucepan and heat over medium heat. Stir continuously.
While your milk is heating, whisk together the lemon juice and maple syrup.
Stir the simmering milk and slowly sprinkle in the agar. The agar should dissolve completely and fully incorporate into the liquid mixture. Keep stirring for about 5 minutes while simmering. 
Allow the milk mixture to slightly cool. The temperature should cool down to about 110° F. 
Add in the full-fat coconut cream, the lemon juice, the maple syrup, the starter cultures, and the milk mixture to a blender. Blend on medium low until smooth, about 2 minutes.
Next, you are ready to incubate! Dispense the milk mixture into the clean jars for your yogurt maker. Be sure the lids are off, turn it on and let it incubate for 12 hours.
When your yogurt is done incubating, you can give each jar a good stir. Then put lids on and place them in the refrigerator. Once cooled, add in some fruit and enjoy!
Notes
**Using oat milk and coconut cream that have added thickeners, like guar gum, gellan gum,  locust bean gum, etc. can result in a consistency that is too thick, like jelly. Homemade oat milk and canned coconut cream without any thickeners work best in this recipe.  You can try leaving out the agar if you are using coconut cream and plant-based milk that contain added thickeners.
*Most agar package directions recommend agar measurements that result in a fully solidified firm gel. To make smooth yogurt you have to use less than the package suggests. You should only use 3-5 grams of agar. You must weigh the agar with a kitchen scale to ensure you do not use too much.
*This recipe has been re-tested, updated and improved as of November 2021
Keywords: Yogurt, How to make yogurt, Vegan, Vegan Yogurt, Thick Plant Based Yogurt