These are the most delicious lamb tacos made with fresh sourdough tortillas, marinated lamb, and fermented lemon chermoula. This affordable recipe is made with tender and juicy yogurt-marinated lamb stew meat.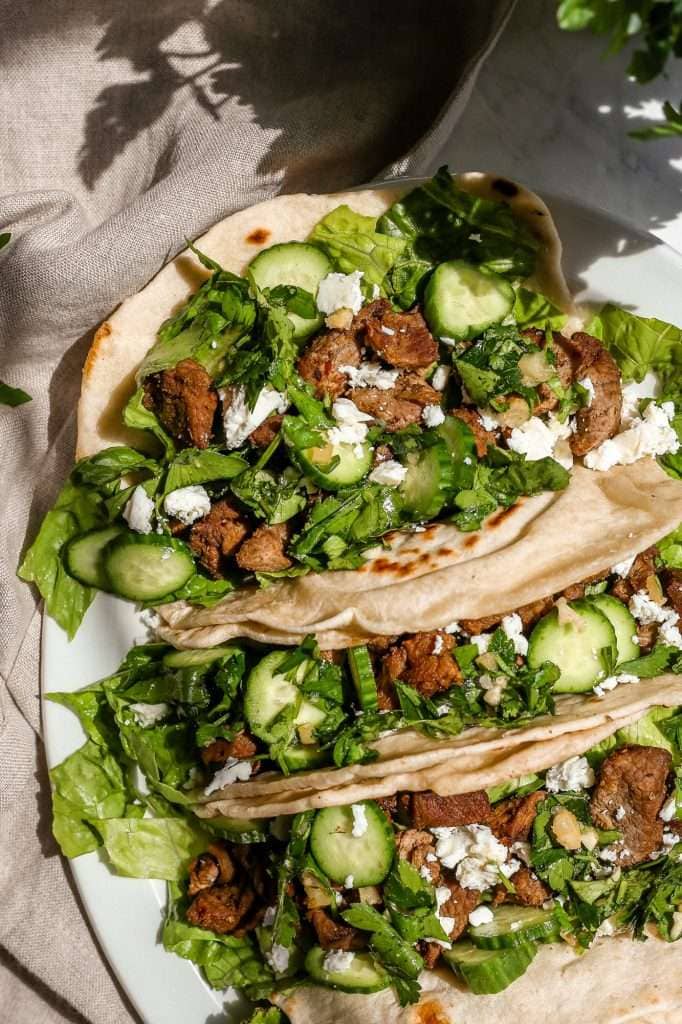 Lamb Tacos
This is one of my all-time favorite taco recipes in the summer. The lamb and the chermoula flavor is a nice change from regular tacos.
I love that you get a lot of savory, rich flavors from the marinated lamb. But there are also a lot of refreshing, bright, and hydrating elements from the lettuce, cucumber, and chermoula. I suggest making these tacos in the spring for Easter and serving them with some homemade hard strawberry cider for an impressive meal.
Fermented Lemon Chermoula
Chermoula is a Moroccan blend of herbs and spices that can be used as a marinade and as a condiment to season salads, stews, tagines, and grilled foods. It's also commonly found in Algerian, Libyan, Moroccan, and Tunisian cooking.
One of the essential ingredients in chermoula is lemon. Since chermoula is Moroccan, you definitely should use Moroccan preserved lemons in this recipe instead of simple lemon zest. The preserved lemon adds so much bright delicious flavor.
I love adding chermoula to tacos with rich meat, like lamb and venison. It's easy to make, too; you only need a few ingredients:
Fresh Parsley
Fresh Cilantro
Preserved lemon rind
Fresh Garlic
Cumin, Ground
Cayenne
Olive oil
Lemon juice
Once you whisk together the chermoula, you can taste test and add salt and pepper to taste.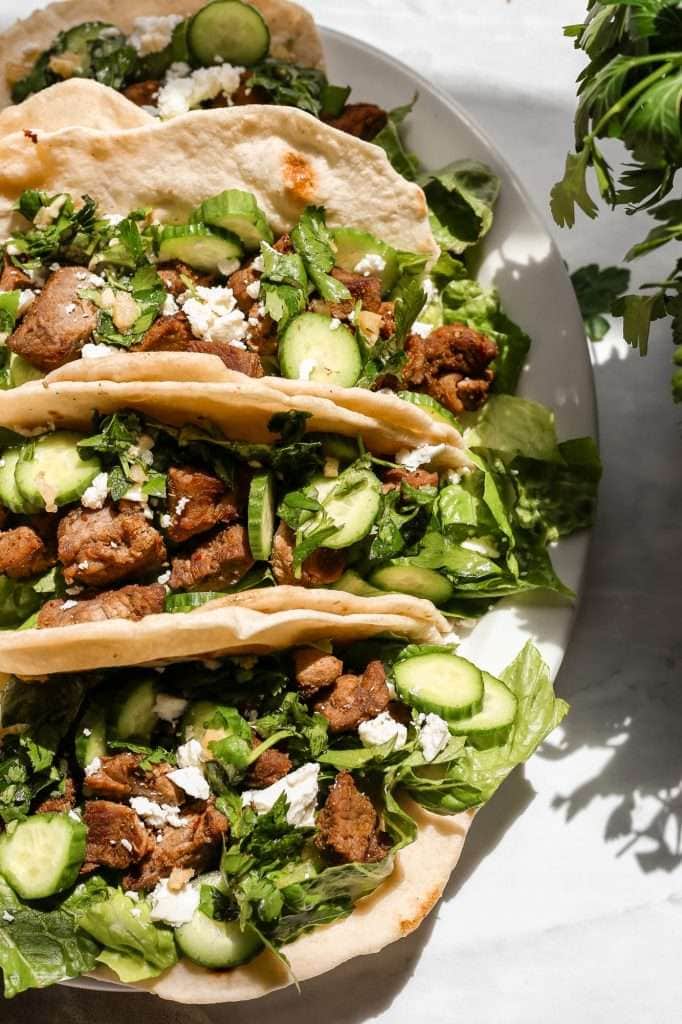 Lamb Tacos with Feta and Fermented Lemon Chermoula
You can use the chermoula as a drizzle topping when preparing the tacos. However, I prefer to mix the chermoula, lettuce, cucumbers, and feta cheese into a salad. I first put the "salad" mix in the tortilla, then top it with the marinated grilled lamb and extra toppings.
I highly suggest making your sourdough flour tortillas from scratch if you have time. Homemade sourdough tortillas are more flavorful, and send this recipe over the top.
Marinating Lamb Stew Meat
I love using lamb stew meat in this recipe. Stew meat is much cheaper than other cuts of lamb meat, so you save money. (the linked stew meat is a little pricey, I get more affordable quality lamb at Whole Foods for about $10 a pound).
Normally, stew meat is tough; you must cook it low and slow before it is tender. But not in this recipe!
Thanks to the yogurt in the marinade, you can make the lamb stew meat nice and tender before searing it in a cast iron skillet. Marinating stew meat in a mixture with yogurt tenderizes the meat so well it's almost the texture of steak cuts when you sear it.
I suggest marinating the lamb overnight in the fridge for the best results. Here is everything you need for the marinade:
2 lbs lamb stew meat
1 tsp Paprika
1 tsp Cumin
2 tsp Oregano
1 clove Crushed garlic
1 tablespoon Lemon juice
3 tablespoons Yogurt
1 tsp Red pepper
1 tsp salt
More Recipes for Spring and Summer
Print
Lamb Tacos with Fermented Lemon Chermoula and Feta
These are the most delicious lamb tacos made with fresh sourdough tortillas, marinated lamb, and fermented lemon chermoula. This affordable recipe is made with tender and juicy yogurt-marinated lamb stew meat.
Author:
Prep Time:

30 minutes

Cook Time:

20 minutes

Total Time:

50 minutes

Yield:

8 servings

Category:

Mains

Method:

Grilled
Marinated Lamb
2

pounds lamb stew meat

1 teaspoon

paprika

1 teaspoon

cumin

2 teaspoons

oregano

1

clove garlic, crushed and minced

1 tablespoon

lemon juice

3 tablespoons

yogurt

1 teaspoon

red pepper

1 teaspoon

salt
Chermoula
1/4 cup

fresh parsley, chopped

1/4 cup

fresh cilantro, chopped

1 tablespoon

fermented lemon rind, rinsed and minced

1

garlic clove, minced

1 teaspoon

ground cumin

1/4 tsp

cayenne

1/4 cup

olive oil

3 tablespoons

lemon juice
Tacos
Instructions
Start preparing this recipe the evening before you plan to serve it.
Pat the lamb dry with a paper towel, and cut it into bite-sized pieces.
Whisk together the marinade ingredients, and add the lamb and marinade to a bowl. Toss to coat the lamb in the marinade evenly.
Cover the bowl and marinate in the fridge overnight.
Prepare the chermoula by mixing all the listed chermoula ingredients.
Heat a large skillet over medium.
Add the marinated lamb to the skillet and sear on all sides. (You will need to drain off some liquid and fat)
While the lamb cooks, warm the tortillas and prepare the lettuce, cucumbers, and feta.
Add some lettuce, seared lamb, cucumbers, and crumbled feta cheese to a tortilla and spoon some chermoula over the taco.
Keywords: tacos, lamb, chermoula, lemon