Soft yet sturdy, these sourdough tortillas are the perfect base for any taco. You only need five ingredients, a rolling pin, and a cast iron skillet to make these delicious flour tortillas.
Sourdough Tortillas From Scratch
Sourdough tortillas are one of the easiest sourdough things you can make. If you are a beginner sourdough baker, this is a fantastic recipe to start with.
I love that you don't need to heat your oven to make tortillas. You just need a hot skillet on the stovetop! You can avoid heating up your house with a long oven baking process. So this recipe is perfect for summer tacos.
Also, you don't have to tend to the dough at all. You mix it, let it rise, then shape and cook. It's a very hands-off process. I like to mix the dough the evening before I need the tortillas. Then, I let the dough sit at room temperature overnight for about 12 hours.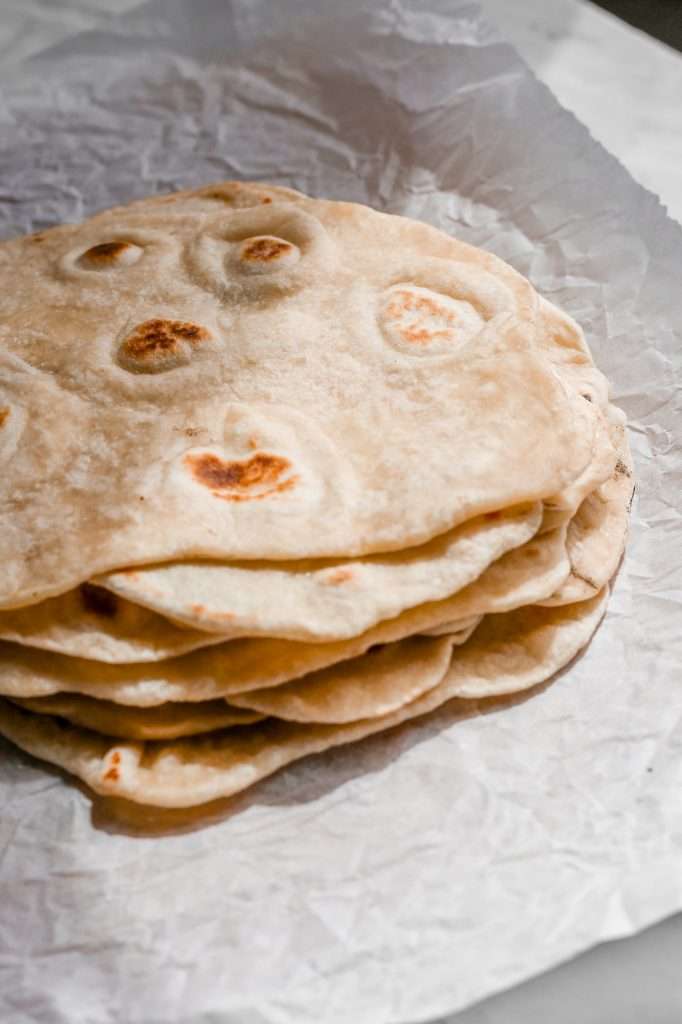 Tortilla Dough Ingredients
For tortillas, you start with basic sourdough ingredients and add a little olive oil.
If you want to add more flavor to your tortillas, add herbs and spices to the dough. Add a teaspoon of minced garlic for an excellent garlic bread flavor.
Here are all the ingredients you need:
100 grams sourdough starter
175 filtered water
40 grams olive oil, extra virgin
7 grams salt
360 grams unbleached all-purpose flour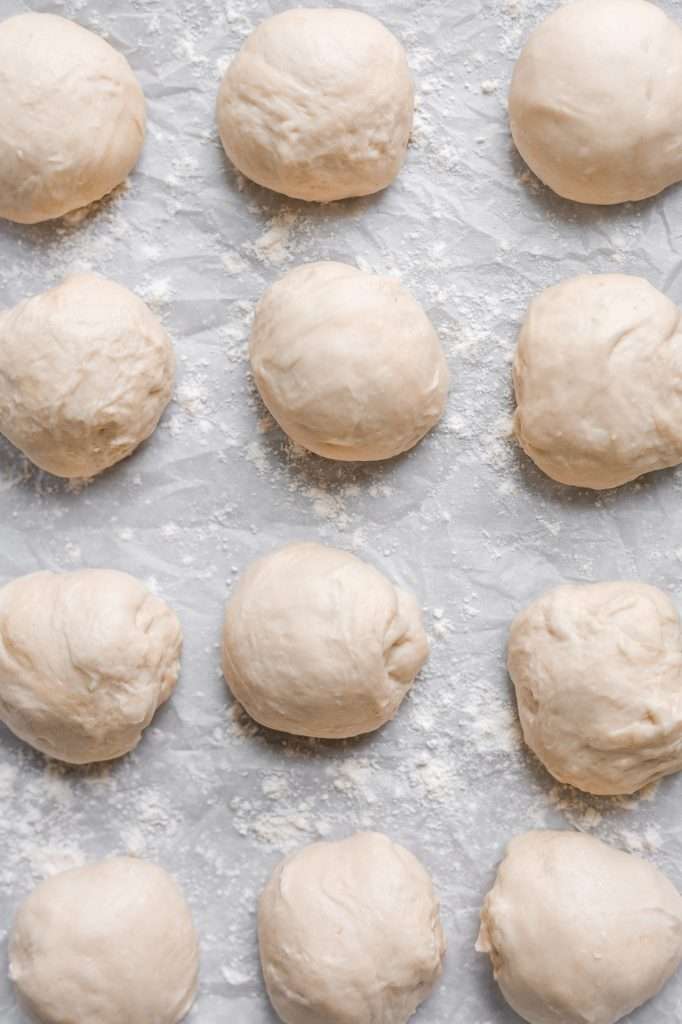 Shaping the Sourdough Tortillas
Most people think you need a tortilla press to make tortillas, but you can also use a simple rolling pin. A tortilla press will give you more perfect circles. While a rolling pin will give you more variation in the tortilla shape.
First, divide the dough into eight equal pieces and shape the pieces into balls. Then, press the ball slightly on a floured surface to flatten it. Next, roll the dough out using a rolling pin.
Cooking Sourdough Tortillas
You do not bake tortillas like other sourdough bread. Instead, you fry them in a lightly greased hot skillet, and I suggest using a cast iron skillet. Your skillet should be smoking hot, and be sure you baste the dough with a high smoke point fat, like melted butter.
I suggest greasing your skillet with avocado oil or melted tallow and wiping any excess with a paper towel.
Once your skillet is smoking hot, add your flattened-shaped dough to the pan. Once it bubbles up, after about 1 to 2 minutes, flip it and cook for another 1 to 2 minutes.
Storing Tortillas
Once your tortillas are cooked, I suggest storing them in an airtight container with clean paper towels. The paper towels help keep the tortillas from getting too soggy and chewy, while the closed container keeps them soft.
You can warm the tortillas in a skillet again before using them.
More Recipes to Try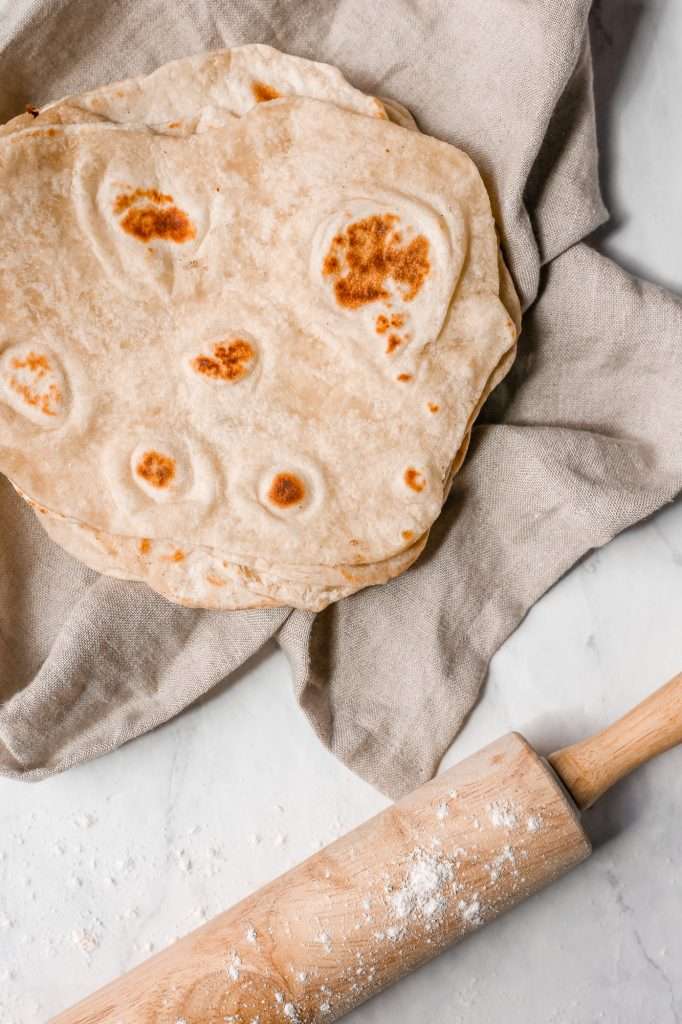 Print
Homemade Sourdough Tortillas Fermented Overnight
Soft yet sturdy, these sourdough tortillas are the perfect base for any taco. You only need five ingredients, a rolling pin, and a cast iron skillet to make these delicious flour tortillas.
Author:
Prep Time:

10 minutes

Cook Time:

30 minutes

Total Time:

40 minutes

Yield:

12 tortillas

Category:

sourdough

Method:

fermentation
100 grams

sourdough starter

175

filtered water

40 grams

olive oil, extra virgin

7 grams

salt

360 grams

unbleached all-purpose
Instructions
Add the sourdough starter, water, oil, salt, and flour to a bowl.
Knead for 2-3 minutes. The ingredients should be fully incorporated, and the dough smooth and slightly elastic.
Place the dough in a greased bowl, cover it with a lid or plate, and allow it to sit at room temperature for 8 to 12  hours.
The next day, divide the dough into 12 equal parts and shape it into little dough balls. Let the balls rest for 30 minutes.
Roll each dough ball out to about a 1/4 inch thickness on a lightly floured work surface. Get them as thin as you can without tearing the dough.
Cook them in a preheated, lightly greased cast iron skillet. One minute on each side should work well.
Keywords: tortillas, sourdough