Soft, chewy, and bubbly, this sourdough naan is one of the easiest bread recipes. Make this sourdough naan bread recipe to pair with meals like curry, or butter chicken, or use it as a pizza base.
Sourdough Naan Bread
Sourdough naan is probably the easiest sourdough bread to make. If you are a beginner sourdough baker, this is a fantastic recipe to start with.
I love that you don't need to heat your oven to make naan because it's cooked in a skillet on the stovetop! That makes it a great sourdough bread for the hot summer since you can avoid heating up your house with a long oven baking process.
Also, you don't have to tend to the dough at all. You mix it, let it rise, then shape and cook. It's a very hands-off process. How quickly you can make naan depends on the temperature of your kitchen. The process will take longer if your home is quite cool (70° F or below). The process will be quicker if your home is warm (75° and up).
Naan Dough Ingredients
For naan bread, you start with basic sourdough ingredients, and you will also need some yogurt. Adding milk and yogurt to the dough gives naan its unique texture and flavor.
If you want to add more flavor to naan, add herbs and spices to the dough. Add a teaspoon of minced garlic and parsley for an excellent garlic bread naan.
Here are all the ingredients you need:
150 grams sourdough starter
150 grams warm milk
100 grams plain yogurt, thick
300 grams bread flour
1 tsp baking powder
7 grams salt
2 tablespoons melted butter (for basting)
If you would like to make this naan vegan, you can! Evenly subbing the milk and yogurt for vegan alternatives should work well, and I think our homemade cashew yogurt would work great in this recipe.
Shaping the Sourdough Naan
I think of shaping naan like shaping mini pizza dough. First, divide the dough into eight equal pieces and shape the pieces into balls.
Then, press the ball slightly on a floured surface to flatten it. Next, pull around the edges of the dough until you for a small circular shape resembling pizza dough. Once you shape all the pieces, you're ready to pan-fry the dough.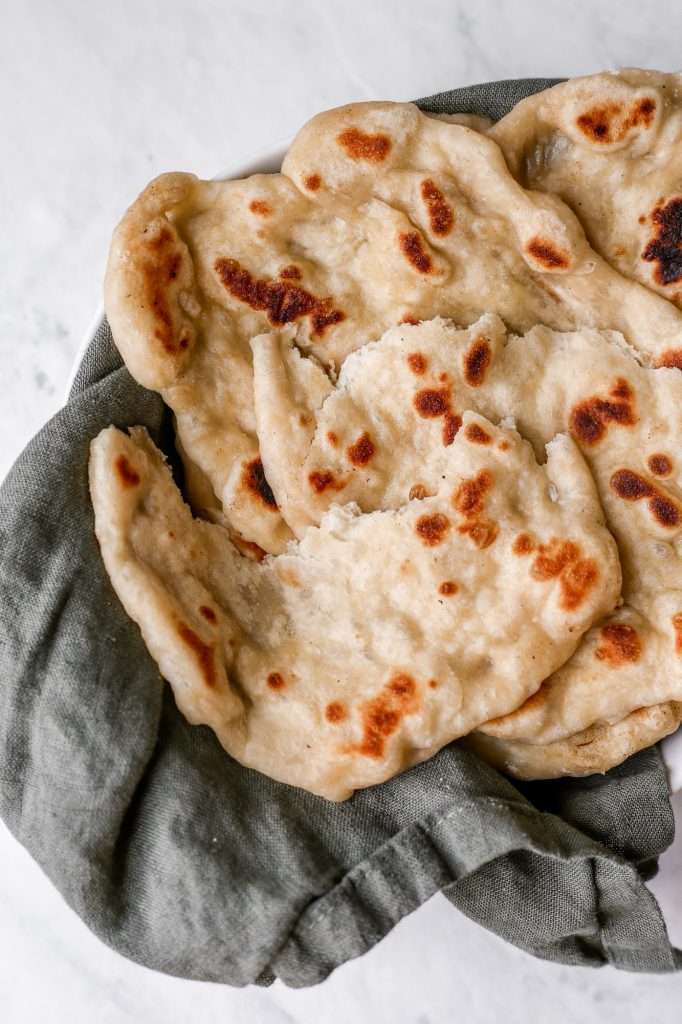 Cooking Sourdough Naan Bread
You do not bake naan like other sourdough bread. Instead, you fry it in a hot skillet with butter, and I suggest using a cast iron skillet. Your skillet should be smoking hot, and be sure you baste the dough with a high smoke point fat, like melted butter.
Alternatives for basting the naan dough include avocado oil, melted tallow, coconut oil, and some vegan butters.
Once your skillet is smoking hot, baste one side of the dough with butter. Then, add your dough to the pan, butter side down. Once it bubbles up, after about 1 to 2 minutes, flip it and cook for another 1 to 2 minutes.
Storing Naan
Once your naan is cooked, I suggest storing it in an airtight container lined with clean paper towels. The paper towels help keep the bread from getting too soggy and chewy, while the closed container keeps the bread soft yet flaky.
Recipes to serve naan with
Print
Easy Sourdough Naan Bread Recipe
Soft, chewy, and bubbly, this sourdough naan is one of the easiest bread recipes. Make this sourdough naan bread recipe to pair with curry, or butter chicken, or use it as a pizza base.
Author:
Prep Time:

5 minutes

Fermentation Time:

6 hours

Cook Time:

5 minutes

Total Time:

6 hours 10 minutes

Yield:

8 pieces

Category:

sourdough

Method:

stove top

Cuisine:

Indian
150 grams

sourdough starter

150 grams

warm milk

100 grams

plain yogurt, thick*

300 grams

bread flour

1 tsp

baking powder

7 grams

salt

60 grams

melted butter (for basting)
Instructions
In a large bowl mix together the sourdough starter, milk and yogurt until smooth.
Add the flour, baking powder and salt and stir to combine.
Knead just a little until a rough dough ball forms.
Cover the bowl with a plate or damp cloth and let the dough rise for 4-6 hours. If your house is warmer, this could take less time. If your house is colder, it may take more time. The dough should almost double in size.
Lightly sprinkle four over the dough and dump the dough onto a lightly floured counter.
Preheat a heavy cast iron skillet over medium-high heat.
Divide the dough into 8 pieces and shape into little dough balls.
Pull and press out each piece into about 1/4″ thickness. It should look like a mini pizza crust. If the dough sticks to your hands just add a small sprinkle of more flour.
Brush one side with melted butter and place butter-side down on the skillet.
Cook for about a minute or two, or until the dough starts to bubble and release from the skillet.
Brush the other side with melted butter then flip.
Cook for an additional minute or two.
Transfer to a plate and cover with a cloth to keep warm.
Repeat with remaining pieces of dough and Enjoy!
Notes
*if your yogurt is thin and not thick, reduce the amount of milk in the dough slightly.
Keywords: naan, sourdough, bread