Here are 15 easy uses for leftover fermented vegetable brine. These recipes all easily incorporate fermented vegetable brine, so don't let it go to waste! Fermented vegetable brine is probiotic and filled with the same beneficial compounds as fermented foods. Don't let the brine go to waste, instead use it in these easy and nutritious recipes.
Fun Ways To Use Fermented Sauerkraut Brine and Other Fermented Vegetable Brine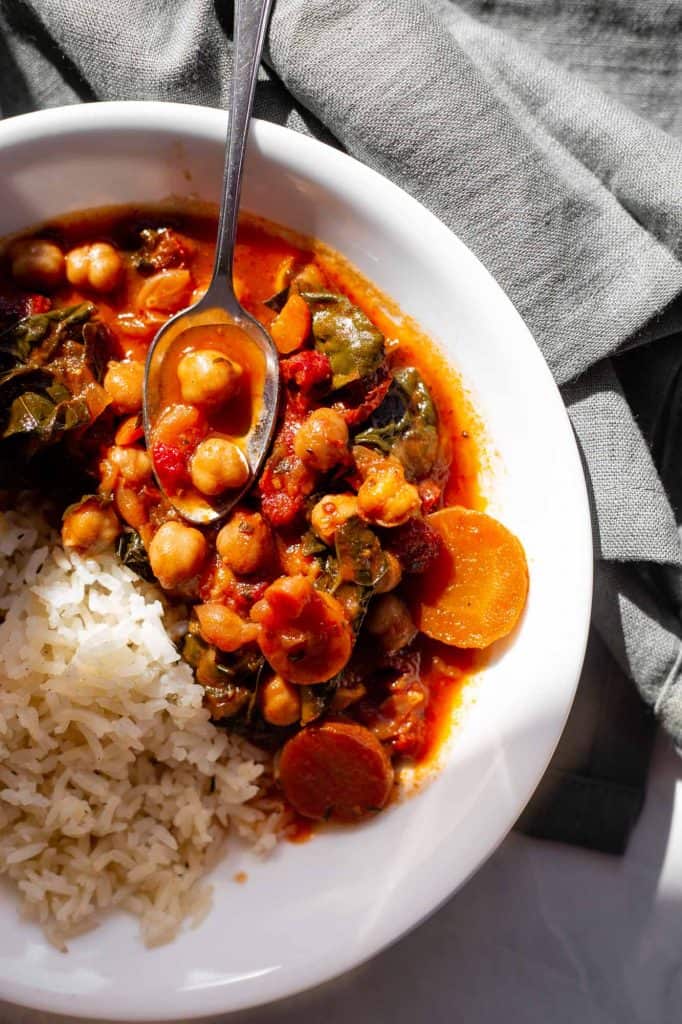 These Braised Chickpeas with Sun-dried Tomatoes and Kale only take about 15 minutes to prep and 45 minutes to cook! Pair the chickpeas with rice, quinoa, or barley for an easy and healthy dinner. You can also make this recipe as a meal-prep! Click Here for the recipe.
In honor of the launch of our Fermented Jalapenos, we made vegan nachos with vegan queso! I love this vegan queso recipe. This is the creamiest, cheesiest, most delicious vegan cheese sauce around. It's perfect for vegan nachos. Click Here for the recipe.
Make this simple and creamy vegan pasta with pumpkin alfredo sauce any night of the week for a quick and easy plant-based dinner! This is a delicious fall pasta recipe for any occasion and comes together in just 20 minutes. Click Here for the recipe.
The concentration of salt in vegetable fermentation greatly influences the microbial composition of fermented vegetables. Even the type of salt used can have a profound effect on which types of microbes populate fermented vegetables. Come learn the important role salt plays in vegetable fermentation and how to safely make low-sodium fermented vegetables. Click Here for the recipe.
This Healthy Green Superfood Smoothie is made with frozen banana, spinach, tahini, spirulina, maca, and dates for a creamy and nourishing drink in under five minutes! This smoothie is loaded with gut-healthy fiber, and you can easily add some organic protein powder to make this smoothie a filling meal. Did you know you can add a teaspoon of sauerkraut brine to smoothies for probiotic benefits? It doesn't even change the flavor! Click Here for the recipe.
This is a quick and easy recipe to make probiotic fermented cherry tomatoes. You only need a few ingredients and in just 24 hours, you'll have absolutely delicious probiotic cherry tomatoes! This is a wild heirloom culturing process that employs microbes from wild fermentation for the healthiest results. Click Here for the recipe.
Learn how to easily make the best sourdough starter with just water and organic sprouted rye flour. With just two ingredients and seven days' time you'll have a healthy sourdough starter for baking flavorful, naturally leavened bread! We also included a quick 2-day sprouted sourdough starter recipe option, that incorporates fermented vegetable brine, for those of you who'd like to bake with this sprouted rye sourdough starter sooner. Click Here for the recipe.
These Veggie Burgers with Turmeric, Chickpeas, and Sweet Potato are loaded with flavor and gut-healthy fiber. The burger patties come together in just 30 minutes and can be enjoyed baked in the oven or cooked on the grill. Click Here for the recipe.
Chickpea Caesar salad is all about the dressing and parmesan! This salad recipe includes instructions for making our homemade vegan Caesar dressing and our delicious recipe for vegan parmesan cheese. This is a perfect, filling, vegan salad for lunch or dinner! Click Here for the recipe.
Delicious Ways To Use Fermented Kimchi Brine
Vegan kimchi mac and cheese is easy to make and loaded with flavor! This slightly spicy mac and cheese comes together in just 30 minutes and is the perfect side dish for any family dinner. Click Here for the recipe.
Making vegan summer rolls is our favorite way to get a heaping dose of many prebiotic foods. This recipe will teach you how to make a delicious summer roll and my favorite summer roll dipping sauce. You will also learn how to mix up your ingredients to keep things fresh. Click Here for the recipe.
These chili garlic snow peas are so easy and quick to make. Snow peas are fiber-rich and great for gut microbiome health, which makes this recipe the perfect appetizer or snack. This recipe is so simple and makes a great side dish for any meal. Click Here for the recipe.
It's totally fine to have a drink in moderation. This is especially true when the drink is loaded with vegetables and fermented, probiotic kimchi. This Kimchi Bloody Mary Recipe is easy, refreshing, and probably the healthiest adult beverage around! Click Here for the recipe.
I LOVE fresh and pickled red onions… a lot. We always have red onions in our house and we never, ever run out. We put them in quinoa bowls, in burrito bowls, on avocado toast, and pretty much any savory meal. Want to know what we love more than pickled red onions though? Fermented Red Onions! It's the same great taste of pickled red onions, but with awesome gut-health benefits fermented foods provide! Click Here for the recipe.
I adore pasta salad. It's a quick, easy and nutritious meal that's perfect for meal preps, lunch or dinner. You can make any recipe on our website knowing that it's good for gut health, and that includes this vegan cheesy broccoli pasta salad with buffalo chickpeas. It's loaded with vitamins, healthy fats, prebiotic fiber, and good flavors. Click Here for the recipe.