Exactly what you need with brunch after a long night out, this kimchi bloody Mary recipe is full of electrolytes and can be served with or without alcohol. It's probiotic and great for gut health too.
My Kimchi Bloody Mary Recipe
Imagine waking up on a lazy Sunday morning and treating yourself to a revitalizing and flavorful cocktail (or mocktail!) boasting numerous health benefits.
Enter the Kimchi Bloody Mary—a unique twist on the classic brunch staple.
In this blog post, we'll explore the nutritional advantages of tomato juice, the probiotic powerhouse that is kimchi, the intriguing history of the Bloody Mary, and the fascinating claims surrounding its reputation as a hangover cure. Get ready to embark on a culinary journey that combines spice, tang, and wellness in a single glass.
A Healthy Bloody Mary with Probiotics
The primary ingredient in a Bloody Mary, tomato juice, is not only delicious but also packed with essential nutrients.
Tomatoes are rich in lycopene, a potent antioxidant known for its role in reducing the risk of chronic diseases, including certain types of cancer. Tomato juice is also an excellent source of vitamins A and C, which support a strong immune system, promote healthy skin, and provide anti-inflammatory benefits. Additionally, the high water content of tomato juice helps to hydrate the body and support proper digestion.
Kimchi, a staple in Korean cuisine, is a fermented side dish made from cabbage and a variety of spices. Beyond its deliciously tangy and spicy flavor, kimchi offers an array of health benefits.
As a fermented food, kimchi is teeming with probiotics, beneficial bacteria that promote a healthy gut microbiome. These probiotics contribute to improved digestion, enhanced immune function, and even mental well-being
Kimchi is also rich in vitamins A and C, as well as minerals like iron and potassium, which are essential for overall health and vitality. By incorporating kimchi into your Kimchi Bloody Mary, you're adding a tangy kick and a gut-friendly boost to your hangover cure.
Is a Bloody Mary a Hangover Cure?
The origins of the Bloody Mary are shrouded in mystery, with multiple tales claiming ownership of this iconic cocktail.
One popular theory suggests that it was first concocted in the early 1920s by a bartender named Fernand Petiot at Harry's New York Bar in Paris. Another story credits comedian George Jessel with creating the drink in the 1930s.
Regardless of its exact origin, the Bloody Mary gained popularity as a hangover remedy and eventually became a beloved brunch staple worldwide.
Over time, variations of the original recipe emerged, including my creation of this Kimchi Bloody Mary—a fusion of cultures and flavors that brings a unique twist to this classic cocktail.
Among the reasons people claim Bloody Marys to be a hangover cure is the combination of ingredients that can help alleviate symptoms associated with excessive alcohol consumption.
Tomato juice is hydrating and replenishes essential vitamins and minerals lost during drinking. The addition of spices like horseradish and lemon juice can aid in digestion and settle an upset stomach.
Moreover, the savory and umami flavors of the Kimchi Bloody Mary can help stimulate the appetite, making it an appealing choice for those nursing a hangover.
Equipment You Need for This Recipe
Here is everything you need to make this recipe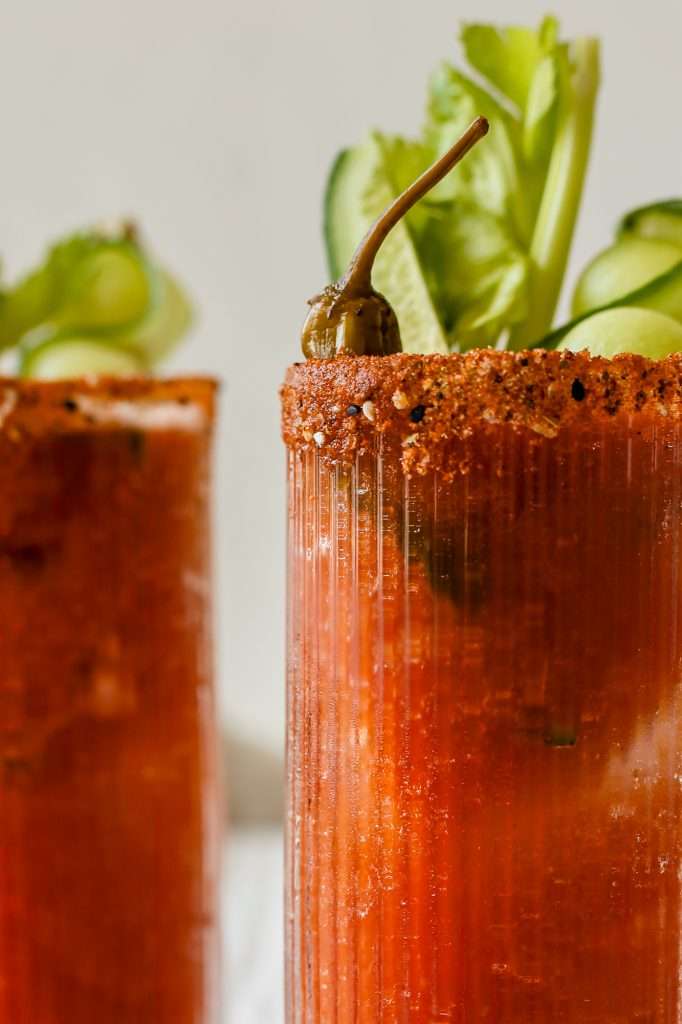 The Best Kimchi Bloody Mary Ingredients
These are the ingredients you need for this delicious bloody mary recipe. Feel free to add hot sauce if you like it spicer
32 oz organic tomato juice
1/4 Cup kimchi (or sauerkraut)
1/2 Cup kimchi brine (or sauerkraut brine)
2 Tablespoons lemon juice
3 Tablespoons steak sauce
1 Tablespoon horseradish
2 Tablespoons pure maple syrup
Vodka
Cucumbers
Celery
Salt
Old bay seasoning or other spices for rimming the glass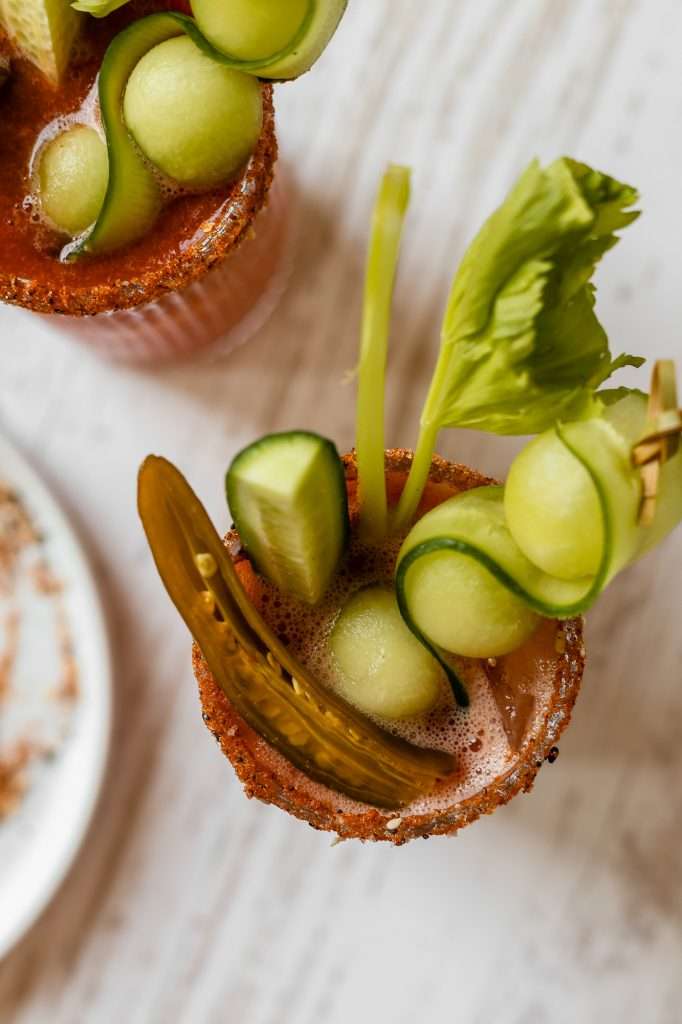 Spicy Kimchi Bloody Mary From Scratch
The Kimchi Bloody Mary is a delightful and healthful twist on the classic brunch cocktail.
So, next time you're seeking a spicy and tangy beverage to kick start your morning, reach for the Kimchi Bloody Mary. Indulge in its unique flavors, and revel in its potential hangover-curing properties.
Cheers to a rejuvenating and flavorful start to your day!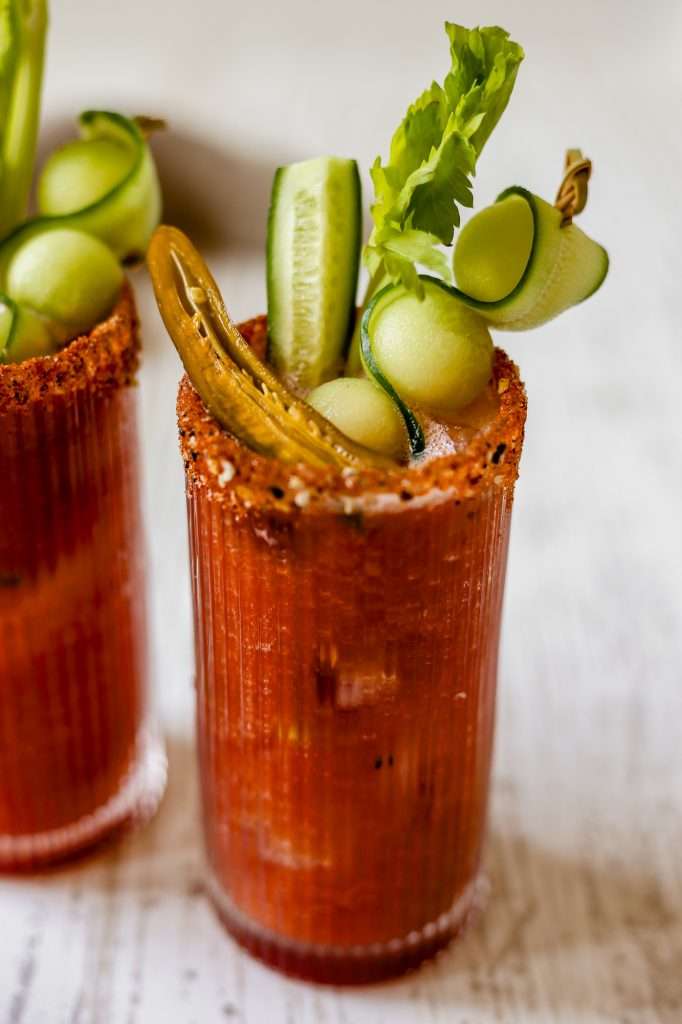 Print
Kimchi Bloody Mary Recipe
Exactly what you need with brunch after a long night out, this kimchi bloody Mary recipe is full of electrolytes and can be served with or without alcohol. It's probiotic and great for gut health too.
Author:
Prep Time:

5 Minutes

Cook Time:

5 minutes

Total Time:

10 Minutes

Yield:

5 Servings

Category:

Drinks

Method:

Blender

Cuisine:

American
32 oz

organic tomato juice

1/4 Cup

kimchi (or sauerkraut)

1/2 Cup

kimchi brine (or sauerkraut brine)

2 Tablespoons

lemon juice

3 Tablespoons

steak sauce

1 Tablespoon

horseradish

2 Tablespoons

Pure Maple Syrup
Vodka (optional)
Cucumbers
fermented pickles
fermented peppers
Celery
Salt
Old bay seasoning or other spices for rimming the glass
Instructions
To make the Bloody Mary base: in a blender, combine the tomato juice, kimchi, kimchi brine, lemon juice, steak sauce, horseradish, and maple syrup.
Blend until smooth.
Rim a glass with lemon juice, salt, and spices.
Mix 6 ounces of the Bloody Mary base with 1.5 oz Vodka. (optional)
Stir and pour over ice.
Garnish with cucumbers, pickles, peppers and celery.
Serve and enjoy.
Keywords: kimchi,bloody mary,drink,cocktail