If you love maple and pecans, you will enjoy this fermented sourdough maple pecan granola. Pair it with yogurt and fruit for a delicious breakfast.
Sourdough Discard Granola
This granola is ridiculously easy to make, and all the ingredients are healthy! You can choose to use a bubbly active sourdough starter or a starter straight from the fridge.
I usually have everything I need to make granola already stocked in my pantry. The only thing here that's not usual is maple extract; I don't know if you can find that at any store.
I bought some online a while back and had it lying around in the back of my pantry. All of the seeds and nuts I use are raw and organic. Here is everything you need:
Pumpkin seeds
Sunflower seeds
Hemp seeds
Oats
Flax seed
Pecans
Sourdough starter, active bubbly (you can use discard, but active and bubbly makes the granola easier to digest)
Water
Maple syrup
Maple extract
Vanilla extract
Melted butter
Salt
Organic cane Sugar
Fermented Granola with Maple and Pecans
This granola starts very wet, which isn't the normal state of granola. So this recipe takes a little more time and a couple of steps.
I believe all oats, seeds, nuts, grains, and beans should be soaked, sprouted, and fermented before we eat them.
Humans are monogastric animals, which means we don't have a rumen to ferment these types of foods like cows and goats do. To derive the most bioavailable nutrition from these foods, it's best to ferment them first.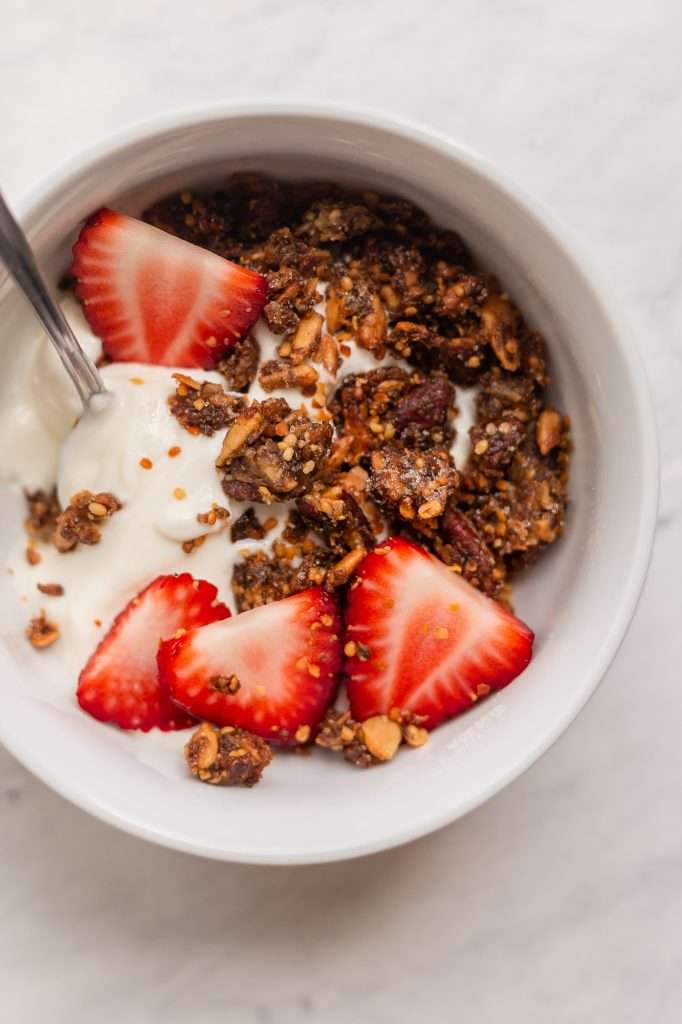 Maple Pecan Granola
Not all oats are certified gluten-free. To make this recipe gluten-free, use certified gluten-free oats and a gluten-free sourdough starter.
I loved using the gluten-free rolled oats from trader joes. If gluten-free isn't a priority, try using thick-rolled oats to make granola!
I think the thicker rolled oats result in crunchier granola. You can also change up the ingredients a bit if you wish. I made this granola with only oats and pecans, but I used the same total volume of ingredients.
Pairings with Maple Pecan Granola
Print
Fermented Sourdough Maple Pecan Granola
If you love maple and pecans, you're going to enjoy this fermented sourdough maple pecan granola. Pair it with yogurt and fruit for a delicious breakfast.
Author:
Prep Time:

10 minutes

Cook Time:

3 hours

Total Time:

3 hours 10 minutes

Yield:

12 Servings

Category:

Breakfast

Method:

Baking

Cuisine:

american
Part one
1/4 cup

pumpkin seeds

1/4 cup

sunflower seeds

1/4 cup

hemp seeds

1 cup

rolled oats

1/4 cup

flax seed

1/2 cup

pecans

1/4 cup

sourdough starter

1/4 cup

water
Part Two
1

C maple syrup

1/2 teaspoon

maple extract

1/2 teaspoon

vanilla extract

1/4 cup

melted butter

1 teaspoon

salt
Part three
Instructions
Mix all of the part one ingredients and allow it to ferment for 6 hours at room temp. You can leave it longer but the flavor will get sour. You can also ferment in the fridge for a longer time.
Line a large baking pan with parchment paper and preheat your oven to 325° F.
Mix the part two ingredients in a bowl, then mix it all into the seedy oat granola  mixture.
Spread the granola mixture out on the parchment paper-lined pan, evenly.
Bake at 325° F for 40 minutes. After 40 minutes the mixture should be sticky, kind of soggy but slightly drier.
Reduce the oven heat to 200° F. Remove the mixture from the oven and let it cool off for ten minutes. Leave the oven on.
Stir the granola mixture around until it forms sticky clumps.
Sprinkle it with organic cane sugar. I use about two tablespoons.
Stir the granola mixture some more and spread it evenly on the same pan in one layer.
Place the granola back in the oven and bake until it is completely dry, about 2 hours. Check it and stir it periodically.
Cool completely and store in an air-tight container.
Keywords: granola, pecan, maple, sourdough