I let my sourdough banana bread ferment and rise for hours. This is the best sourdough banana bread recipe; so flavorful and easy to digest!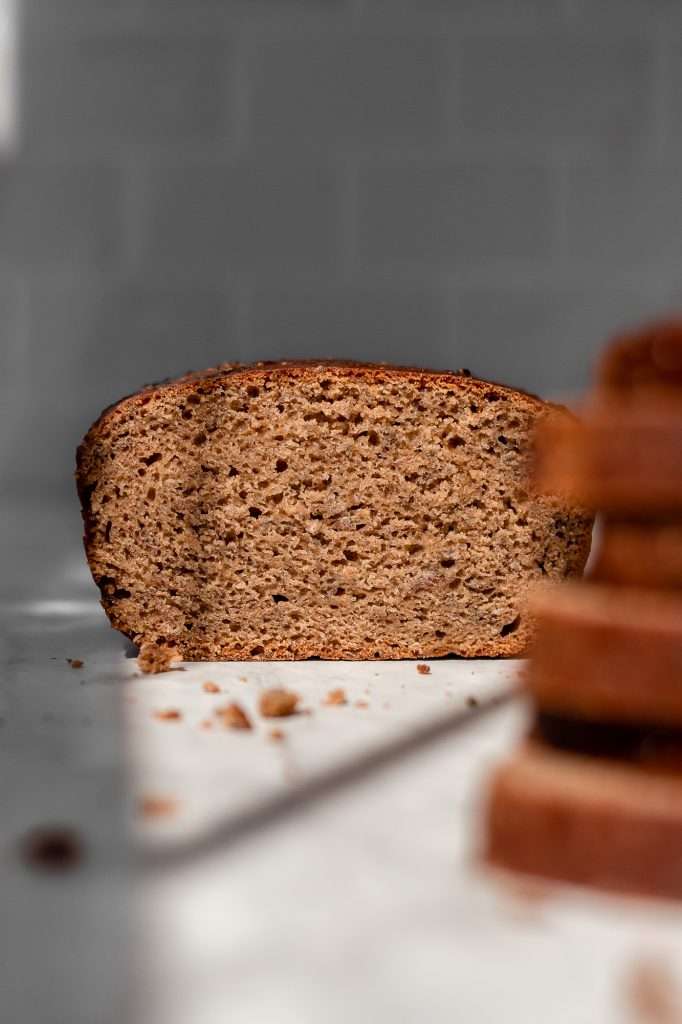 Sourdough Banana Bread
You will enjoy this lightly sweet recipe if you are a sourdough bread baker. While many banana bread recipes are more like cake, my banana bread is more like soft sweet bread.
For this recipe, you want to use brown sugar and maple syrup for the best flavor. The pure vanilla extract with maple syrup, brown sugar, and rye flour creates a fabulous caramel flavor.
I like to whip softened grass-fed butter with organic maple syrup to spread on a slice for a perfect sweet snack.
My Sourdough Banana Bread Recipe
Here are all the ingredients and supplies you need to make this fermented sourdough banana bread:
salt
chia seeds
baking Soda
all-purpose flour
rye flour (I used sprouted rye flour, but any rye flour will do)
Cinnamon
brown sugar
Sourdough Starter
warm water or milk
ripe banana
coconut oil
maple syrup
vanilla extract
You will also need:
9×5 loaf pan
parchment paper
Making Banana Bread with Sourdough Starter
Most sourdough banana bread and zucchini bread recipes don't allow any rise time. Instead, most people treat it like a sourdough discard recipe that goes straight into the oven after combining the ingredients.
I let my sourdough banana bread rise. Allowing the dough to ferment and rise has two main benefits.
First, the flavors and textures develop so nicely. Second, giving the dough time to ferment and rise makes the bread easier to digest. I have trouble digesting fructans, which bananas and rye flour contain a lot of.
When sourdough ferments, the starters' microbes pre-digest all the fructans in the banana and flour, so it gives me no trouble. You can learn more about the digestibility of sourdough by clicking here.
Print
Sourdough Banana Bread with Sprouted Rye and Maple Syrup
I let my sourdough banana bread ferment and rise for hours. This is the best sourdough banana bread recipe, so flavorful and easy to digest!
Author:
Prep Time:

30 Minutes

Cook Time:

1 Hour

Total Time:

90 Minutes

Yield:

1 Loaf

Category:

Bread

Method:

Baking

Diet:

Vegan
2 Tablespoons

Chia Seeds (optional)

1 Teaspoon

Salt

1 Teaspoon

Baking Soda

1 3/4 Cup

All Purpose Flour

1 Cup

Rye Flour

1 Teaspoon

Cinnamon

2 Tablespoons

brown sugar

1 Cup

Sourdough Starter, active and bubbly

1/2 Cup

warm water or milk

1 Teaspoon

Vanilla extract

1

Mashed Ripe Banana

1/4 Cup

Coconut Oil, Melted

3/4 Cup

Maple Syrup 
Instructions
Line a 5″ by 9″ loaf pan on all sides with parchment paper. 
In a mixing bowl, combine the chia seeds, salt, baking soda, flour, cinnamon, and brown sugar. Mix until evenly combined. 
In a separate bowl, combine the sourdough starter, warm milk, vanilla extract, ripe banana, coconut oil, and maple syrup. Whisk until the mixture is uniform. (note that the sourdough starter is a wet ingredient)
Pour the wet ingredients into the dry ingredients and fold in until evenly combined. The mixture will be wet and stretchy.
Transfer the mixture to the parchment paper-lined loaf pan. Using a spatula, spread the mixture into the pan evenly. Top with banana slices. 
Allow rising at a warm temperature for 4 hours. 
Preheat oven to 350 degrees F.
Bake for 1 hour, rotating the pan halfway through.
Allow to cool for 30 minutes, then slice.  
Store in an airtight container.
Notes
Optional Streusel Topping
2 Tablespoons Cold Butter
1 Tablespoon Flour
2 Tablespoons Sugar
For the streusel topping (optional), combine the sugar, flour and butter. Sprinkle ontop of the loaf right before it goes in the oven.