Transform your Thanksgiving table with the tart, sweet, and brilliant flavors of this Orange Spiced Fermented Cranberry Sauce From Scratch.
Orange Spiced & Fermented
Cranberry sauce is a must-have side dish on Thanksgiving; my family's Thanksgiving is no exception. Seven years ago, I made this recipe for my family to replace the high-fructose corn syrup jelly in a can. I remember sitting down at the table for dinner, and my dad looked at me and said, "You're making this every year."
This recipe goes beyond cheap canned cranberry sauce and explores making the perfect Orange Spiced Fermented Cranberry Sauce from scratch. I use fresh organic berries, organic sugar, fresh orange juice, warm spices, and a little fermentation to make it unique.
Adding orange juice and spices to cranberries creates a delicious flavor. The citrusy notes complement the tartness of the cranberries, while cinnamon and ginger add warmth and depth. You can experiment with the ratios of spices to find the perfect balance for your taste. However, I swear by the recipe as written.
How do You Thicken Homemade Cranberry Sauce
The ideal consistency is essential for an excellent cranberry sauce.
Instead of using thickeners, you simmer the sauce over low heat to activate the natural pectin in the cranberries. Simmering with sugar also naturally thickens the sauce. Be patient and simmer it on low to give it time to reduce and intensify in flavor.
How to Take the Bitterness Out of Cranberry Sauce
Balancing bitterness is key to creating delicious cranberry sauce. That's why it is necessary to add sugar. Honey or maple syrup can work, but I think organic cane sugar works the best. You also add acidity and sweetness with the orange juice, and that balances out the flavor.
If you want honey or maple syrup, sub evenly for the sugar. Taste and add more as you go to make sure it's sweet enough to balance the bitterness.
I have another trick to lessening the bitterness too, fermenting the cranberries overnight.
Fermenting Cranberries Before Cooking
I always lightly ferment my cranberries before cooking them into the sauce. The fermentation process is very simple.
I like to crush the berries a little bit, then add them to a bowl with kombucha and water. Anytime I pass by the bowl of soaking cranberries, I stir it. I let them ferment overnight for 24 hours. Then, I rinse the cranberries and use them in the recipe. (All of these directions are in the recipe card below).
How Long Is Homemade Cranberry Sauce Good For?
Freshness is essential when it comes to cranberry sauce. Luckily, it's naturally acidic. When stored in an airtight container in the refrigerator, homemade cranberry sauce can last up to two weeks.
Can I Freeze Homemade Cranberry Sauce?
You can prep even earlier for Thanksgiving or extend the life of your sauce by freezing it for future use. Allow the sauce to cool completely before transferring it to freezer-safe containers, leaving room for expansion, then freeze. When you're ready to enjoy it, thaw it in the refrigerator overnight.
In conclusion, making this recipe from scratch is delicious, nutritious, and rewarding. This side dish is an impressive, real-food addition to any holiday spread.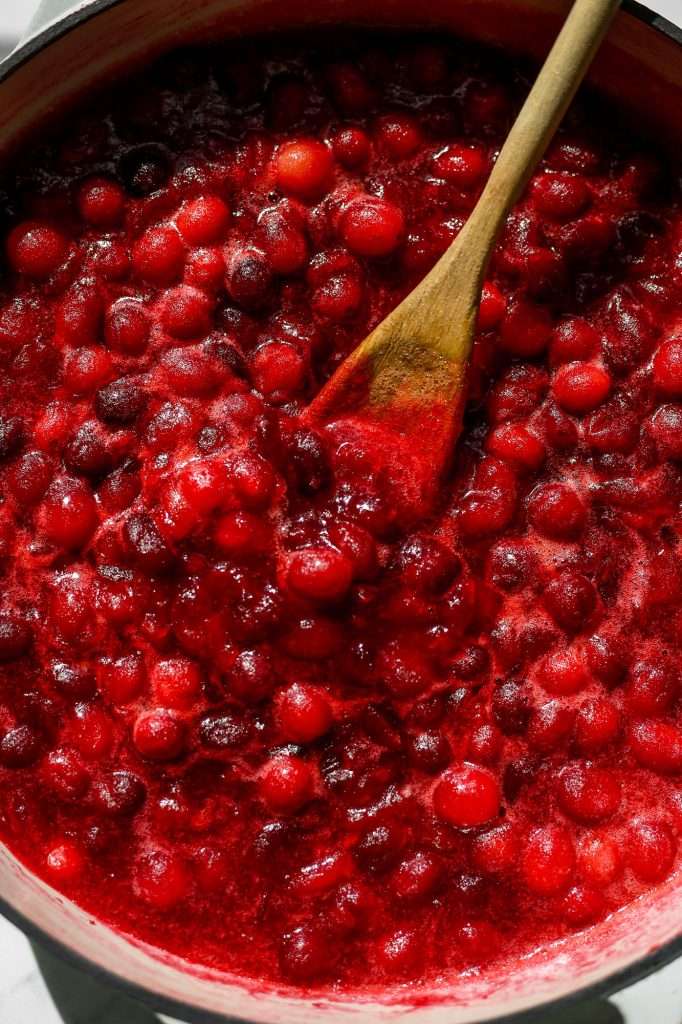 Print
Orange Spiced Fermented Cranberry Sauce From Scratch
Transform your Thanksgiving table with the tart, sweet, and brilliant flavors of this Orange Spiced Fermented Cranberry Sauce From Scratch.
Author:
Prep Time:

5 minutes

Cook Time:

15 minutes

Total Time:

20 minutes

Yield:

1 quart

Category:

sides

Method:

stove top
for soaking
24 ounces

fresh cranberries

1 cup

kombucha (plain, orange, or lemon flavor)

2 cups

water
for the sauce
1 cup

orange juice

1 cup

water

1 cup

organic sugar

2

cinnamon sticks

2

orange slices

2

slices fresh ginger root
Instructions
While still in the bag, beat the cranberries slightly to crack them. I like to hit the bag with a rolling pin.
Rinse the berries well.
Pour the cranberries into a bowl with the kombucha and water. Stir to combine. Leave it on the counter for 24 hours and stir it occasionally.
The next day, strain the cranberries and add them to a medium pot. Add the orange juice, water, sugar, orange slices, ginger root, and cinnamon sticks.
Bring to a simmer; once it simmers for about 3 minutes, remove the orange slices, ginger root, and cinnamon sticks.
Cook until all of the cranberries have burst and the liquid thickens.
Remove the pot from heat.
Let cool completely at room temperature, then transfer to a bowl or jar to chill in the refrigerator. Note that the cranberry sauce will continue to thicken as it cools.
Store in the fridge for up to two weeks.
Keywords: cranberry, sauce, thanksgiving