Learn about how I used food as medicine to heal my eczema completely. With a metabolically supportive diet and real food probiotics, I was able to heal my leaky gut and my atopic dermatitis for good.
Leaky Gut and Eczema
As defined by Cleveland Clinic, leaky gut syndrome is a theory that intestinal permeability is not only a symptom of gastrointestinal disease but an underlying cause of gastrointestinal disease that develops independently. If your intestinal barrier is impaired, it lets toxins into your bloodstream and can cause autoimmune issues. Yes, like eczema.
At this point in my life, gut health is everything to me. However, I was not always healthy and aware of my gut microbiome.
For a long time, I had poor eating habits, an eating disorder, poor gut health, and terrible eczema. All of these things were tightly connected. When I decided to try to heal my eczema naturally, I knew I had first to heal my leaky gut.
Gut Health for Natural Eczema Healing
Long story short, I learned all about fermenting vegetables and the microbiology of fermentation in my Junior year of college. That led me to learn more and more every day about the microbes involved in vegetable fermentation and how they impact gut health, which impacts all other areas of health, including skin and skin microbiome health. 
A balanced microbiome can translate to clearer skin, a healthier weight, and healthier bowel movements.
A healthy microbiome is a key factor in preventing and controlling common ailments. Everything from allergies and eczema to anxiety, depression, cancer, and diabetes is all influenced by gut health. Basically, multitudes of research show that the microbiome should be factored into treatment plans for every ailment.
Foods to Avoid with Eczema
The main foods that can cause eczema are highly processed foods with chemical preservatives, foods with hydrogenated oils and seed oils, foods with GMO and mono-crop ingredients, CAFO-farmed meat, meat and fish fed GMO grains, and foods with artificial colors and flavors.
These are the foods that I completely cut out of my diet and still do not eat.
Vegan Diet and Eczema
The major change in my skin health came after we started Cultured Guru. About half a year into business owning, we began to eat fermented foods with breakfast, lunch, and dinner. We wanted to create recipes with fermented foods for our blog daily, so we had to start getting creative with incorporating fermented foods into almost every meal.
This and environmental concerns led me to go vegan for a while. I was fully vegan and about 75% raw vegan for a year, while Jon was mostly vegetarian. My intake of fermented foods and vitamin-rich plants increased tenfold, and my skin health improved tenfold. But the benefits didn't last.
I was on a mostly vegan diet for a few years, eventually becoming malnourished, vitamin and mineral deficient, and unable to handle stress. My gut health declined, and my hormones were imbalanced, causing debilitating menstrual cycles.
Plant-Based Diet for Eczema
I now identify my diet as plant-based, but I eat many nourishing animal foods daily. I eat lots of grass-fed butter, milk, cheese, and yogurt. I thrive on eating sourdough daily. I enjoy wild-caught fish and regeneratively farmed meat every day.
I also love raw oysters and steamed mussels for vitamin and mineral-rich nourishment. I eat pasture-raised eggs daily for breakfast to help with vitamin D absorption. My hormones are perfectly balanced, I am perfectly nourished, and I feel the best I've ever felt in my life. You can read more about my plant-based dietary views here.
Can Alcohol Cause Eczema?
Yes, alcohol can cause eczema, but not directly. Excessive alcohol consumption can lead to microbiome dysbiosis and autoimmune conditions, which can cause eczema.
If you've been a heavy drinker in the past and have eczema, it can help to do what I call an eczema liver detox. The detox is simple, do not drink any alcohol for 30 days, drink an adrenal cocktail once daily, add magnesium and minerals to your water while being sure to drink enough and exercise three times a week.
To make an adrenal cocktail mix:
4 ounces organic orange juice
4 ounces coconut water
a pinch of sea salt.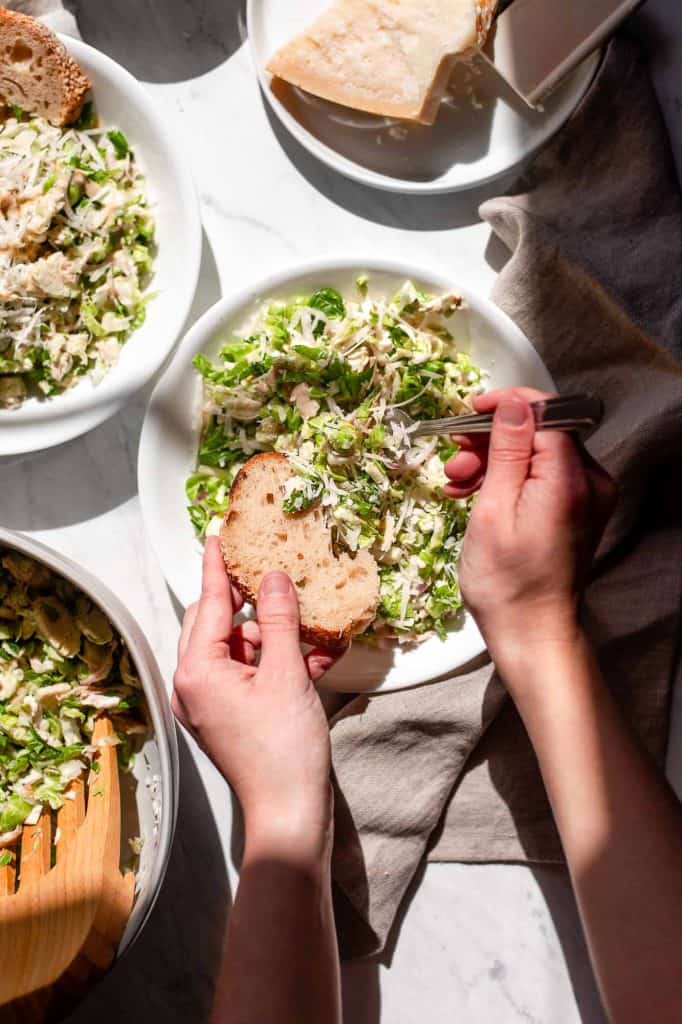 The Best Probiotics for Eczema
The best probiotics for eczema are fermented foods! Since fermented foods contain bacteria from nature that are more adapted to survive the digestive journey, they have a huge positive impact on gut health and skin health.
Eating various wild fermented vegetables and drinking kombucha or water kefir occasionally are some of the best ways to introduce a rich population of probiotic microorganisms to your body. Fermented vegetables not only contain essential vitamins and nutrients that are crucial to health, but they also contain the most natural form of probiotics.
The bacteria in naturally fermented vegetables come from nature. Specifically, they originate in the soil in which the vegetables are grown. In that soil, these microbes compete for space and their lives.
During fermentation, only bacteria that can survive in a very low pH environment, with no oxygen and some salt continue to thrive. These bacteria are natural, strong, and adapted to harsh conditions, very similar to the terrain of the human digestive tract! (Here's some reference material on this subject). This makes fermented vegetables the best probiotic for gut health.
The human microbiome basically serves as a necessary, complex organ in and on our bodies. The functions of the microbiome govern your health on the same level as your heart, brain, and liver… and more so because the health of your microbiome influences the health of all other organ systems in the body.
The human microbiome produces many, many metabolic substances that direct a plethora of human bodily functions. Thankfully, if you have a not-so-great microbiome, it's relatively easy to adjust the makeup of your microbiome to be healthier and more beneficial. This applies to the skin microbiome as well as the gut microbiome. 
Do probiotics help eczema? Yes!
Here you can see how real food probiotics from fermented foods and a gut-healthy diet aided in healing my skin completely.
With a gut-health-focused diet, elimination of inflammatory foods, elimination of steroid cream, an all-natural skincare routine, proper daily hydration, and exercise, I am eczema free!
PLEASE READ PART ONE OF MY ECZEMA BLOG SERIES BY CLICKING HERE
Gluten and Eczema
Gluten is not inherently bad, and it does not cause eczema. Individuals with Celiac disease are the only people who need to avoid gluten completely.
If you suspect you have problems with wheat-based foods, you might have an issue digesting fructans, a hard-to-digest FODMAP in wheat. The good news is, if you do have a problem with fructans, sourdough can help! You can read about what makes sourdough easier to digest here.
7 Worst Ingredients for Eczema
The seven main foods that can cause eczema are highly processed foods with chemical preservatives, foods with hydrogenated oils and seed oils, foods with GMO and mono-crop ingredients, CAFO-farmed meat, meat and fish fed GMO grains, foods with artificial colors, and foods with artificial flavors. These are the foods that I completely cut out of my diet, and still do not eat.
Best Milk for Eczema Sufferers
The best milk for eczema sufferers is raw or non-homogenized dairy from well-cared-for cows or goats. These kinds of milk are metabolically supportive, contain many beneficial vitamins and minerals, and can help balance your gut microbiome.
We drink milk from Kalona Supernatural, and I also use their milk to make Greek yogurt and milk kefir. You can read more about my dairy and gut health views by clicking here.
I was dairy-free for a while when I tried being a vegan, but that didn't work out for me. I've since reintroduced high-quality and nutritious dairy with no problems, and I feel much healthier with dairy included in my diet.
My Eczema Diet Plan Focusing on Microbiome Health
Breakfast
I eat two fried eggs with spinach, sauerkraut, and sourdough toast or a sourdough bagel daily. I usually end up eating a "second breakfast" from the following list:
homemade Greek yogurt with blackberries and organic maple syrup
a glass of cream top whole milk with maple syrup
sliced pear and some raw milk Swiss cheese
raw carrot salad and a cup of bone broth
Lunch
I try to hit the gym around 10 or 11 am after breakfast three times a week, and after the gym, we eat lunch. Lunch is usually dinner leftovers from the night before and includes nutritious protein, healthy carbs, and many vegetables.
Here are a few of my favorites:
Snacks
Snacks are so important for gut health and hormone balance, thus important for skin health. Here are some of my favorite snacks:
smoked oysters or mussels (these come in a can)
olives and cheese
yogurt
bone broth
fruit and cheese
vegetable sushi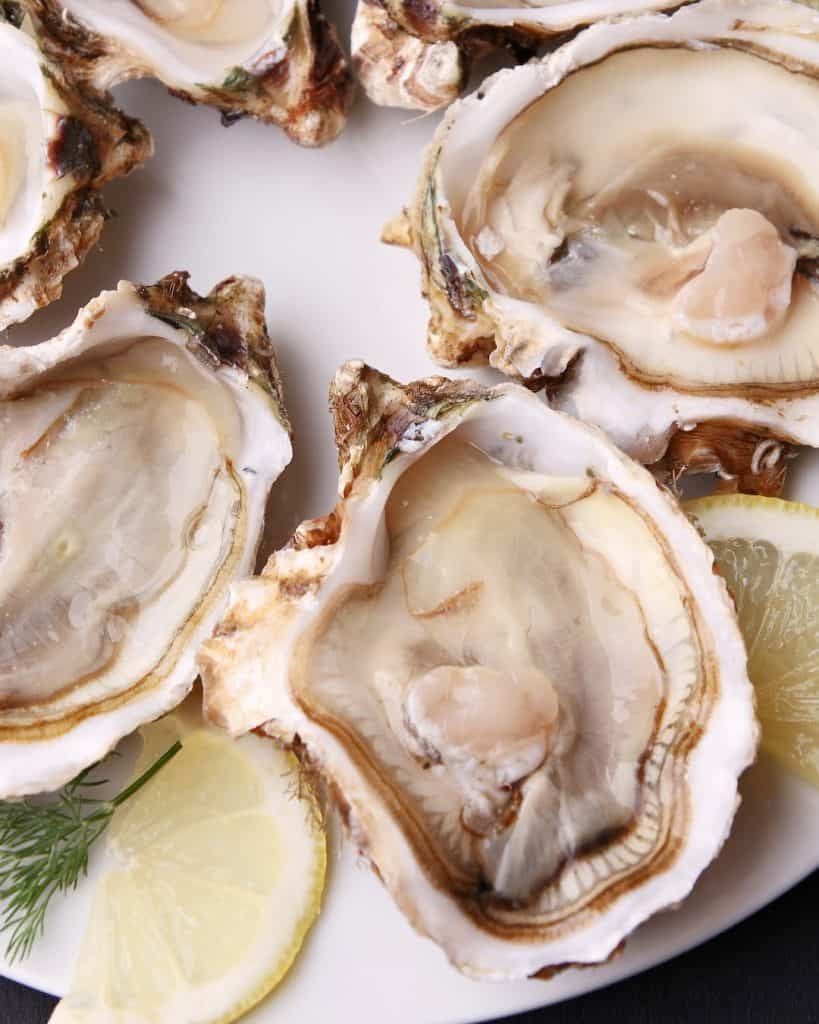 Dinner Time!
Dinner time is where it varies for Jon and I. This is when we mix it up, try new things, and eat many meals that I do not share recipes for. I often like to just cook for us, for fun, and not make work of it. If you need to label it, we eat like it is 1859. These meals usually involve:
Regeneratively farmed meat, grass-fed steaks, rotisserie chicken or wild-caught seafood
Roasted root vegetables or winter squash
Fresh cucumbers, arugula, lettuce, fermented vegetables etc.
Some sort of cheese or yogurt
White rice or sourdough bread
quality wine
Other Eczema Blogs to Read