Our Beer Braised Short Ribs with Porter and Leeks is an indulgent one-pot meal. These short ribs braised in beer are succulent, fall-off-the-bone perfection.
Beer Braised Short Ribs
When bathed in a rich mixture of porter and accompanied by the subtle earthy flavors of leeks, short ribs become a melt-in-your-mouth delicacy.
The Best Beer for Braising Short Ribs
The choice of beer can make or break a braised dish, and when it comes to short ribs, porter or stout beers add the best flavor. These two beers have a depth of flavor that gets even better when reduced through braising.
The robust, malty notes of these dark beers infuse the meat with a complexity that lingers on your palate. As the beer reduces during braising, it forms a thick, velvety sauce that envelops the ribs, creating a succulent, flavorful main dish.
Can you cook beer braised short ribs too long?
While the slow-cooking magic of braising is essential for tender short ribs, it is crucial to find the sweet spot.
The connective tissues in short ribs break down over time, which is what we want. But, too much time can lead to an overly soft texture. Aim for that perfect balance where the meat yields effortlessly to the fork but maintains its integrity for plating and serving.
The best way to ensure cooking to perfection is to check often. I usually braise for a few hours and check the short ribs every hour and a half.
Are Braising Ribs the Same as Short Ribs?
Braising ribs and short ribs may sound interchangeable, but a nuance sets them apart.
Butchers cut short ribs from the cow's ribcage, typically in smaller, rectangular portions. Braising ribs, on the other hand, is a general term that includes various cuts from the rib area.
While both benefit from the slow-cooking method of braising, short ribs' distinct marbling and thickness contribute to their unique melt-in-your-mouth tenderness.
Why You Should Use a Dutch Oven For Beer Braised Short Ribs
The vessel you braise your short ribs in can be as important as the ingredients.
With its thick walls and tight-fitting lid, a Dutch oven provides the ideal environment for slow, even cooking.
A Dutch oven's heat retention and distribution properties ensure that every inch of your short ribs is evenly cooked. A Dutch oven is a kitchen essential, and it's the secret weapon for achieving the perfect texture and flavor in your beer-braised short ribs.
Here are a few of my favorite Dutch ovens for braising: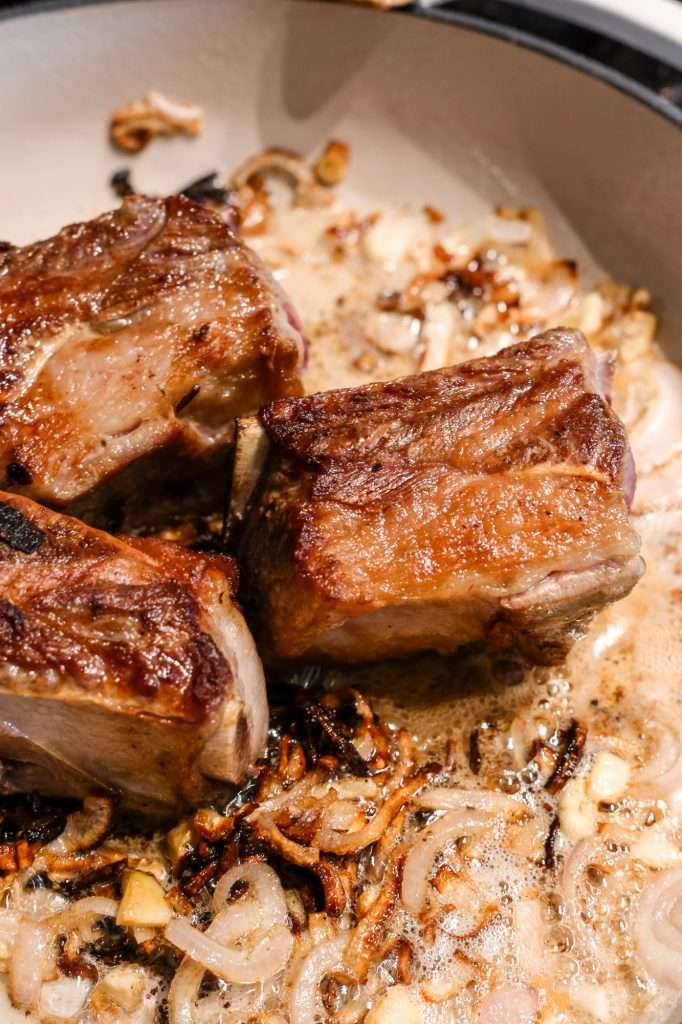 How to Serve Short Ribs Braised in Beer: With Cheddar Grits
How you plate and pair your short ribs is, arguably, the most essential part. I suggest you serve them with cheese grits.
The creamy, cheesy goodness of grits provides a delightful contrast to the richness of the short ribs. This pairing creates a harmonious balance that will impress any dinner guests.
Every element plays a crucial role, from the choice of beer to the nuances of braising time and the importance of the proper cooking vessel. But with a few humble ingredients, you can create this impressive and crowd-pleasing meal.
More Dinner Recipe to Try
Print
Beer Braised Short Ribs with Porter and Leeks
Our Beer Braised Short Ribs with Porter and Leeks is an indulgent one-pot meal. These short ribs braised in beer are succulent, fall-off-the-bone perfection.
Searing the Meat
3 tablespoons

butter, room temp

2

shallots thinly sliced

2

garlic cloves, minced

3

–

5

short ribs
salt
black pepper
Braising
2 tablespoons

lemon juice

3 tablespoons

honey

2 tablespoons

miso

2 cups

Porter (or stout)

3 tablespoons

apple cider vinegar
Fresh rosemary and sage

2

large leeks, chopped, greens included, and washed well
Instructions
Preheat oven to 350 degrees.
Pat the meat dry and sprinkle well with salt and pepper. Let the meat rest for 10 minutes and just come to room temperature
Heat butter garlic, and shallots in a large cast iron Dutch oven. Sear meat on all sides in the butter.
In a large bowl, whisk together the braising ingredients (except the leeks and herbs)
Once the meat is browned on all sides, add the leek and braising liquid and bring it to a simmer.
Nestle the meat in, ensuring it is all submerged in the liquid.
Add in the herbs.
Cover and braise for 3 hours in the oven until vegetables are tender and meat shreds easily with a fork.
Serve however you'd like, but I highly recommend serving over white grits cooked with cheddar cheese.