This delicious vegan kimchi ramen is made with a spicy miso broth, mushrooms, and homemade kimchi. Try this kimchi miso soup with ramen noodles for a warming dinner on a cold day.
Vegan Kimchi Ramen
This was one of the first soups I learned how to cook from scratch. I didn't cook a lot in college, but after I graduated I started to learn how to cook from scratch, and I was really into veganism for a while. I couldn't afford to eat out at restaurants very often, so I learned how to make my favorites at home. I'm not a vegan anymore, but I still love to make this vegan kimchi ramen on cold winter days. It has great ingredients for gut health too. I use organic sprouted tofu, homemade vegetable broth, fresh and fermented aromatics, homemade lentil miso paste, and of course my homemade kimchi-inspired sauerkraut.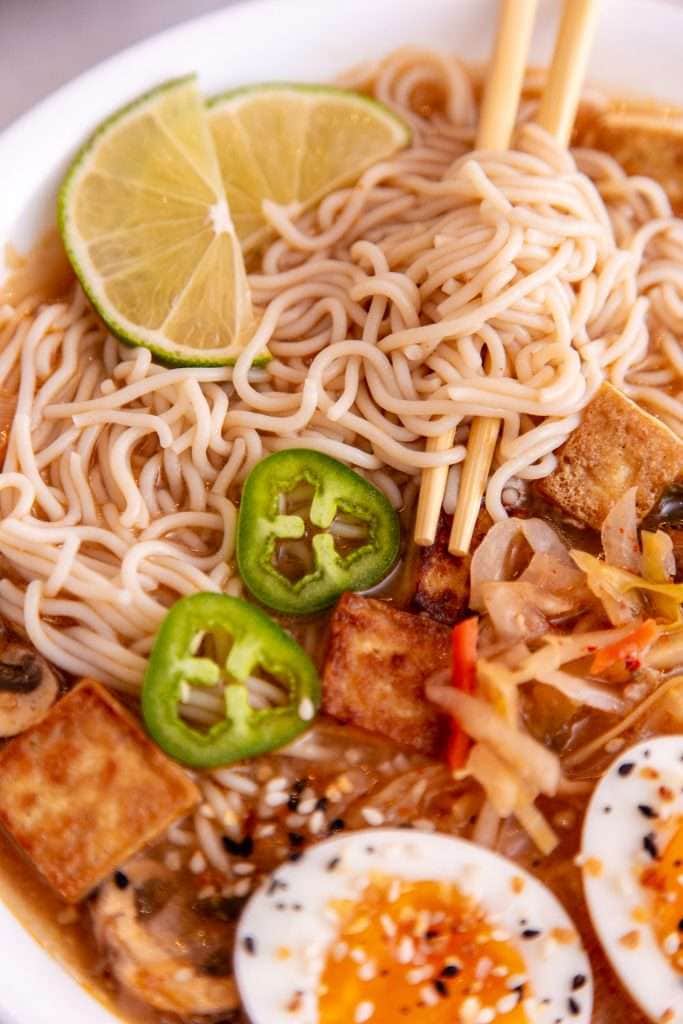 Spicy Vegan Kimchi Ramen with Mushrooms
We generally stick to rice-based pasta in our house. Jon sometimes goes for wheat pasta, but rice products are so cheap at our local Asian market. I like to use whatever rice noodles I have on hand. Sometimes I just use pho rice noodles from the Asian market regardless of what kind of soup I'm making… but I also love this rice ramen from Whole Foods.
Making Kimchi Ramen Vegan
I do like to add a soft-boiled egg (directions found here) to our ramen, so what's pictured is technically vegetarian… but if you leave the egg out, then it's vegan.
When making kimchi ramen vegan, you just need to make sure you use vegetable broth and vegan kimchi. Most store-bought kimchi contains fish paste or salted shrimp, so make sure if you buy kimchi it says vegan. You can make our vegan kimchi recipe by clicking here.
Ramen with a Kimchi Miso Soup Broth
Ramen is all about making a good broth. The broth in my kimchi ramen is similar to a miso soup base. You can find good miso-paste options at Whole Foods Market or an Asian market if your city has one. If you're following a soy-free diet, occasionally I can find a chickpea miso paste at Whole Foods. This kimchi miso ramen recipe is easily adjusted for preference too. If you rather have a chicken broth or beef broth, just sub out the veggie broth in the recipe.
Print
Vegan Kimchi Ramen with Miso and Mushrooms
This delicious vegan kimchi ramen is made with a spicy miso broth, mushrooms, and homemade kimchi. Try this kimchi miso soup with ramen noodles for a warming dinner on a cold day.
Author:
Prep Time:

30 minutes

Cook Time:

30 minutes

Total Time:

1 hour

Yield:

2

Category:

Recipes

Cuisine:

Asian Fusion
1 Tablespoon

Sesame Oil

1 Tablespoon

Olive Oil

2 Tablespoons

Fermented Garlic, Minced

1 Tablespoon

Grated Ginger

1/2 Cup

Onion, Finely Chopped

2 Tablespoons

Red Miso Paste 

2 Tablespoons

Tamari 

1 Tablespoon

Rice Vinegar

1 Tablespoons

Sriracha 

3 Tablespoons

Maple Syurp

40

fl oz Vegetable Broth 

1 Cup

Kale, Chopped 

1 Cup

Mushrooms, Sliced 

2 Cups

Tofu, Chopped, and Pan Fried
Rice Noodles or Rice Ramen, Cooked
Soft Boiled Egg (optional)
Instructions
In a pot over medium heat, sauté the sesame oil, olive oil, garlic, onion, and ginger for about 1 minute. 
You'll notice the garlic and ginger may start to stick, just keep stirring.
When the ginger starts to stick and brown, add in 1/2 cup of vegetable broth, and scrape the pot to deglaze.
Mix in the miso paste until it is fully dissolved. 
Add in the tamari, rice vinegar, sriracha, and maple syrup. Stir evenly combine and bring to a simmer. 
Add in the rest of the vegetable broth, and bring to a boil.
Reduce heat to a simmer and add in the chopped mushrooms and kale. Simmer until the mushrooms and kale are cooked to your liking. 
Ladle into soup bowls over rice ramen noodles while it is simmering hot. Top with kimchi, seared tofu, fermented jalapeno slices, and a soft-boiled egg (optional). Enjoy!
Notes
to pan fry tofu,  press the tofu for 10 minutes and pat dry. Cube the tofu. Then heat olive oil in a skillet and fry the tofu on each side until golden brown.
Keywords: kimchi, miso, ramen