try this mason jar ramen meal prep for an easy and quick lunch. Mason jar ramen is entirely customizable, so you can adjust the ingredients to suit your needs.
Mason Jar Ramen Meal Prep
The first thing you need to make mason jar ramen meal prep is good mason jars. 16-ounce mason jars work really well, but if you decide to supplement with more ingredients, you may want to use a larger jar.
My recipe preps three jars at 1x, so if you decide to double the recipe, you need at least 6 16-ounce mason jars.
Wide-mouth mason jars work best because of the way they are shaped. They are the easiest to eat out of.
Mason Jar Miso Ramen with Turmeric and Coconut
The main ingredient in my mason jar miso ramen is the flavor base made with miso, kimchi, turmeric, and coconut cream. When you add boiling water to the meal prep jar, the flavor base dissolves, forming a delicious, creamy broth.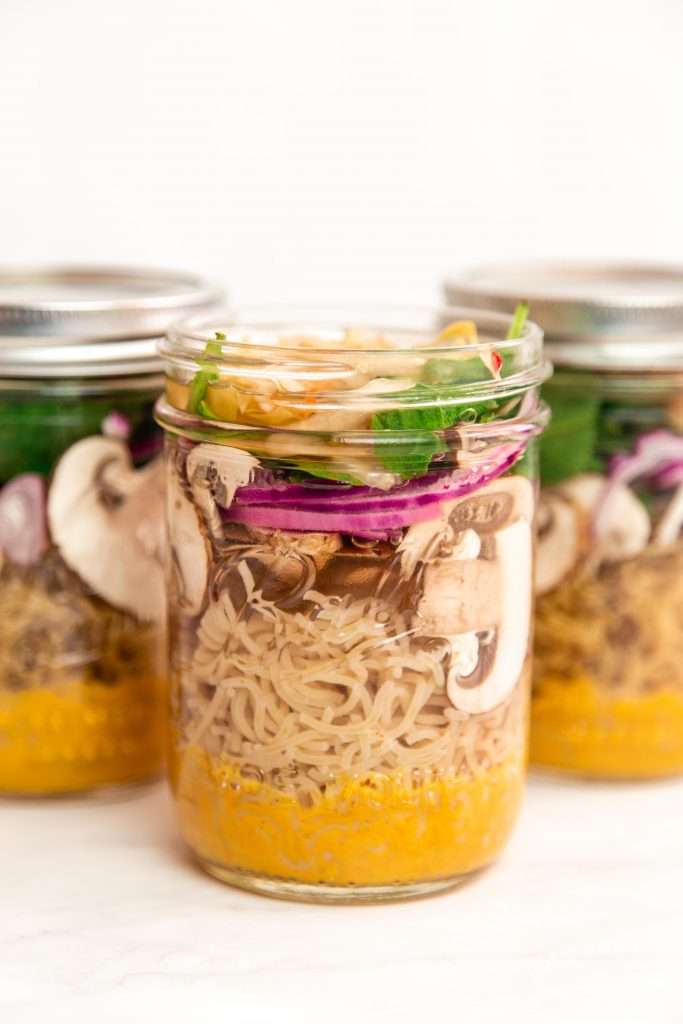 Adding Protein to Meal Prep Ramen
This ramen is a light meal on its own. It's essentially a healthy version of a cup of noodles that comes in that styrofoam container.
If you want to add more protein to this meal prep, use a bigger mason jar and add any cooked protein you like. Some great options include seared tofu and rotisserie chicken.
If you do decide to add meat, you should only store the ramen for five days in the fridge.
Mason Jar Ramen Ingredients
There are many other ways you can customize this recipe. Do you like a more spicy flavor? Double up on the sriracha! Do you prefer wheat ramen? Use any ramen noodles you'd like!
Here are all the ingredients you need for this recipe:
Dry Rice Ramen
Red Onion
Mushrooms
Spinach
Kimchi
Kimchi Brine
Sriracha
Turmeric
Minced Garlic
Miso
Coconut Cream
Tamari or Soy Sauce
More Recipes to Try
Print
Mason Jar Ramen Meal Prep with Coconut Turmeric and Miso
try this mason jar ramen meal prep for an easy and quick lunch. Mason jar ramen is entirely customizable, so you can change up the ingredients to suit your needs.
Author:
Prep Time:

20 minutes

Cook Time:

10 minutes

Total Time:

30 minutes

Yield:

3 servings

Category:

mains

Method:

Meal Prep

Diet:

Gluten Free
3

Dry Rice Ramen servings

1

Red Onion, Chopped

1 Cup

Mushrooms, Chopped

1 Cup

Spinach

1/2 Cup

Kimchi

1/4 Cup

Kimchi Brine

3 Tablespoons

Sriracha

1 Teaspoon

Turmeric

1 Tablespoon

Minced Garlic

2 Tablespoons

Miso

3 Tablespoons

Coconut Cream

2 Tablespoons

Tamari or Soy Sauce
Instructions
Gather three mason jars or three soup-friendly containers. Prep and gather all the ingredients. 
In a blender, or food processor, combine the kimchi brine, sriracha, turmeric, minced garlic, miso, coconut cream, and tamari. This is the flavor base.
Add the flavor base in equal parts to each of your three mason jars.
 After adding the coconut curry flavor base, layer the rice ramen (dry), mushrooms, onions, spinach, and kimchi in the jars. 
Place the lids on the containers, and store in the fridge for up to seven days. 
To serve, remove from the fridge and allow the jar to get to room temperature for an hour. Remove the lid and fill the jar with boiling water. Replace the lid and let it sit for 5-10 minutes. 
Stir and enjoy! 
Notes
*** It is important to let the cold jar temper at room temp before you add boiling water. Hot water in cold glass can lead to breakage. 
Keywords: coconut,curry,ramen,meal prep