A warm meal that combines elements of braised kale and braised chickpeas with chard recipes. This recipe is delicious, nourishing and perfect for fall and winter dinners.
Braised Chickpeas in Tomato Sauce
If you've never braised something, you are missing out! Ever since I bought my dutch oven, I've waited for winter to use it for braising. Braising is a great combination cooking method that utilizes stovetop cooking and then oven cooking with liquid. In my opinion, a dutch oven with a lid is the best for braising. Normally meat is used for braising recipes, so I simply subbed out meat for chickpeas in this recipe. Braises use acidic ingredients for great flavor, so I incorporated tomato sauce, sauerkraut, and balsamic vinegar.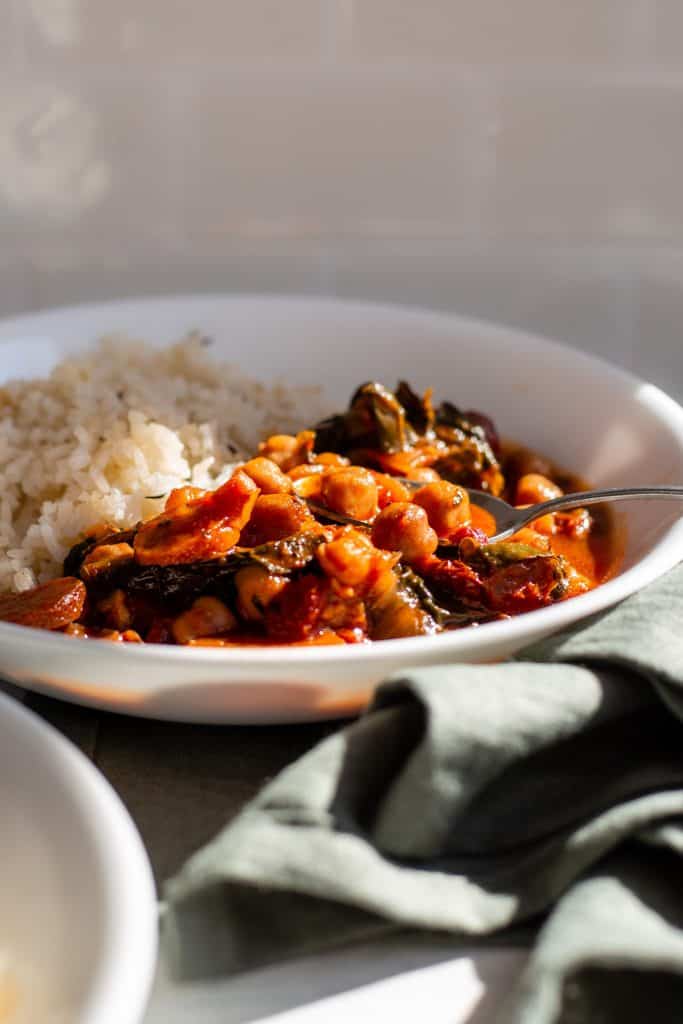 Braised Kale
The tastiest way to eat kale is in a braise. I made this recipe for my parents and they hate kale. When they tried the kale and chard in this tomato braise, they said "wow I think I love kale now."
Braised Chickpeas with Chard and Kale
This meal includes a lot of vegetables and fiber, making it perfect for gut health. Since the card and kale are cooked for a long while, the oxalates are reduced/eliminated making these vegetables easier to digest. I even use sauerkraut with the brine in this recipe. Since it is cooked, the probiotics in the sauerkraut die, but sauerkraut provides a ton of healthy post-biotic compounds even when cooked. These chickpeas are the perfect main dish for a healthy and nourishing family dinner on a cold evening.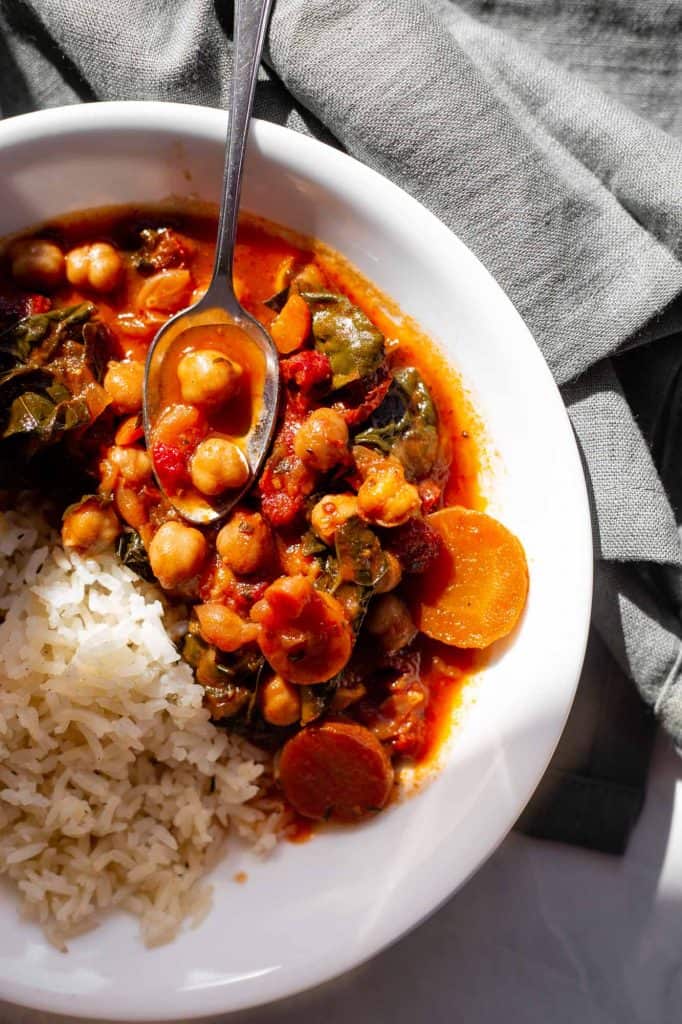 Pairings with Braised Chickpeas, Chard and Kale
You can serve braised chickpeas with a lot of different sides. Jon and I enjoy eating these chickpeas with a side of rice. Try any healthy whole grain though, like quinoa, barley, or polenta. You can also serve this dish with these buttery, flaky, amazing sourdough biscuits. The soft, creamy, buttery biscuits pair perfectly with the rich acidic braise.
Other Pairings You Might Enjoy
Print
Braised Chickpeas with Sundried Tomatoes and Kale
A warm and delicious meal that combines elements of braised kale and braised chickpea with chard recipes. This recipe is filling, nourishing and perfect for fall and winter dinners.
Author:
Prep Time:

30 minutes

Cook Time:

45 minutes

Total Time:

1 hour 15 minutes

Yield:

5 servings

Category:

Dinner

Method:

Braised

Cuisine:

French

Diet:

Vegan
4 tablespoons

olive oil

1

large onion, sliced

4

garlic cloves, minced

4

medium carrots, sliced

1 teaspoon

black pepper

1/2 teaspoon

red pepper flakes

1 teaspoon

thyme

1 teaspoon

basil

4 tablespoons

tomato paste

4 tablespoons

maple syrup

4 cups

vegetable broth

1/4 cup

sauerkraut with the brine

3 tablespoons

balsamic vinegar

2 teaspoons

soy sauce

2

15-ounce cans chickpeas, drained and rinsed

1/2 cup

sun-dried tomatoes, chopped

3 cups

Tuscan kale, chopped

2 cups

Swiss chard, chopped
Instructions
For this recipe, you will need a dutch oven with a lid that can go from the stovetop straight into the oven. 
Place a dutch oven over medium heat, and add in the oil, onion, garlic, and carrots. Cook until the onions start to brown and stick to the bottom a bit.
Preheat your oven to 375° F.
Add in the thyme, basil, pepper, and red pepper flakes and stir.
Add the remaining ingredients and stir until evenly combined. Bring the mixture to a boil then reduce heat to a simmer.
Simmer for about 15-30 minutes with stirring, until the liquid thickens. 
Turn off the stove-top heat.
Place the lid on your dutch oven and place it in the preheated oven. 
Cook in the oven for 45 minutes.
Carefully remove from the oven, and be careful with the hot lid.
Serve with rice or roasted potatoes and enjoy! 
Keywords: braised, chickpea, tomato, kale