Need a break from brewing kombucha but not sure what to do with your SCOBYs? Brew some kombucha vinegar! Kombucha vinegar is made just like kombucha but with more sugar initially and a much longer fermentation time.
Why Does Kombucha Taste Like Vinegar?
Most people who try kombucha for the first time notice that it has a vinegary taste and smell. That's because it is pretty similar to vinegar! Kombucha and vinegar are made with the same groups of microorganisms— yeast and acetic acid bacteria.
If you've ever seen a kombucha SCOBY and a vinegar mother, you've probably noticed that they look almost the same. That's because they are almost the same; both are made up primarily of acetic bacteria that produce acetic acid (vinegar). There are slight color differences because the tea in kombucha stains the SCOBY shades of brown.
Kombucha vs. Apple Cider Vinegar
The main difference between kombucha and vinegar is the amount of acid in each one. They both contain acetic acid, but vinegar contains a much higher concentration. Vinegar also takes a much longer time to ferment.
When making kombucha, little sugar is used in the beginning compared to vinegar; thus, kombucha has less acetic acid than vinegar. Vinegar is usually 5% acetic acid, while most kombucha contains less than 1% acetic acid.
Does Kombucha Have Vinegar?
Kombucha is supposed to have notes of sweet tea and vinegar when you taste and smell it. It does contain vinegar (acetic acid) naturally produced by the microbes in kombucha SCOBYs.
Kombucha Vinegar is Over-Fermented Kombucha
Since kombucha and vinegar are already so similar, it's easy to make kombucha vinegar. Kombucha vinegar is simply a primary ferment that is started with more sugar than usual. Then, it is over-fermented.
I make kombucha vinegar regularly because it is a great way to postpone making more kombucha to drink while keeping the SCOBYs healthy and alive.
How to Make Kombucha Vinegar
I usually double or triple the amount of sugar I put in a primary fermentation batch to start some kombucha vinegar. So, for instance, I usually add 200 grams of sugar to a 1-gallon batch of sweet tea to make my regular kombucha. I add 400-600 grams of sugar to a 1-gallon batch to make kombucha vinegar. The more sugar you add, the more acidic it will be.
After Mixing up the sweet tea, I throw all of my SCOBYs in the jug with the fresh sweet tea, cover it with a cloth, and allow it to ferment undisturbed for a few months (usually three months). The SCOBYs love this and usually grow bigger and healthier during this time.
After it ferments for three months, I strain the vinegar from the SCOBYs and bottle it for storage at room temperature. At this point, I either start a new batch of vinegar or a fresh batch of kombucha.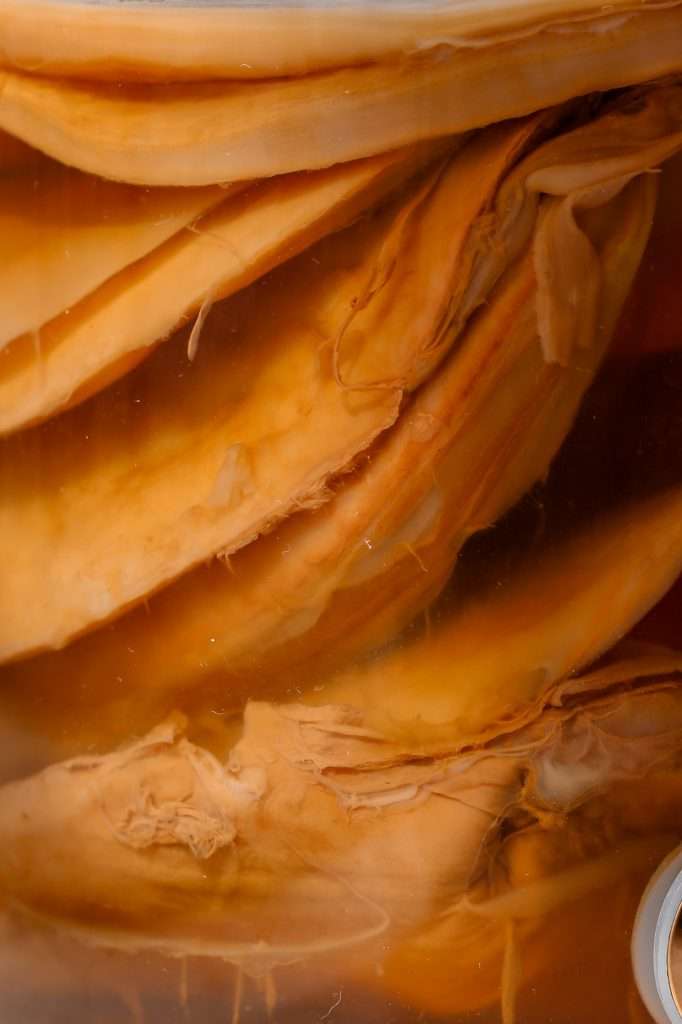 Equipment for Kombucha Vinegar Fermentation
I suggest a gallon glass jar and a cloth cover with a rubber band for this recipe.
It would be best to use a cloth lid when making vinegar because acetic acid bacteria require oxygen to convert alcohol into acetic acid. I usually make cloth lids for fermentation by cutting up old t-shirts.
Here is all the equipment you need:
a cloth lid and a rubber band
a kitchen scale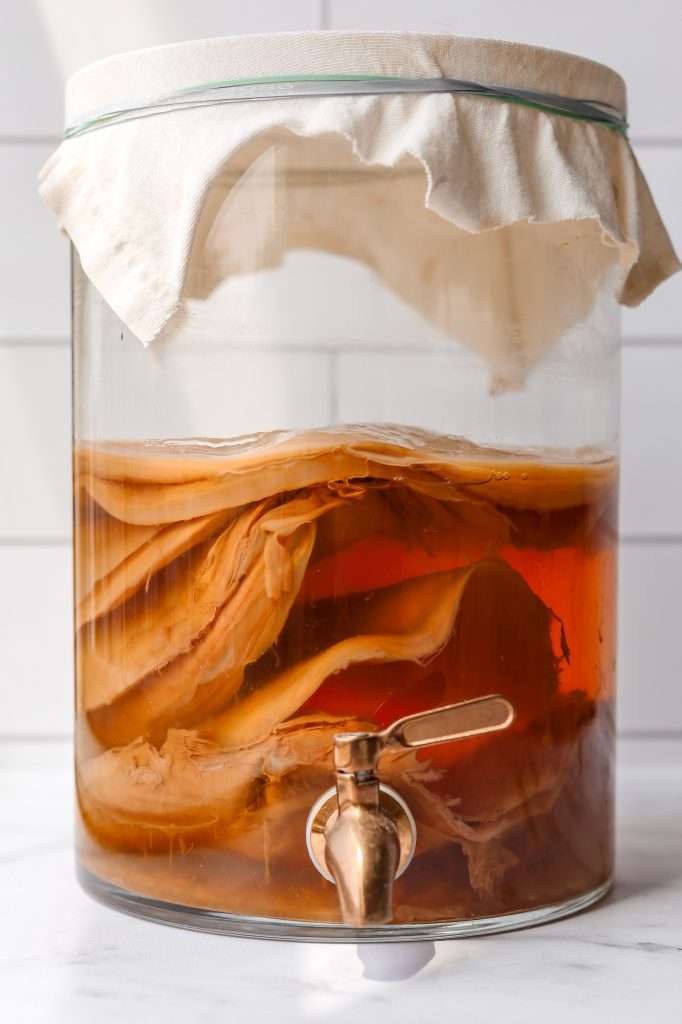 How to Use Kombucha Vinegar
Here are my favorite ways to use homemade kombucha vinegar:
for homemade salad dressing
in heirloom culturing recipes like this fermented green tomato recipe
I love to drizzle it over honeydew melon with raw honey and a pinch of salt.
In mineral-rich hydrating drinks (I like to mix a tablespoon of fruit vinegar into a quart of water with a splash of coconut water, orange juice, and a pinch of sea salt for a homemade hydrating "Gatorade")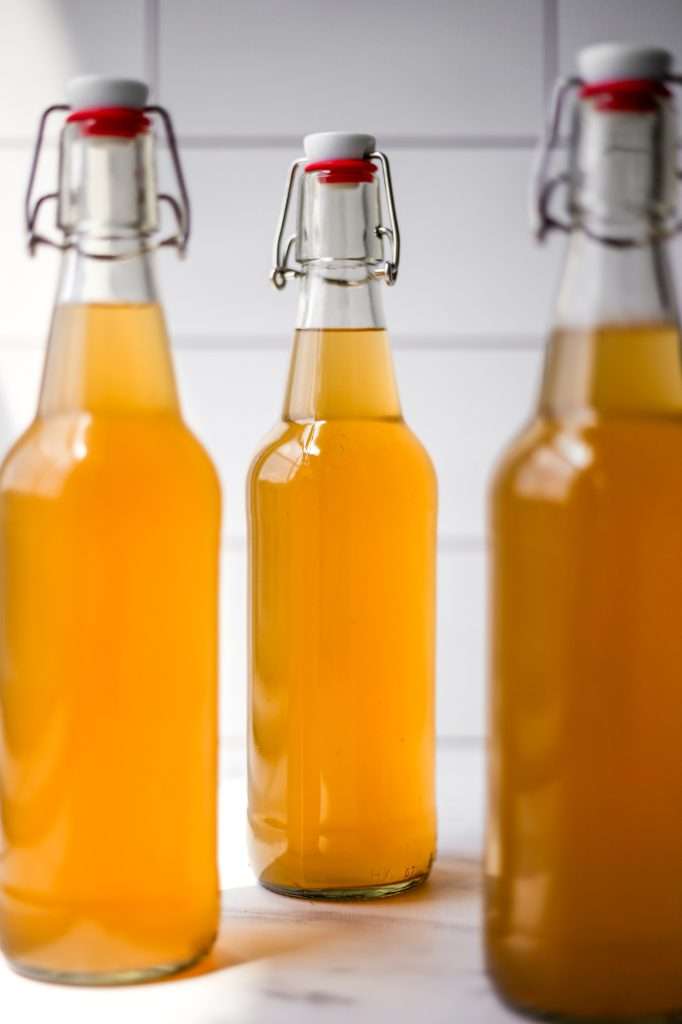 Print
How to Make Kombucha Vinegar
Need a break from brewing kombucha but not sure what to do with your SCOBYs? Brew some kombucha vinegar! Kombucha vinegar is made just like kombucha but with more sugar initially and a much longer fermentation time.
Author:
Prep Time:

10 minutes

Cook Time:

30 minutes

Total Time:

40 minutes

Yield:

1 gallon

Category:

vinegar

Method:

fermentation
400

–

600

grams sugar

20 grams

tea
One kombucha SCOBY (or multiple)
about

4000

mL water
Instructions
Gather your ingredients
Boil your water and dissolve the sugar in the water.
Steep the tea in the hot sugar water for 5 minutes. If using tea bags, simply remove them. If using loose-leaf tea, strain all the tea leaves from the mixture.
Allow the sweet tea mixture to cool completely. It should be room temperature before moving on to the next step.
Once it is cool, add the kombucha SCOBY(s). Some SCOBYs float, others may sink to the bottom, either way it's fine.
Cover the jar with a tight-weave cloth lid and rubber band. You must use a cloth lid to allow oxygen flow.
Keep the jar of sweet tea with the SCOBYs at moderate room temperature, out of direct sunlight for about three months undisturbed.
Strain the SCOBYs from the vinegar, bottle the vinegar, and store in air-tight bottles at room temperature.
Start another batch of vinegar or kombucha with the SCOBYs.
Keywords: vinegar, kombucha