This easy lacto fermented bok choy recipe is perfect for beginners and seasoned fermentation enthusiasts. Try making fermented bok choy with basil and lemon, or customize the recipe with other spices like garlic and black pepper.
Making Lacto Fermented Bok Choy
Bok choy is a type of Chinese cabbage, similar in texture to Napa cabbage. Since bok choy, and all cabbages, grow low and very close to the soil their microbiome composition is wonderful! This makes all cabbages easy vegetables to ferment.
It's important to start with fresh vegetables for this fermentation project. You can use these easy tips to make sure your bok choy is fresh and ready for fermentation:
Crisp and Snappy: The leaves should be firm and crisp with turgor pressure. You should hear a "snap" when you break off a bok choy leaf. If the leaves are malleable and you can bend the leaves with no snapping, the bok choy isn't fresh.
Color: Fresh bok choy leaves have bright white bottoms and vivid green tops. Don't use bok choy that has yellowing on the green parts of the leaves.
Start Cold: Before fermenting, store your bok choy in the fridge in a bowl of cold, filtered water. This will help keep the bok choy fresh and crisp.
Fermented Bok Choy Health Benefits
Why is bok choy such a healthy vegetable? It's a part of one of the BEST groups of vegetables, a group known for incredible health benefits, the Brassica vegetables.
Brassica vegetables are loaded with health-promoting phytochemicals, such as vitamins, fiber, minerals, glucosinolates, and phenolic compounds.
The beneficial effects of Brassica vegetables on health improvement can be attributed to the complex mixture of antioxidant phytochemicals in these veggies. Many of the polyphenols found in this bok choy help to reduce inflammation and the symptoms of inflammatory conditions. 
Let's dive deeper into those phenolic compounds found in all types of cabbages. Depending on the structure, polyphenols can be classified into simple phenols, phenolic acids, hydroxycinnamic acid derivatives, and flavonoids.
Phenolic compounds are known to be protective against cancer and heart diseases because of their potent antioxidative properties.  These polyphenols become more bioavailable and potent through the microbial action of fermentation. During fermentation we allow desirable microbes to transform plant fiber and generate even more bioactive peptides and polyphenols. 
Bok Choy Fermented for One Month
The probiotic bacteria in fermented bok choy are very similar to the probiotic bacteria found in fermented green cabbage (sauerkraut). At the completion of fermentation, fermented bok choy is loaded with beneficial, gut-health-promoting Lactobacillus bacteria.
Here's what happens when you ferment bok choy:
24 – 48 hours: All contents in the jar should be submerged beneath the brine. At this time there are still Gram negative bacteria and opportunistic pathogens present. These microorganisms utilize oxygen, and they will use up all the oxygen in the liquid.
48 hours – 10 days: After 48 hours you should start to see lots of bubbles being produced. This is when the ferment enters stage two of vegetable fermentation. Leuconostoc bacteria begin to thrive and all Gram negative organisms die off.
10-14 days: The bubbles in the brine will decrease, as the ferment leaves stage two and enters stage three. The ferment will become cloudy, the color will change, and a pleasant sour smell will develop. Lactobacillus species begin to thrive in this time period.
14 – 21 days: Lactobacillus make up majority or all of the microbial population. Leuconostoc bacteria die-off. Lactobacillus spp. produce copious amounts of lactic acid and make the fermented cabbage smell even more pleasantly sour. This is the time in which the vegetable mixture becomes preserved.
21 – 28 days: This is when you want to smell and taste test. Wait for the kraut to smell and taste as you like, and refrigerate when you find the smell and taste most pleasant! We like our's best when we refrigerate at about 25 days.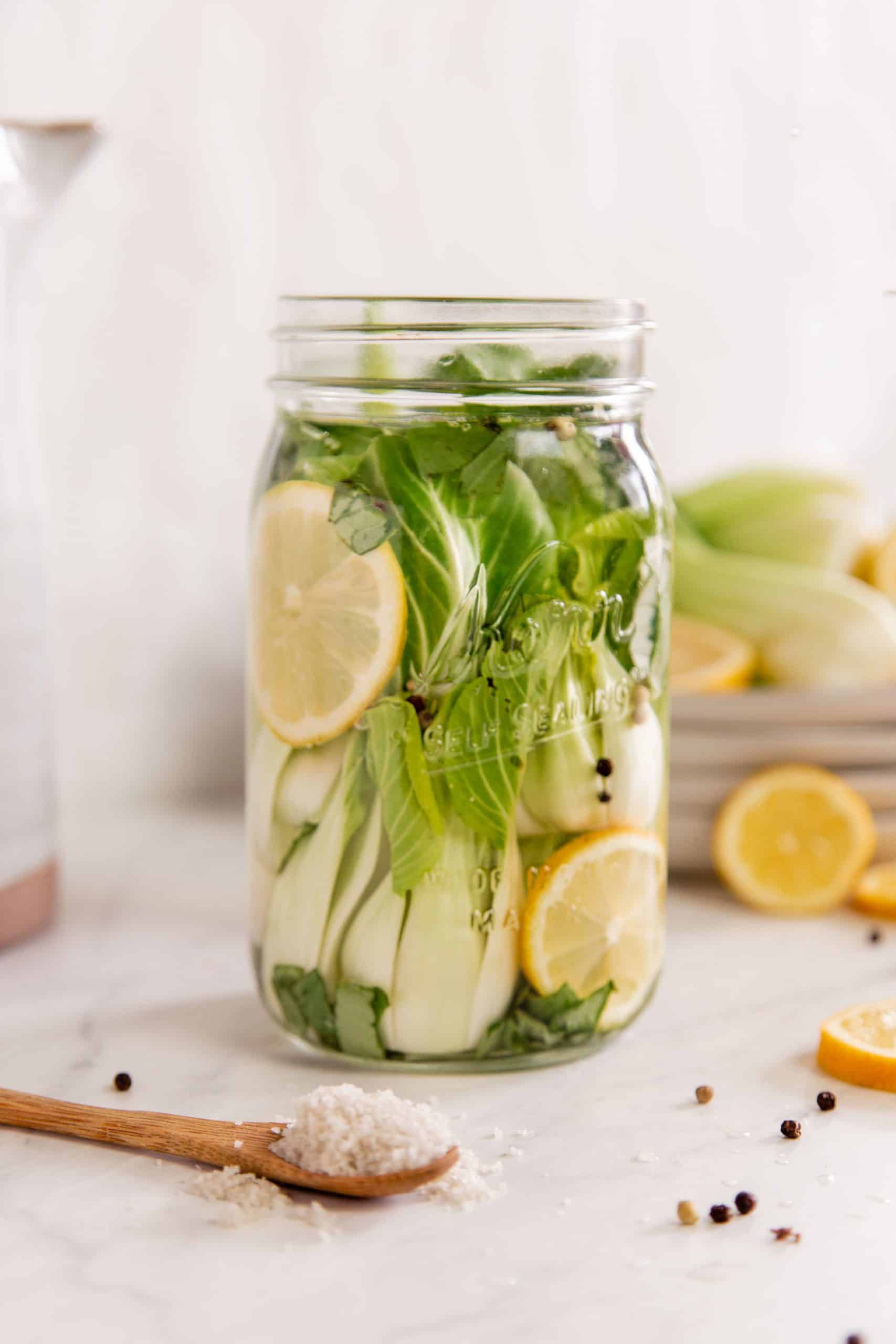 Supplies to Make Fermented Bok Choy at Home
Standard Metal Mason Jar Lid (this can rust in the presence of salt)

or you can use a Weck Jar (without the gasket; only use the clips to secure the lid to the jar)
Sea Salt

Mixing Bowl
Making Preserved Bok Choy with Fermentation
Burp the Jar
During the first few days of fermentation: carbon dioxide and bubbles will be produced. Sometimes jars will become very full of liquid, and this liquid can seep out.
If using a standard mason jar lid: remove the lid and tamper everything back down using a gloved hand, tamper, or spoon. Make sure everything is still submerged below the brine.
Always Trust your sense of smell
Fermented bok choy should smell pleasantly sour. Never eat fermented vegetables that smell repulsive or like alcohol.
Never eat anything that has mold growing on it
By following directions you should not encounter this problem. Note that most vine-growing vegetables that are wild fermented will have something called pellicle growth. This is completely normal for vine growing vegetables as long as it does not look furry, pink, blue, black, green, or magenta.
Sometimes pellicle formation occurs with cruciferous vegetables. It all depends on the vegetable microbiome and vegetable growing conditions. An off white, and kind of crinkly pellicile is normal. If you have surface growth like the pictures above, it's a harmless mixed colony of wild yeasts. It's not "mold"…you can skim it off the top and still eat your bok choy.
Taste test at three weeks
If you prefer more tart and sour fermented vegetables, let them fermentation proceed at room temperature for up to five weeks.
What Temperature Should I Keep My Fermented Bok Choy at?
While fermenting, keep the temperature between 70-80 degrees F. Keep out of direct sunlight. After fermentation, keep refrigerated.
How Long Should I Ferment Bok Choy For?
After 3 weeks, remove the fermentation weight and smell and taste test. Your fermented bok choy should smell pleasantly sour, and it should taste similar to sauerkraut.
Do I Need to Refrigerate Fermented Bok Choy?
Yes. After fermenting for at least three weeks, place a regular mason jar lid on the jar and refrigerate. Consume within 6 months for full probiotic benefits.
More Fermentation Recipes to Try
Print
Easy Lacto Fermented Bok Choy
This easy lacto fermented bok choy recipe is perfect for beginners and seasoned fermentation enthusiasts. Try making fermented bok choy with basil and lemon, or customize the recipe with other spices like garlic and black pepper.
Author:
Prep Time:

10 minutes

Cook Time:

0 minutes

Total Time:

10 minutes

Yield:

1 Quart

Category:

Fermented Foods

Method:

Fermentation

Diet:

Vegan
400 grams

Baby Bok Choy

1 Teaspoon

 Dried Basil

2

Slices of Lemon

20 gram

s Unrefined Sea Salt

400 gram

s Filtered Water

1/4 Cup

Sliced Green Cabbage Leaves (optional)*
Instructions
Wash your fermentation equipment (jar, weight and lid)
Lightly rinse the baby bok choy with cool water.
You can chop the bok choy or you can leave it whole if the whole pieces fit properly in the jar. 
Place your kitchen scale on the counter. Turn it on and set it to weigh in grams.
Place a bowl on your kitchen scale and tare/zero the scale.
Add the bok choy into the bowl on your scale until the scale reads 400 grams.
Remove the bowl of bok choy from the scale and set it aside.
Place a small, empty bowl on your scale and tare/zero the scale.
Weigh out 20 grams of salt and place it aside. 
Place your empty, clean jar you'll use for fermenting the bok choy on the scale, and tare/zero the scale again making sure your scale is still set to grams.
Add 400 grams of filtered water to your fermentation jar.
Add the bok choy, the salt, and the lemon and basil (or whatever spices you've chosen to use) to the jar of water. Place a secure lid on the jar and shake for about 3 minutes until all the salt is dissolved. 
Remove the lid. Place your glass fermentation weight in the jar, making sure to submerge the bok choy, basil, and lemon pieces and the weight fully into the liquid. 
Secure the standard mason jar lid and allow to ferment for at least 21 days. 
It should get bubbly in the first few days, which is when you will burp the jar. You can rinse off the lid and re-adjust the fermentation weight any time you need to.
Notes
*bok choy sold bagged in grocery stores can be an exceptionally clean vegetable, with an inadequate microbiome, making it difficult to ferment properly. In order to ensure fermentation proceeds, you can add in 1/4 cup of fresh sliced green cabbage leaves. This recipe works best with bok choy from the farmers market, or your own garden. 

Taring/zeroing the scale with a container on it subtracts the weight of the container, allowing you to weigh only what is added to the container. After taring/zeroing the scale, the scale should read 0.0 with the container on it.

This recipe works best with a 32 ounce (quart) mason jar
Keywords: fermented,baby bok choy
Reference Material: