Pastalaya is my absolute favorite south Louisiana food. I love the smoky flavor, the hearty texture, and the soft, spicy noodles. This Cajun veggie pasta is my vegan take on classic pastalaya.
Ingredients for Vegan Cajun Veggie Pasta
Noodles: Here, we use Bucatini noodles. These thick noodles hold up well through the cooking process.
Seasoned Mushrooms, Jackfruit and Tempeh: Jackfruit is ESSENTIAL to this recipe, giving the pastalaya an authentic shredded chicken texture. Cutting the jack fruit and removing the hard seed pods is essential. You can use fresh jackfruit or jackfruit canned in brine. Remove all the mushroom stems and slice to be about 1/2 inch thick. Any tempeh will work in this recipe, and it's best to soak the tempeh in boiling water and then rinse it a few times before use. I seasoned everything with steak sauce, double-fermented soy sauce, smoked paprika, garlic powder, and hot sauce.
Bell Pepper, Celery, Garlic, and Onion: aka the essentials of cajun cooking.
Cajun Seasoning: Cajun or creole seasoning with salt or without is fine. Tony Chachere's works great. If you use a cajun seasoning without salt, you'll need to add two teaspoons of salt to the recipe.
Vegan Butter: This is what you want to sautée the bell pepper, onion, garlic, and celery with. For Louisiana cooking, the flavor comes out better when you sautee with butter instead of oil.
Vegetable Broth: I used two boxes of basic vegetable broth from the store.
Thyme and Parsley: Fresh is best, but dried herbs will work too.
One-Pot Cajun Veggie Pasta, aka Vegan Pastalaya
My favorite part of this recipe is that it can be cooked in one pot. Technically you'll use a sheet pan to roast the tempeh, jackfruit, and mushrooms. However, after that, it's a one-pot meal. Dirtying two dishes total to make this isn't bad!
Tips For this Recipe
Use a large stockpot: I used an 8-quart stockpot.
Don't skimp on the garlic and onion: This is a Louisiana recipe, so use the whole onion, and trust me, you want at least two tablespoons of garlic.
Big Noodle Energy: Seriously, the fatter the noodle, the better. My favorite pasta in pastalaya is Bucatini,  also known as perciatelli.
For Gluten-Free Folks: I've made this dish with rice noodles and highly suggest getting a sturdy-shaped noodle. Try bow-tie brown rice pasta. DO NOT use bean-based pasta for this recipe; it will be a disaster.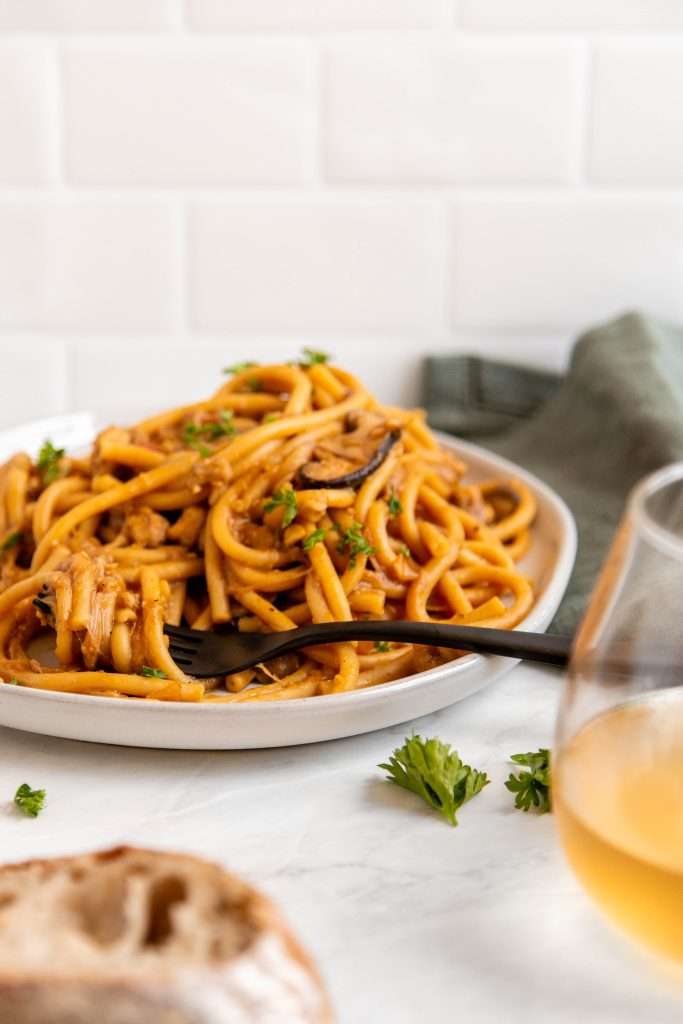 What to Pair with this Recipe
Pastalaya is generally eaten solo or with traditional cajun sides like bread, potato salad, mac and cheese, or white beans. If you'd like to enjoy this cajun pasta with a side, I suggest the following:
Print
Cajun Veggie Pasta (Vegan Pastalaya)
Pastalaya is my absolute favorite south Louisiana food. I love the smoky flavor, the hearty texture, and the soft, spicy noodles. This Cajun veggie pasta is my vegan take on classic pastalaya.
Author:
Prep Time:

15 minutes

Cook Time:

1 hour

Total Time:

1 hour, 15 minutes

Yield:

12 Servings

Category:

Entreé

Method:

Stove-Top
Vegan Smoky Meat Mixture
2

Twenty-Ounce Cans Jackfruit in Brine

16 Ounces

Tempeh, Cubed

2 Cups

Mushrooms, sliced

2 Tablespoons

Steak Sauce

4 Tablespoons

Soy Sauce

1 Teaspoon

Garlic Powder

2 Teaspoons

Smoked Paprika

2 Tablespoon

Olive Oil
Pastalaya
3 Tablespoons

Vegan Butter

1

Large White Onion, Minced

1

Green Bell Pepper, Minced

1

Celery Stalk, Minced

2 Tablespoons

Garlic, Minced

3 Teaspoons

Cajun Seasoning (with salt)

8 Cups

Vegetable Broth

16 Ounces

Bucatini Pasta
Instructions
Drain and rinse the jackfruit and wash the mushrooms. 
Cut the tough ends/cores off the jackfruit and remove the seed pods. Pull apart the jackfuruit with your fingers. 
Wash the mushrooms and slice. 
Line a baking sheet with parchment paper and preheat the oven to 450 F
In a large bowl, combine the mushrooms, jackfruit, steak sauce, soy sauce, garlic powder, smoked paprika, and olive oil.
Spread the mixture out on the baking sheet and bake for 20-30 minutes until everything starts to brown.
In a large stockpot add the vegan butter, onion, celery, bell pepper, and garlic. 
Sautee until all the aromatics are soft. 
Remove the smoky "meat" mix from the oven and immediately add to the stockpot. 
Sautée until the bottom of the pan starts to get a brown sticky glaze on the bottom. 
Add 2 cups of vegetable broth and deglaze the bottom of the pot (just scrape the bottom of the pot with a wooden spoon until there's no more stickiness on the bottom).
Add in the remaining 6 cups of vegetable broth and the cajun seasoning, then bring to a boil.
Add in the noodles, reduce heat to a simmer and cook with frequent stirring until the noodles have absorbed all the liquid. 
Serve and garnish with thyme and parsley.
Notes
to avoid bitter tempeh, soak it in boiling water for a few minutes, then drain and rinse it a few times before using in the recipe. 
Keywords: vegan,cajun,pastalaya