Inspired by my mom's and great-grandmother's recipes, this is a vegan take on cajun gumbo. This recipe takes about 45 minutes of prep; then, you must let it simmer for a while. Louisiana vegan gumbo is a delicious and hearty soup great for a nourishing meal on any cold day.
Smoked "Chicken" and Sausage Vegan Gumbo
This easy vegan gumbo recipe is inspired by my mom's and my great grandma's gumbo recipes. My mom makes this smoked chicken and sausage gumbo that is SO good. So, I based the "meat" of this recipe around a smoked chicken and sausage flavor.
I found some apple wood and sage smoked vegan sausage at Whole Foods. For the chicken, I used jackfruit. I used jackfruit as a chicken substitute in my Vegan Cajun Pastalaya recipe, which was fantastic. So I figured jackfruit would work really well in this recipe, too.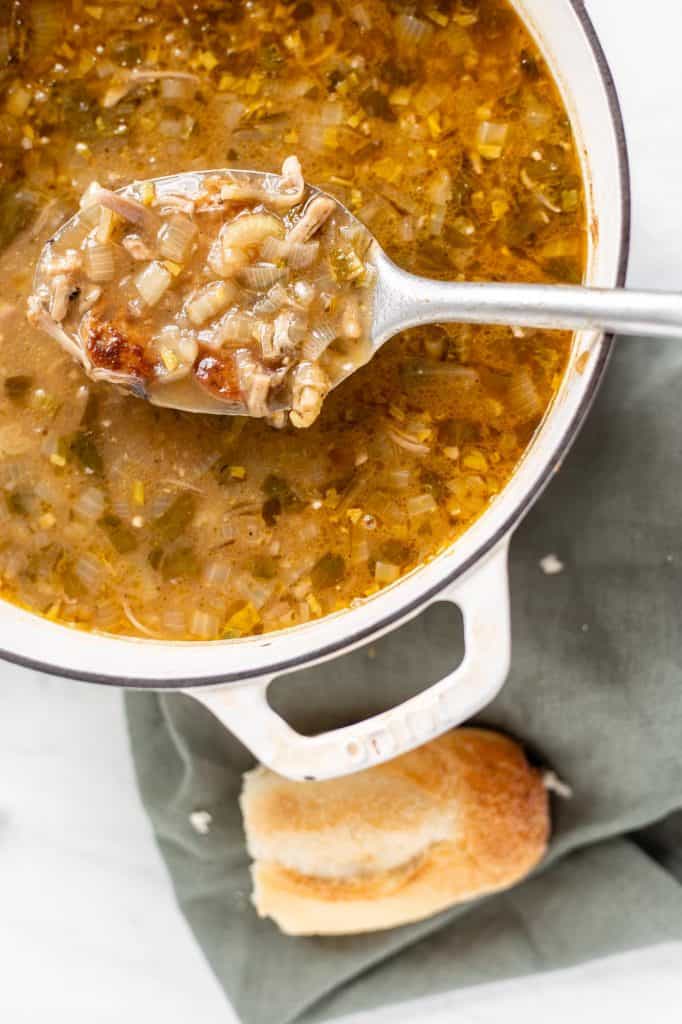 Homemade Cajun "Chicken" and Sausage Vegan Gumbo
Naturally, I went on a research mission before creating this recipe. I aimed to find three recipes from my family for reference.
It was actually quite challenging for me to find a written-down gumbo recipe in my family. My mom sent me two instructions: "make your roux and then add everything else." I learned how to make gumbo from my mom in high school, so I knew what she meant.
Then, she provided a picture of a gumbo recipe from my great-grandmother's old cookbook. I still felt like I needed another written recipe for reference, especially since I'd be removing the main ingredient, meat. So I asked my fellow Cajun friend, Sidney, and he replied, "I do it the old-fashioned way, by eye and taste."
This is how most people make their gumbo.
Ingredients for Louisiana Vegan Gumbo
Here are all the ingredients you need to make this delicious cajun seafood gumbo:
1 cup organic flour
1 cup coconut oil
2 large yellow onions, chopped
2 green bell peppers, chopped
8 celery ribs, chopped
1 cup of warm water
1/8 cup fermented hot sauce (optional)*
1 tablespoon cajun seasoning*
1 teaspoon fresh oregano, chopped
1 tablespoon garlic powder
1 tablespoon onion powder
6 cloves of garlic, minced
8 bay leaves, whole
8-10 cups vegetable stock
½ cup fresh parsley, chopped
1 cup green onions, chopped
5 links vegan sausage
2 20-ounce cans vegan jackfruit (drained, rinsed, seeds removed, chopped)
1 teaspoon cajun seasoning
2 tablespoons smoked olive oil
Equipment you need:
What is Gumbo?
Gumbo is the official state cuisine of Louisiana. It's a thick and rich soup made with a strongly flavored stock, and fatty meats, and served with rice.
Gumbo, a quintessential dish of Southern cuisine, carries a rich tapestry of history deeply rooted in African culinary traditions that have shaped American cooking.
The word "gumbo" has origins in West Africa. "Ki ngombo" in the Bantu language of Central Africa means "okra," a primary ingredient in many gumbo recipes. It's from this linguistic connection that the dish draws its name, underscoring its African heritage.
The African influence on gumbo extends far beyond nomenclature. The dish's essence lies in combining diverse ingredients to create a harmonious, flavorful whole, a practice inherited from African culinary traditions.
In the American South, enslaved Africans brought their knowledge of cooking techniques and ingredients like okra, rice, and various meats and seafood. These elements melded with the local ingredients and European influences, leading to the emergence of gumbo as we know it today. (I highly recommend watching the documentary High on the Hog to learn more!)
The gumbo pot mirrors cultural fusion in the American South, showcasing the African, French, Spanish, and Native American influences that have shaped the region's cuisine. As a testament to the resilience and creativity of African cooks who worked under the harshest conditions, gumbo is a culinary symbol of cultural preservation and adaptation. It remains a beloved dish, cherished for its history and complexity.
How to Make a Roux for Vegan Gumbo
Making a roux is not as difficult as you may think. I swear by a few rules when making a roux. These rules will help you out if it's your first time.
Always use saturated fats. We're talking about coconut oil, tallow, lard, and duck fat. These fats are nourishing, good for you, and stable at high temperatures. While you can use other oils to make a roux, animal fats work best for flavor and significantly help with not burning the roux. This is a vegan recipe, so coconut oil is a great option.
Before you start your roux, ensure you've chopped the trinity (bell pepper, onion, and celery) and placed it near your cooking pot so it's ready. Also, place a cup of water near you. You will use the water after you add the trinity to the roux. You want these ingredients near and ready to go, so you never leave the roux unattended.
Always use a wooden spoon, wooden spatula, or roux spoon.
Pour yourself a glass of water, sweet tea, or lemonade, and have that near your cooking pot too. Turn on some good music. You'll be here a while (like 15-20 minutes, maybe).
Do not stop stirring, making sure to scrape all curves and sides of the pot all the time.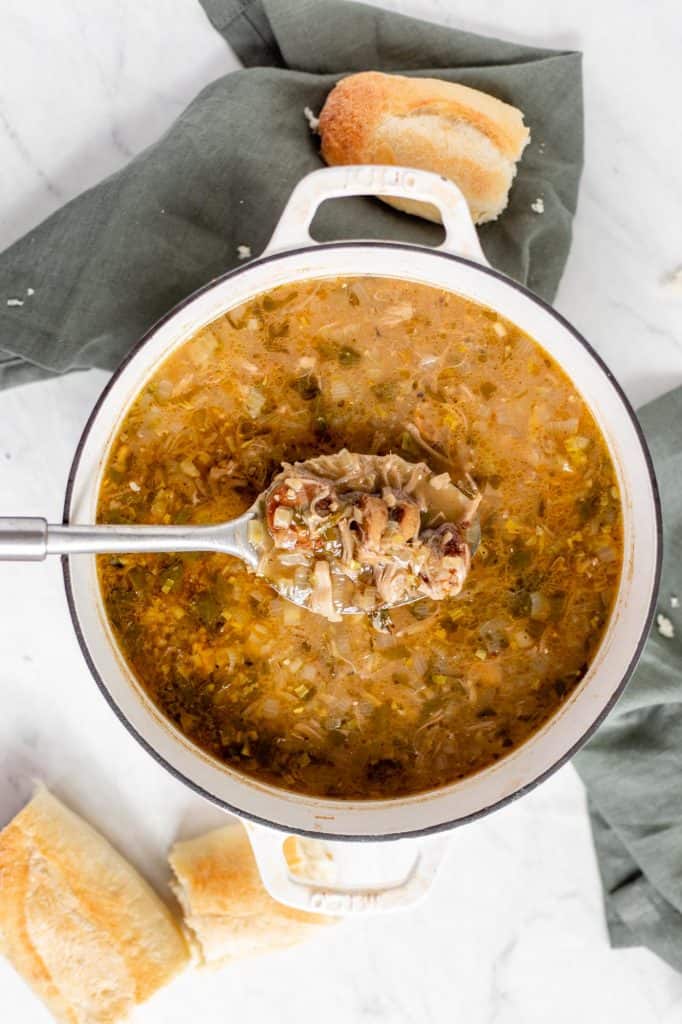 The Steps of Making a Roux for Gumbo
The roux starts off the same color as the flour you use. As you continue to stir it, it will turn to beige, then peanut butter. Once you get to peanut butter, it's time to pay attention closely.
The goal for cajun seafood gumbo is a dark roux, and I like mine to be the color of milk chocolate. Once you reach milk chocolate, immediately add in the chopped trinity and stir to coat.
As you mix the trinity into the roux, it will look dry and possibly clump. This is when you will slowly trickle the cup of water into the mix. Keep stirring as you add in a little water here and there. Once the mixture is smooth and the trinity becomes translucent, you can add the sausage.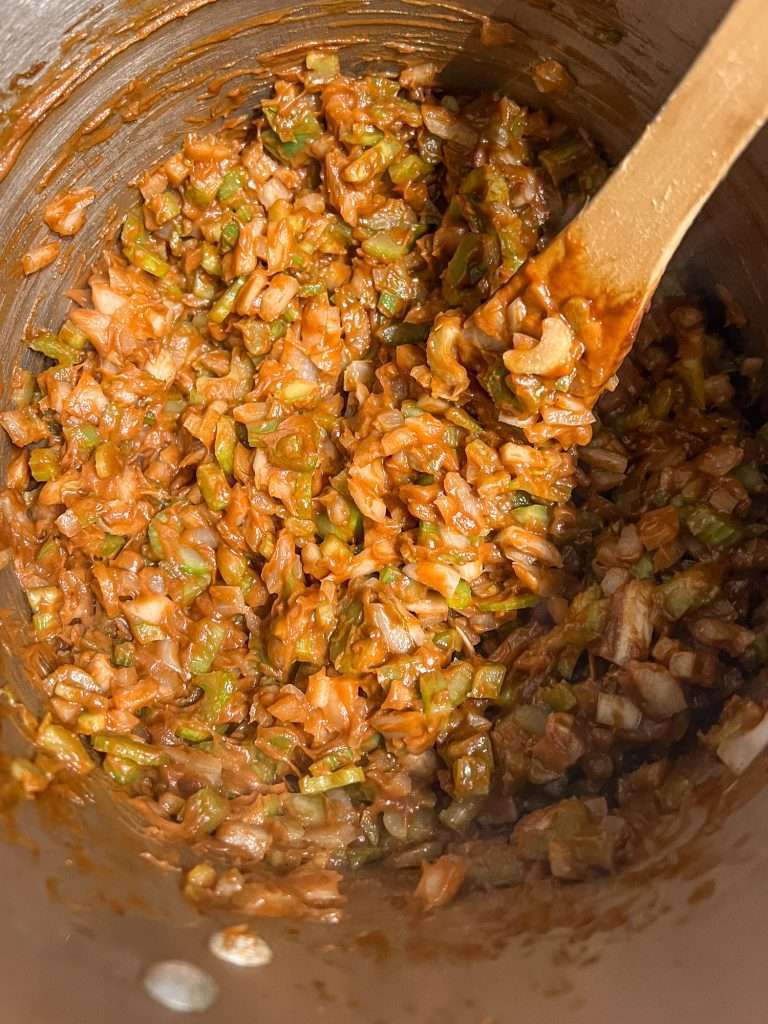 The Best Vegan Gumbo
Louisiana gets very angry when you make gumbo the "wrong" way. I hope I'm not shunned for veganizing gumbo. I told my mom this recipe would turn out either delicious or blasphemous. I think it's delicious.
The truth is, no two gumbo recipes are the same. This is especially true when you compare gumbo from different regions in south Louisiana.
To overly generalize things, there are two kinds of gumbo: cajun gumbo and creole gumbo. Cajun gumbo is brown and does not contain tomato, while most creole gumbo contains tomato and has a red color.
My family makes cajun gumbo; it's brown and absolutely never contains tomatoes. In my opinion, the darker the roux, the better, as long as it's not burnt.
Print
Cajun Louisiana Vegan Gumbo
Inspired by my mom's and great-grandmother's recipes, this is a vegan take on cajun gumbo. This recipe takes about 45 minutes of prep; then you need to let it simmer for a while. Louisiana vegan gumbo is a delicious and hearty soup great for a nourishing meal on any cold day.
Author:
Prep Time:

45 minutes

Cook Time:

2 hours

Total Time:

2 hours 45 minutes

Yield:

6 quarts

Category:

soup

Method:

stove top

Cuisine:

Cajun

Diet:

Vegan
1 cup

organic flour

1 cup

coconut oil

2

large yellow onions, chopped

2

green bell peppers, chopped

8

celery ribs, chopped

1 cup

of warm water

1/8 cup

fermented hot sauce (optional)*

1 tablespoon

cajun seasoning*

1 teaspoon

fresh oregano, chopped

1 tablespoon

garlic powder

1 tablespoon

onion powder

6

cloves of garlic, minced

8

bay leaves, whole

8

–

10

cups vegetable stock

½ cup

fresh parsley, chopped

1 cup

green onions, chopped

5

links vegan sausage, sliced

2

20-ounce cans vegan jackfruit (drained, rinsed, seeds removed, chopped)

1 teaspoon

cajun seasoning

2 tablespoons

smoked olive oil
Instructions
First, prep the jackfruit. Drain, rinse, chop, and remove the seed pods. It should look like shredded chicken. Toss the jackfruit in 1 teaspoon cajun seasoning. Set aside.
Prepare the onion, bell pepper, and celery (the trinity). Measure your flour.
Gather your 1 cup of water and place it near where you are cooking DO NOT USE IT YET. Place the chopped trinity near your cooking pot as well.
Add the coconut oil to a large stock pot and heat until it's fully melted and hot.
Slowly sprinkle the flour into the hot oil while stirring continuously with a wooden spoon or roux spoon. Watch closely and do not stop stirring until the mixture (Roux) has turned a dark chocolate color. (See body of the blog post for roux progress photos)
Add onions, bell pepper, and celery and stir to combine. Take your cup of water and drizzle tiny bits as needed to keep the roux mixture smooth and not clumpy. Cook until the aromatics are translucent.
Add Sausage and hot sauce (hot sauce is optional) mix together, cooking for about 3 minutes.
Add the cajun seasoning, oregano, garlic powder, and onion powder and stir to combine.
Slowly add the stock, stirring continuously.
Add the bay leaves and fresh minced garlic and bring to a boil.
Immediately turn the heat down to a low simmer and cover.
Allow to simmer for about 2 hours.
While simmering cook some rice and brown the jack fruit.
Add some smoked olive oil to a large skillet and cook the jack fruit until it's browned on all sides.
After simmering, add the jackfruit and bring back to a low boil.  Cook for 15 minutes then turn off the heat.
Taste test and salt to taste. Serve with rice.
Notes
Some Cajun seasonings have salt, some do not, that is why it's best to salt to taste after cooking.
Hot sauce is optional. If you like you gumbo spicy I highly recommend.
Keywords: vegan, cajun, gumbo, soup