Inspired by my mom's and great-grandmother's recipes, this is a vegan take on cajun gumbo. This recipe takes about 45 minutes of prep; then you need to let it simmer for a while. Louisiana vegan gumbo is a delicious and hearty soup great for a nourishing meal on any cold day.
Smoked "Chicken" and Sausage Vegan Gumbo
This easy vegan gumbo recipe is inspired by my mom's and my great grandma's gumbo recipes. My mom makes this smoked chicken and sausage gumbo that is SO good. So I based the "meat" of this recipe around a smoked chicken and sausage flavor.
I found some apple wood and sage smoked vegan sausage at Whole Foods. For the chicken, I used jackfruit. I used jackfruit as a chicken substitute in my Vegan Cajun Pastalaya recipe, which turned out fantastic. So I figured jackfruit would work really well in this recipe too.
I have a few tips about cooking vegan sausage:
Cut thicker slices of sausage. Vegan sausage doesn't hold up the same way as meat.
Brown the sausage REALLY well on both sides. Get it crispy. It's better in the gumbo that way.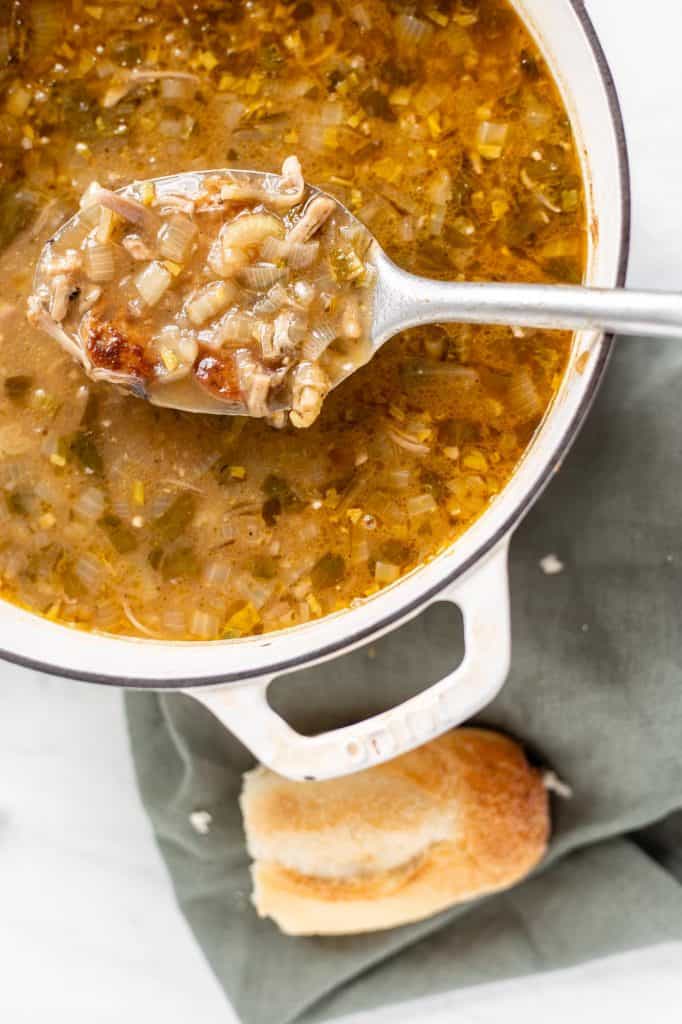 Homemade Cajun "Chicken" and Sausage Vegan Gumbo
Naturally, I went on a research mission before creating this recipe. I aimed to find three recipes from my family for reference.
It was actually quite challenging for me to find a written-down gumbo recipe in my family. My mom sent me two instructions: make your roux and then add everything else. I learned how to make gumbo from my mom in high school, so I knew what she meant.
Then, she provided a picture of a gumbo recipe from my great-grandmother's old cookbook. I still felt like I needed another written recipe for reference, especially since I'd be removing the main ingredient, meat. So I asked my fellow cajun friend, Sidney, and he replied, "I do it the old fashion way, by eye, and taste".
This is how most people make their gumbo.
What is Gumbo?
Gumbo is the official state cuisine of Louisiana. It's a thick and rich soup made with a strongly flavored stock, fatty meats, and served with rice. I feel like people are always intimidated by gumbo.
Louisiana gets very angry when you make gumbo the "wrong" way. I hope I'm not shunned for veganizing gumbo. I told my mom this recipe would turn out either delicious or blasphemous. I think it's delicious.
The truth is, no two gumbo recipes are exactly the same. This is especially true when you compare gumbo from different regions in south Louisiana.
To overly generalize things, there are two kinds of gumbo, cajun gumbo, and creole gumbo. Cajun gumbo is brown and does not contain tomato, while most creole gumbo contains tomato and has a red color.
My family makes cajun gumbo; it's brown. In my opinion, the darker the roux, the better, as long as it's not burnt.
How to Make a Roux for Vegan Gumbo
So how do you make a roux? This is the most important part of gumbo. So I have a few very important tips for you.
Use coconut oil or beef tallow (not vegan) to make the roux. Do not use any oil that's liquid at room temperature to make a roux; it will burn. If you don't want to use the proper type of fat to make a roux, you should just buy already made roux and sub that into this recipe.
You need a wooden spoon. There's no science or explanation. You just need a wooden spoon to stir a roux properly. It's best to have a special roux spoon, but any wooden spoon will do fine.
DO NOT dump all the flour into the oil at once. You want to sprinkle the flour into the melted fat gradually.
The goal is a dark roux, which is at least the color of a cinnamon stick. So you will need to cook the flour and oil mixture tediously. While stirring the roux, it should not smoke, or stick, or burn. Keep the heat low, and stir for a long time.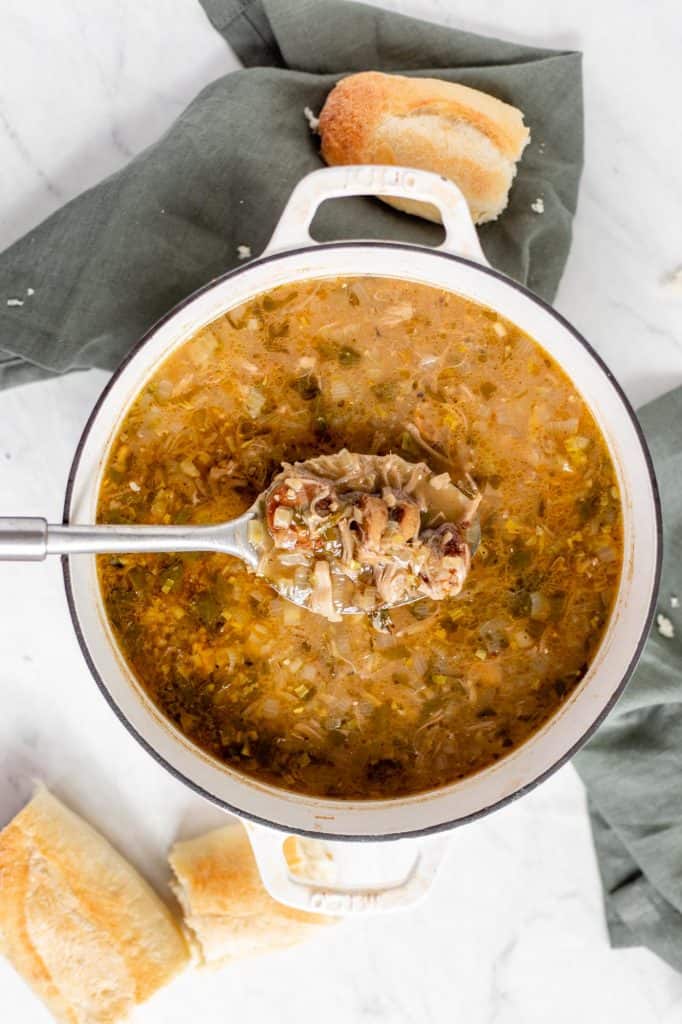 Print
Cajun Louisiana Vegan Gumbo
Inspired by my mom's and great-grandmother's recipes, this is a vegan take on cajun gumbo. This recipe takes about 45 minutes of prep; then you need to let it simmer for a while. Louisiana vegan gumbo is a delicious and hearty soup great for a nourishing meal on any cold day.
Author:
Prep Time:

45 minutes

Cook Time:

2 hours

Total Time:

2 hours 45 minutes

Yield:

12

servings

1

x
Category:

soup

Method:

stove top

Cuisine:

Cajun

Diet:

Vegan
The Aromatics
1

white onion, minced

2

celery stalks, chopped

3

shallots, minced

2 tablespoons

garlic, minced

1/2 cup

parsley, chopped

2 tablespoons

smoked olive oil

1 teaspoon

salt

1/4 teaspoon

cayenne pepper
The "Meat"
5

links vegan sausage

2

20-ounce cans vegan jackfruit (drained, rinsed, seeds removed, chopped)

1 tablespoon

cajun seasoning

2 tablespoons

smoked olive oil

1 tablespoon

coconut oil
The Roux/Base
4 tablespoons

all-purpose flour

4 tablespoons

coconut oil

3 quarts

vegetable broth
Instructions
First, prep the jackfruit. Drain, rinse, chop, and remove the seed pods. It should look like shredded chicken. Toss the jackfruit in 1 tablespoon of cajun seasoning. Set aside. 
In a dutch oven, sauté the aromatics celery, onion, shallot, garlic, parsley, salt, and cayenne pepper in smoked olive oil until soft and lightly browned. You should see a brown stickiness at the bottom of the pot, we want this to happen. Remove the aromatics from the dutch oven, place in a bowl, and set aside. 
Next, cook the meat ingredients. Add the coconut oil and the smoked olive oil to the dutch oven. Cook the vegan sausage until it's browned on both sides. Remove the sausage and set aside. Then cook the jackfruit until lightly browned. Remove from pot, and set aside.
At this point, I like to deglaze my pot and set aside the liquid. With the pot still hot pour in 1/2 cup of vegetable broth, and stir until the brown stickiness in the bottom of the pot dissolves. remove the liquid from the pot and set it aside.
Next, we are moving on to the base and roux ingredients. Place the pot back over medium heat, once any remaining liquid has evaporated from the pot, reduce the heat to low and add in the 4 tablespoons of coconut oil. Stir until the fat is melted.
To make a Roux, measure out four tablespoons of flour in a small bowl. While constantly stirring the melted coconut oil with a wooden spoon in a circular motion, slowly sprinkle small amounts of flour into the pot. Keep on stirring, scraping the bottom of the pot, leaving no oil unstirred. Do not stop stirring. Continue until all four tablespoons of flour are incorporated into the melted fat with no chunks.
To darken the roux, be patient and keep stirring over low heat. Make sure you're stirring every bit of the mixture, leaving no area in the bottom of the pot unstirred. You'll notice the mixture bubbling and darkening. I like to cook my roux until it is a medium brown color. Like the color of a cinnamon stick.
As soon as your roux is the color you like, add in all the ingredients you set aside. Start by adding in the deglazing liquid and stir, stir, stir! Then dump in all the other ingredients coating everything in the roux mixture.
Add in the remaining vegetable stock, bring the mixture to a simmer, and simmer for 1 to 2 hours. Taste a small spoonful and salt to taste.
Serve with freshly cooked rice and french bread.
Notes
I like to cook my gumbo the day before I plan on eating it. Then I refrigerate it overnight. Once it's cold I remove the fat from the top, then reheat and serve. 
If you are unfamiliar with making a roux, I highly suggest ordering a jar of roux and just using that. 
Keywords: vegan, cajun, gumbo, soup