Come learn how to make your own lacto-fermented hot sauce! This is an easy recipe for fermented hot sauce with roasted garlic, cacao, and hot hatch chiles. Fermentation is the best way to create a flavorful hot sauce. Plus, this hot sauce can be easier on digestion since it's fermented and contains gut-healthy bacteria.
Ingredients for this Lacto-Fermented Hot Sauce
Hot Hatch Chiles
Jalapeños
Sea Salt
Garlic (roasted *without oil*)
White Onion
Cacao Powder
Apple Cider Vinegar
Easy Fermented Hot Sauce Recipe
This hot sauce is super easy to make. There are a few steps though. First, we have to ferment the hatch chiles with cacao and roasted garlic. Then we blend the fermented peppers with apple cider vinegar, fresh jalapeños, and fresh white onion. I like to make my hot sauce this way for more depth of flavor. Mixing the wild-fermented peppers with fresh ingredients and a sweeter vinegar really enhances this recipe.
Learn How to Make Your Own Hot Sauce
Making your own hot sauce is easy! It may seem intimidating to ferment hot sauce at first, but you've got this! Just follow the steps and be patient. In about four weeks you'll have the best hot sauce ever! If this is your first time learning to make hot sauce, I suggest sticking to the recipe exactly. If you are an experienced fermenter, you can probably embellish a little bit.
Since hot hatch chiles aren't always available and in season, you can evenly substitute for another kind of pepper. I write my fermentation recipes in grams and milliliters for consistency and food safety. So If you want to use, say, Anaheim peppers instead of hatch chilies just evenly sub the weight of peppers.
Lacto-Fermented Hot Sauce Tips
I always suggest fermenting the peppers first, then blending. Some people like puree then ferment the pepper mash, but I think this makes things messy. It's much safer and easier to ferment first and then blend so you can keep everything submerged.
During the first few days of fermentation: carbon dioxide and bubbles will be produced. Sometimes, jars will become very full of liquid, and this liquid can seep out the jar. This is normal and there are a few things you can do to prevent messes.
Remove the lid and tamper everything back down using a gloved hand, tamper or spoon. Make sure everything is still submerged below the brine. Rinse off the lid if it is dirty.
Always Trust your sense of smell: Fermented peppers should smell pleasantly sour and spicy. Never eat anything that smells repulsive.
Never eat anything that had mold growing on it: By following directions you should not encounter this problem. Note that most vine-growing vegetables that are wild fermented will have something called pellicle growth. This is completely normal for vine growing vegetables as long as it does not look furry, pink, blue, black, green, or magenta.
A safe pellicle is normally opaque, off white, and kind of crinkly. If you have surface growth like this it's a harmless mixed colony of wild yeasts. It's not "mold"…you can skim it off the top and still eat your peppers. See the two pictures below as a reference for what a normal pellicle looks like.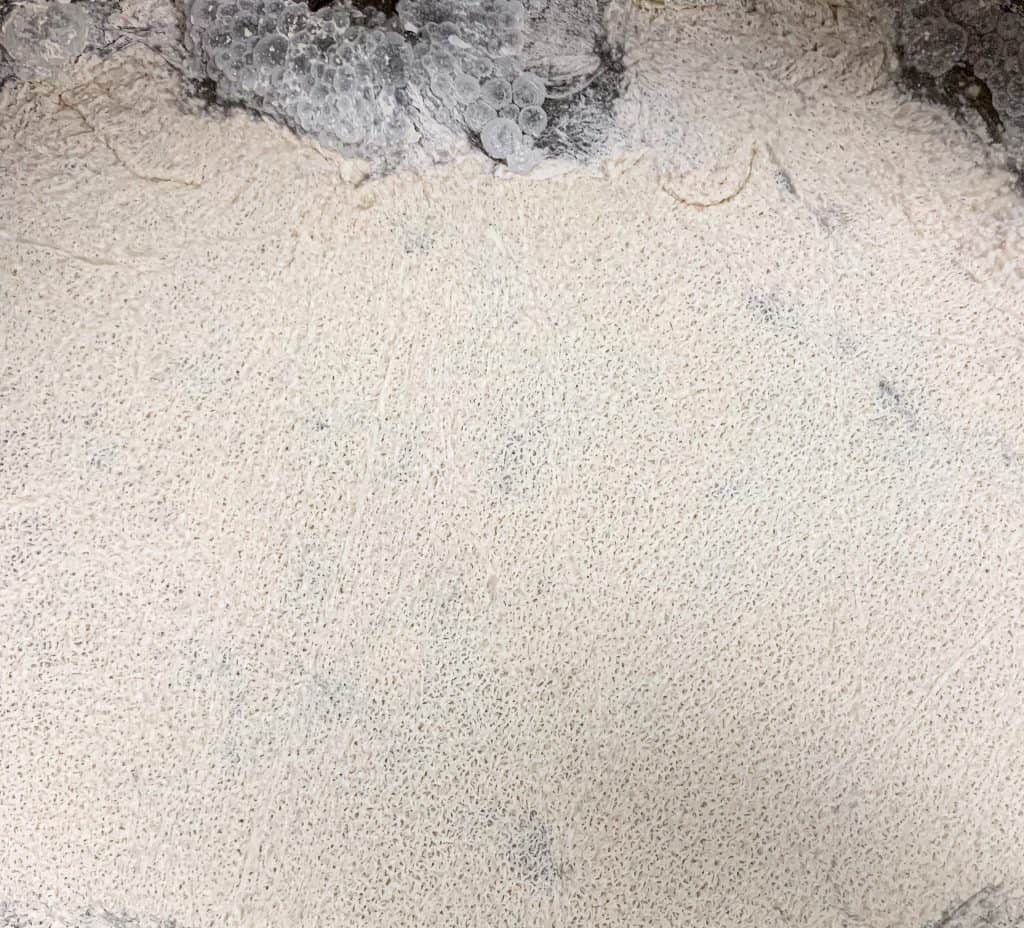 How to Avoid a Pellicle
For this recipe, I used an approximate 4.2% total (w/w) salt concentration. I'm usually able to avoid pellicle growth completely by increasing the salt concentration of the pepper fermentation. Peppers can be fermented with up to 10% salt concentration. That's way too salty in my opinion. But I've tried many fermented peppers at 6% total salt concentration and I've never had pellicle growth with a total salt concentration of 6%. The yeasts simply do not tolerate such high salt concentrations.
This, of course, is a much saltier pepper ferment. However, the peppers come out more sour too, and this is perfect for hot sauce! I like to blend the higher salt fermented peppers with fresh onion, a few different types of fresh peppers, and apple cider vinegar for a perfect, full-flavored hot sauce!
What's a Good Fermentation Temperature?
Keep your fermenting peppers at a temperature between 70-80 degrees F. Keep out of direct sunlight.
How Long Should I Ferment the Peppers for?
After 4-5 weeks, remove the fermentation weight and smell and taste test. Your fermented peppers should smell peppery and pleasantly sour. They should taste tart and savory.
Do I Need to Refrigerate the Hot Sauce?
After fermenting for 4-5 weeks, you will blend the fermented peppers, garlic, and cacao with fresh onion more peppers, and some apple cider vinegar. This balances the flavor and gives the hot sauce a wonderful flavor. After add to a bottle and store in the fridge for up to two years. The flavor may change slightly over time, but not by much.
Supplies You Need for Pepper Fermentation
Fermentation Weight to fit your mason jar
Standard Metal Mason Jar Lid (this can rust in the presence of salt)
Unrefined Sea Salt
Mixing Bowl
or you can use a Weck Jar (without the gasket; only use the clips to secure the lid)
Funnel
Glass bottle for the finished sauce
More Fermentation Recipes to Try
Print
How to Make Lacto-Fermented Hot Sauce with Roasted Garlic, Cacao, and Hatch Chiles
Come learn how to make your own lacto-fermented hot sauce! This is an easy recipe for fermented hot sauce with roasted garlic, cacao, and hot hatch chiles. Fermentation is the best way to create a flavorful hot sauce. Plus, this hot sauce can be easier on digestion since it's fermented and contains gut-healthy bacteria.
Author:
Prep Time:

10 minutes

Total Time:

10 minutes

Yield:

32

Servings

1

x
Category:

Sauce

Method:

Fermentation

Cuisine:

american

Diet:

Vegan
For the Fermentation
100 Grams

Hot Hatch Chiles, Sliced

50 Grams

Garlic, Roasted

10 Grams

Cacao Powder

300 Grams

Water

20 Grams

Sea Salt
After Fermentation (Blending the Hot Sauce)
2

Jalapeños

1

Small White Onion

100

Milliliters Apple Cider Vinegar
Instructions
Wash your fermentation equipment including the jar, weight, and lid. You can sterilize your equipment by rinsing it with vodka. 
Place your kitchen scale on the counter. Turn it on and set it to weigh in grams.
Place a mixing bowl on your kitchen scale and tare/zero the scale. 
Add your peppers into the bowl on your scale until the scale reads 100 grams. Add 50 grams of roasted garlic to the bowl. 
Remove the bowl from your scale and set aside. Place your empty, clean mason jar on the scale, and tare/zero the scale. Make sure your scale is still set to grams and add 300 grams of filtered water to your mason jar.
Next, add 10 grams of cacao powder to the water. 
Add the weighed out peppers and garlic into the mason jar with the water and cacao.
Place a small bowl on your scale and tare/zero the scale. Weigh out 20 grams of sea salt. Then add the 20  grams of salt to the jar of peppers, water and cacao.
Place your standard mason jar lid on the jar, and secure. Shake the jar vigorously for 2 minutes.
Remove the standard mason jar lid. Place your fermentation weight in the jar making sure to submerge all of the pepper pieces and weight fully in the liquid. Don't be afraid to squish and crush all the peppers down into the brine. 
Secure the standard mason jar lid to the mason jar.
Allow fermenting at room temperature for four weeks. 
After fermentation, drain off half of the brine in the jar. (you can save this brine for use in salad dressing, or heirloom culturing recipes on our blog)
Add the remaining fermented ingredients and brine to a high-speed blender.
Add in the Jalapenos, onion, and apple cider vinegar.
Blend on high until smooth. 
Strain the blended mixture through a mesh sieve, into a large jar or cup. (Keep the pulp for use in spicy recipes, like curry or soup) 
Add the liquid to a bottle, cap it, and store it in the fridge for up to two years. 
Notes
To roast garlic: cut a whole garlic bulb in half, unpeeled. Then put face down on a parchment paper-lined pan and roast at 400 degrees F for 30 minutes. After that, allow it to cool. When you squeeze the cloves, they will slide right out. Some can be softer and mushier than others, and that's fine.
This recipe works best with a 16 or 32-ounce mason jar
Taring/zeroing the scale with a container on it subtracts the weight of the container, allowing you to weigh only what is added to the container. After taring/zeroing the scale, the scale should read 0.0 with the container on it.
Keywords: hot sauce, peppers, fermented