My favorite hot sauce to make every August is fermented hatch green chile sauce. I incorporate cacao and garlic for a unique and vibrant flavor. This hot sauce goes great on tacos, burgers, burritos, and enchiladas.
Fermented Hatch Chile Sauce
At the beginning of August, I love seeing the Hatch Chiles arrive at the store. Their seasonal arrival means it's time to make one of my all-time favorite hot sauces.
This hot sauce is something I threw together one summer after buying a bunch of chiles at the farmer's market. It turned out so good that I had to write the recipe down from memory to make every year. My favorite part of this recipe is the incorporated cacao powder. It adds a good bit of beneficial, bioavailable magnesium.
Fermented Hatch Green Chile Sauce with Cacao and Garlic
Here are all of the ingredients you need to make this recipe:
300 grams hatch chilies (hot, mild, or medium. whichever you prefer)
30 grams garlic
50 grams white onion
10 grams cacao powder
28 grams sea salt
400 grams water
Are Hatch Chiles Spicy?
Hatch chiles come in a range of spice levels. Usually, you can find four kinds— mild, medium, hot, and extra hot. I enjoy mixing different spice levels in fermentation to get the best flavors.
For this recipe, I used half hot and half mild.
How to Make Fermented Hatch Chile Sauce
Making hot sauce is easy! It may initially seem intimidating to ferment hot sauce, but you've got this. Just follow the steps and be patient. In about four weeks, you'll have the best hot sauce ever!
If this is your first time learning to make hot sauce, I suggest sticking to the recipe strictly. If you are an experienced fermenter, you can experiment a little bit by changing up the pepper varieties. Since hot hatch chiles aren't always available and in season, you can evenly substitute for another kind of pepper. If you want to use, say, Anaheim peppers instead of hatch chiles, just evenly sub the weight of peppers.
Hatch Green Chile Sauce Fermentation Timeline
24 – 48 hours: All contents in the jar should be submerged beneath the brine. At this time, there are still Gram-negative bacteria and possible pathogens present.
48 hours – 5 days: After 48 hours, you should start to see lots of bubbles being produced. This is when the ferment enters stage two of vegetable fermentation. Leuconostoc bacteria begin to thrive, and Gram-negative organisms die off.
5 – 10 days: The bubbles in the brine will decrease as the ferment leaves stage two and enters stage three. The ferment will become cloudy, the color will change, and a pleasant sour smell will develop. You should also recognize garlic and pepper smells. Lactobacillus species begin to thrive at this time.
10 – 21 days: Next, Lactobacillus make up most or all of the microbial population. They produce copious amounts of lactic acid, making the fermented chiles smell even more pleasantly sour. This is when the vegetable mixture becomes preserved.
21 – 28 days: This is when you want to smell and taste test. Wait for the peppers smell and taste as you like, and then blend and refrigerate when you find the smell and taste most pleasant! We like ours best when we blend up the hatch green chile sauce and refrigerate at about 25 days.
Hatch Green Chile Sauce Fermenting Instructions
During the first few days of fermentation, carbon dioxide and bubbles will be produced. Sometimes, mason jars will become very full of liquid, and this liquid can seep out. You will need to burp the jar.
When burping the jar, remove the lid and tamper everything back down using a clean tamper or spoon. Make sure everything, including the weight, is still submerged below the brine. You can also rinse off the lid daily to keep things clean.
Always Trust your sense of smell: In the beginning, fermenting hatch chile can smell funky (but in a good way). When fermentation is finished, the chiles should smell pleasantly sour and have hints of garlic and onion. Never eat anything that smells repulsive or yeasty.
Never eat anything that has mold growing on it. By following directions, you should not encounter this problem.
Note that most vine-growing vegetables that are wild fermented will have something called pellicle growth. This is completely normal for what I call "vine-growing" vegetables (anything that grows from a blossom) as long as it does not look furry, pink, blue, black, green, or magenta.
A safe pellicle is normally opaque, off-white, and kind of crinkly. If you have surface growth like this, it's a harmless mixed colony of wild yeasts. It's not "mold." You can skim it off the top and still eat your peppers. See the two pictures below as a reference for what a normal pellicle looks like.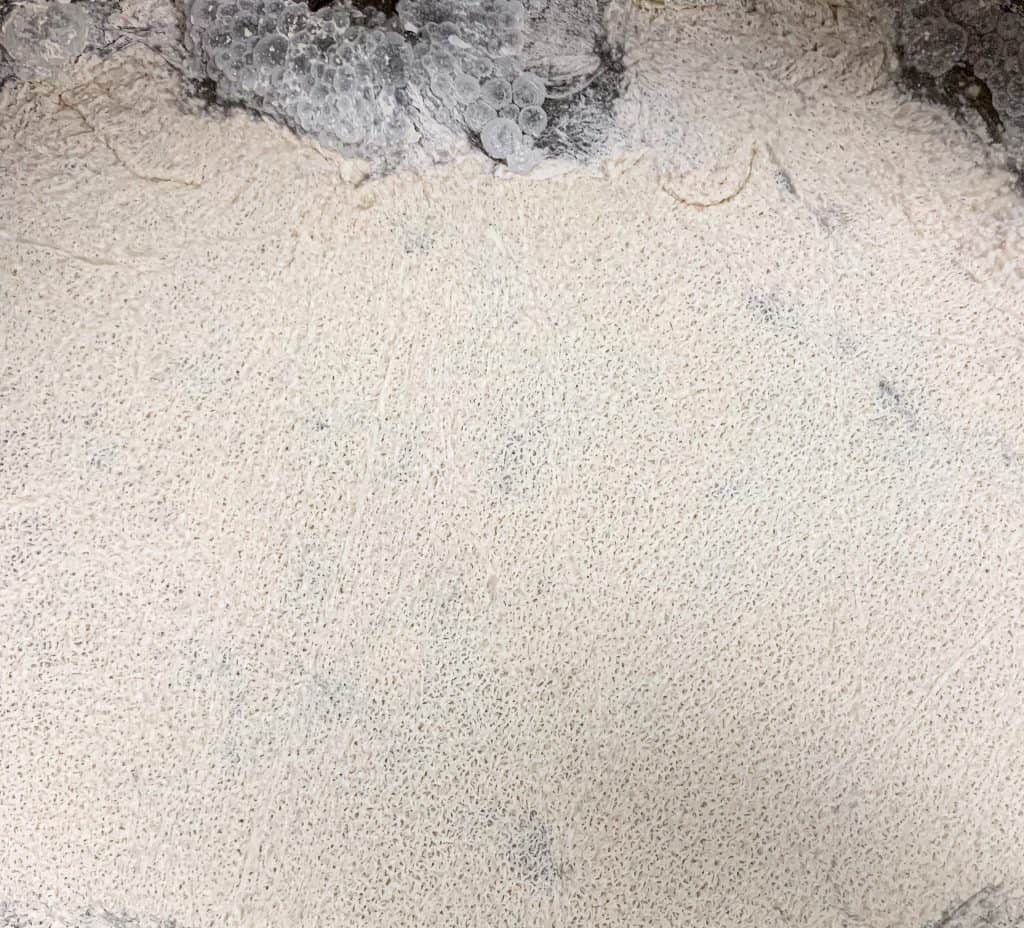 How to Avoid a Pellicle
I used an approximate 3.5% total (w/w) salt concentration for this recipe. I usually avoid pellicle growth completely by increasing the salt concentration of the pepper fermentation.
Peppers can be fermented with up to 10% salt concentration. That's way too salty, in my opinion. But I've tried many fermented peppers at 6% total salt concentration, and I've never had pellicle growth with a total salt concentration of 6%. The yeasts simply do not tolerate such high salt concentrations.
This, of course, is a much saltier pepper ferment. However, the hatch green chiles come out more sour, too, and this is perfect for hot sauce! I like to blend the higher-salt fermented peppers with apple cider vinegar for a perfect, full-flavored hot sauce.
Supplies You Need to Ferment
Fermentation Weight to fit your mason jar
Standard Metal Mason Jar Lid (this can rust in the presence of salt)
Unrefined Sea Salt
Mixing Bowl
or you can use a Weck Jar (without the gasket; only use the clips to secure the lid)
Blender (this is necessary for puréeing the fermented hatch chiles. If you don't have a blender, a food processor works well too).
Funnel
Glass bottle or jar for the finished hatch green chile sauce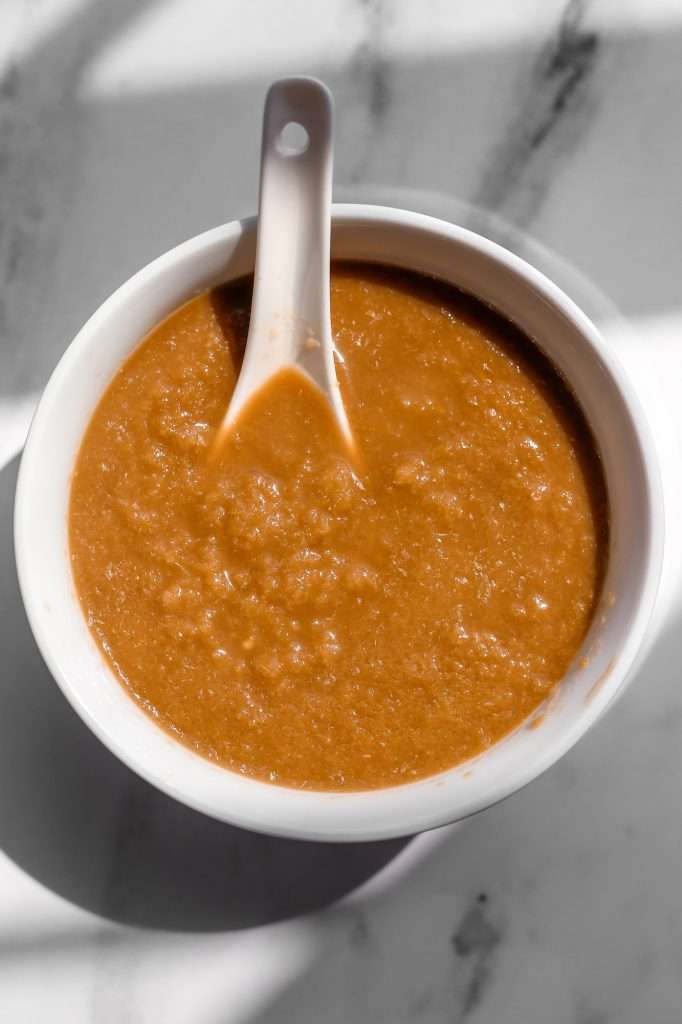 Blending Hatch Green Chile Sauce
After about four weeks, your hatch chiles will be done fermenting. To make the hot sauce, blend the contents of the fermentation jar in a blender until smooth. You won't use all the brine for blending and can incorporate vinegar to balance the flavor.
You can also strain the pulp out of the blended sauce for a thinner hot sauce. However, I love to leave all the pulp in for a thick hot sauce.
More Fermentation Recipes to Try
Print
Fermented Hatch Green Chile Sauce with Cacao and Garlic
My favorite hot sauce to make every August is fermented hatch green chile sauce. I incorporate cacao and garlic for a unique and vibrant flavor. This hot sauce goes great on tacos, burgers, burritos, and enchiladas.
Author:
Prep Time:

10 minutes

Cook Time:

10 minutes

Total Time:

20 minutes

Yield:

32 Servings

Category:

Sauce

Method:

Fermentation

Cuisine:

american
300 grams

hatch chilies

30 grams

garlic

50 grams

white onion

10 grams

cacao powder

28 grams

sea salt

400 grams

water
Instructions
This recipe at 1x works best with a 32-ounce jar.
Add the cacao powder and 1/4 of the water to a small saucepan and heat it over medium to simmer. Stir continuously until the cacao powder is dissolved. Set aside.
Wash your fermentation equipment, including the jar, weight, and lid.
Wash your chiles and chop them into halves or rings.
Place your kitchen scale on the counter. Turn it on and set it to weigh in grams.
Place a mixing bowl on your kitchen scale and tare/zero the scale.
Add your chiles and garlic into the bowl, measuring out the designated amounts.
Remove the bowl from your scale and set it aside. Place your empty, clean mason jar on the scale, and tare/zero the scale. Make sure your scale is still set to grams, and add the designated amount of filtered water to your mason jar.
Add the peppers from your bowl, into the mason jar with water.
Place a small bowl on your scale and tare/zero the scale. Weigh out the sea salt. Then add the salt to the jar of peppers and water.
Place your standard mason jar lid on the jar, and secure it. Shake the jar for 2 minutes.
Remove the standard mason jar lid. Place your fermentation weight in the jar, making sure to submerge all of the pepper pieces and weight fully in the liquid.
Secure the jar lid to the mason jar.
Ferment for 4 to 5 weeks.
After fermentation, remove the fermentation weight. Strain the chiles, onion and garlic from the brine, reserving all the liquid.
Add the peppers, garlic, and onion in a high-speed blender.
Blend on high, slowly adding small amounts of reserved brine into the blender until it blends easy and the desired consistency is reached. You can also add vinegar to balance out the flavor.
Store in an airtight container in the fridge. Separation is natural; shake to combine before using. Use a spoon to sprinkle over your food.
Keywords: hatch chile, sauce, hot sauce