The perfect New Orleans style cake to celebrate Mardi Gras. Sourdough king cake is the best moist and flavorful sweet treat for the carnival season. This recipe is essentially cinnamon roll king cake. The dough is similar to cinnamon roll dough, just shaped and decorated differently.
Easy Sourdough King Cake Recipe
Here is what you will need to make this recipe:
Organic bread flour
Water
Butter
Organic Eggs
Organic sugar
Brown Sugar
Sea Salt
vanilla
Naturally colored sprinkles
Organic powdered sugar
whole milk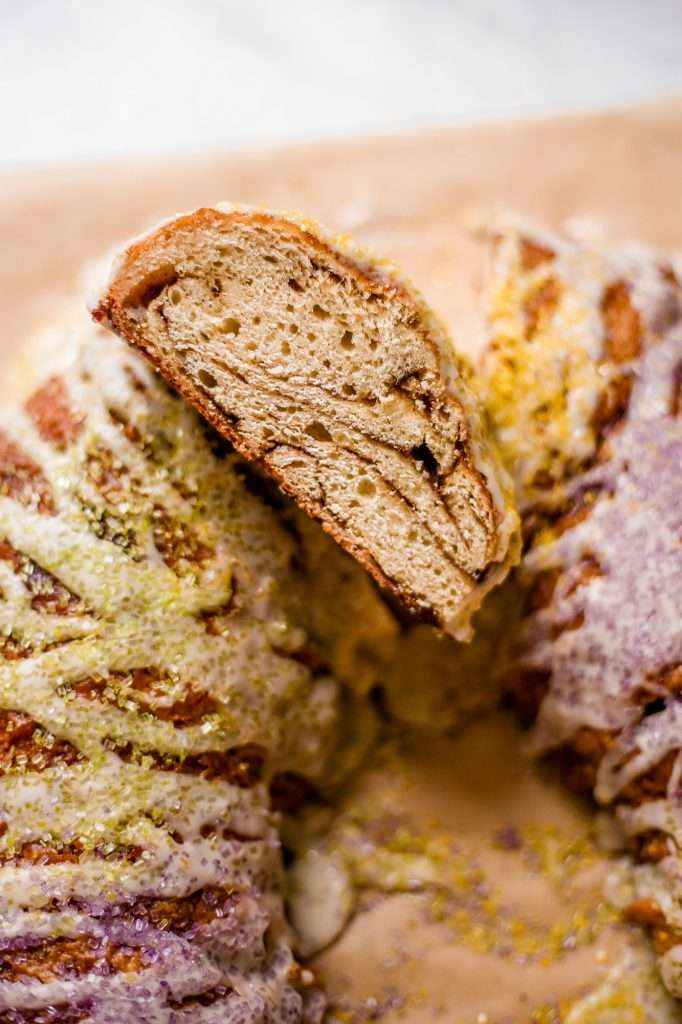 The main thing I want to note is the royal icing. I highly recommend using whole dairy milk to make royal icing. I've tried royal icing with plant-based milk many times, which never works for me.
If you want the icing to stay on the cake, as it should, use whole milk and powdered sugar. Make it THICK. You only need to mix about one tablespoon of milk into a cup of powdered sugar.
Cinnamon Roll King Cake
King cake is very similar to a cinnamon roll, just shaped and decorated differently. King cake is usually a brioche, or sweet roll dough braided, baked in a circle, and decorated with icing and purple, green and gold sugars.
The traditional king cake flavor is cinnamon, but you can decorate and flavor a king cake however you'd like. King cakes also come in many flavors with different types of filling.
New Orleans Style Sourdough King Cake Recipe
Traditionally we make king cake with commercially packaged yeast, but I prefer to make mine with a sourdough starter for nutritional benefits.
The first time I made a sourdough king cake at home, I just adapted my cinnamon roll recipe to make the cake, but I rushed the dough, baked too soon, and it came out a bit dry and dense.
The second time, it was to-die-for delicious! It was better than any store-bought king cake I've ever had, braided beautifully, risen perfectly, with naturally dyed sprinkles.
We ate it with so much pleasure, and I wrote a note on my calendar to share the recipe next Mardi Gras—this Mardi Gras. So I baked a king cake this year, and it came out beautiful.
Now, Let's talk about braiding the king cake. In the recipe, I instruct you to simply make the cake into an oval. That is the easiest thing to do. If you've never made a king cake before, just follow the directions and make it into a circle.
If you're an experienced baker, and confident, you can try braiding or twisting the dough. To do so, generously sprinkle flour on your surface and hands, and the dough. Separate the roll (step 14) into two pieces, then connect the two at one end. Twist the pieces around each other and connect the other ends, then form it into a circle.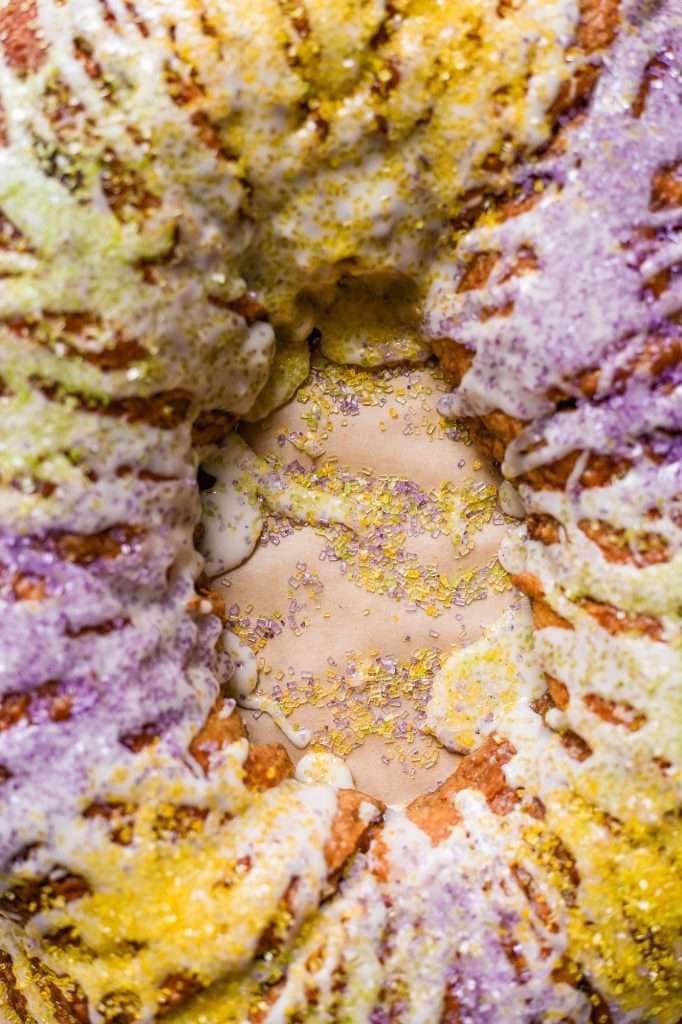 What is King Cake Tradition?
According to the Manny Randazzo King Cake website (one of the best king cake makers in Louisiana), the French brought the King Cake to New Orleans from France in 1870.
At a party, someone slices the King Cake and serves it. While eating the cake, everyone looks to see if their piece of king cake contains the "baby." The person who has the baby is named "King" for a day and is bound by custom to host the next party and provide the King Cake.
In the past, such things as coins, beans, pecans, or peas were hidden in each King Cake as the baby.
King cakes are traditionally decorated with purple to represent justice, green to represent faith, and gold to represent power. These colors were chosen to resemble a jeweled crown honoring the Three Wise Men who visited the Christ Child on Epiphany.
Print
Homemade Sourdough King Cake for Mardi Gras
The perfect New Orleans style cake to celebrate Mardi Gras. Sourdough king cake is the best moist and flavorful sweet treat for the carnival season. This recipe is essentially cinnamon roll king cake. The dough is similar to cinnamon roll dough, just shaped and decorated differently.
Author:
Prep Time:

4 hours

Cook Time:

40 minutes

Total Time:

4 hours 40 minutes

Yield:

12 servings

Category:

dessert

Method:

fermentation

Cuisine:

Louisiana
Cake dough
250 grams

warm water

200 grams

sourdough starter, active and bubbly

100 grams

organic cane sugar

2

organic eggs, room temperature

1/2 cup

unsalted butter, room temperature

10 grams

sea salt

1 teaspoon

vanilla extract

650 grams

organic bread flour
Cinnamon Filling
1 cup

brown sugar

4 tablespoons

butter, room temperature

1 tablespoon

cinnamon
Toppings
1 cup

powdered sugar

1 teaspoon

to 1 tablespoon whole milk
purple, gold and green sprinkles and/or other toppings
Instructions
note that there is sugar in this dough. It will rise and ferment faster than sourdough bread, keep an eye on your dough and adjust rise times accordingly depending on temperature.
In a small mixing bowl, combine the warm water and sourdough starter, and in a separate bowl, Sift together the flour and salt.
In large mixing bowl, using a hand mixer cream together the butter, vanilla, and sugar until light and fluffy.
Add the eggs, and blend them in well.
Add in the warm water and sourdough starter mixture and blend well until the mixture looks smooth like pancake batter.
Scrape down the mixture and add in the flour and salt. Knead until a rough dough ball forms.
Allow the dough to rest for one hour. Then stretch and fold it, making it a smooth dough ball.
Allow the dough to rise at room temperature (about 78° F) covered for about 2 hours. The dough should almost double in size. If it's colder in your home, this part may take longer.
OPTIONAL: if you want to ferment the dough longer, after the 2 hours you can refrigerate it overnight, then move on to the next step.
Prepare the cinnamon filling by mixing together the butter sugar and cinnamon with a hand mixer.
Line a large baking pan with parchment paper. Sprinkle the parchment paper with flour.
After the rise time, sprinkle some flour over the dough, remove the dough from the bowl and place it on a well-floured surface. Gently pull out the dough until it is a large rectangular shape. Be gentle you want the dough to still have some fluff to it. The rectangle should be about 15×10 inches.
Evenly spread the filling over the dough.
Roll up the dough tightly along the longer side of the rectangle into a long log shape. Transfer the dough to the parchment paper-lined baking pan.
Attach the ends of the dough to form the dough into a large circle/oval.
Let the shaped dough rise for 1 to 2 hours (depending on how warm it is) it should puff up nicely. If any filling leaks out, baste the cake with it.
Preheat the oven to 375° F, and bake for 40 minutes until the cake is golden brown. Some filling may bubble out of the dough, that is normal. About halfway through, I like to use a silicone brush to baste the cake with any filling that has leaked out.
Allow the cake to cool for about 2 to 3 hours. It should be cool to the touch before icing it.
Mix the icing together by combining the powdered sugar and milk. Starting with one teaspoon, add a tiny bit of milk at a time until the icing is a good thickness but spreadable.
Spread or drizzle the icing over the top of the cake. While the icing is still wet, add the sprinkles.
Notes
You can evenly substitute eggs and butter for vegan options.
The icing does not work with plant based milk. For an vegan icing option, you will need to look one up that uses starch. 
Keywords: king cake, sourdough