We're excited to introduce you to a delightfully healthy dessert- Sourdough Brownies! Packed with gut-healthy ingredients like oat flour and chia seeds, these sourdough discard brownies are as delicious as they are good for you.
Healthy Sourdough Brownies
Oat flour, the star ingredient in our sourdough brownies, is an excellent alternative to regular wheat flour for those avoiding gluten and boasts impressive health benefits.
Oats are rich in soluble fiber, particularly beta-glucans, which support gut health by promoting the growth of beneficial gut bacteria. This soluble fiber also helps to regulate bowel movements and maintain a healthy digestive system. Additionally, oat flour is an excellent source of vitamins, minerals, and antioxidants, making it a wholesome choice for a guilt-free treat.
Incorporating chia seeds into our brownie recipe takes it up a notch in terms of both nutrition and texture. Chia seeds are tiny powerhouses of nutrition, loaded with fiber, protein, omega-3 fatty acids, and various essential minerals.
When mixed with liquid, chia seeds form a gel-like substance that acts as a binding agent, making them a perfect egg substitute in vegan baking. This gel also aids digestion by promoting a feeling of fullness and assisting with bowel regularity.
So, not only do chia seeds contribute to the fudgy texture of our brownies, but they also contribute to your overall well-being.
Sourdough Brownies
Before we dive into the recipe, let's take a moment to appreciate the rich history of brownies.
These delectable treats originated in the United States during the late 19th century. The exact circumstances of their creation remain shrouded in mystery, but the first-known recipe for "brownies" appeared in an 1896 Sears, Roebuck & Co. catalog.
Since then, many variations of brownie recipes have been published in books and online, becoming a beloved dessert worldwide. So I'm happy to present our unique twist on this classic with a gut-friendly and wholesome approach.
How to Make Vegan Sourdough Brownies
Now, you might be wondering about our brownies' "sourdough" aspect. Fear not, as the flavor is definitely not sour!
This recipe is simply a way to repurpose your sourdough discard, reducing waste and infusing the brownies with a subtle tang that balances the sweetness.
Sourdough discard is the portion of sourdough starter removed and discarded during feeding. Using it in our brownie recipe adds depth of flavor and makes the most of our sourdough baking endeavors. The starter does not make the dough rise in sourdough discard recipes, so you can bake the brownies immediately after mixing.
If you want to ferment the batter overnight in the fridge, you can try it, but it may change the texture of the brownies quite a lot.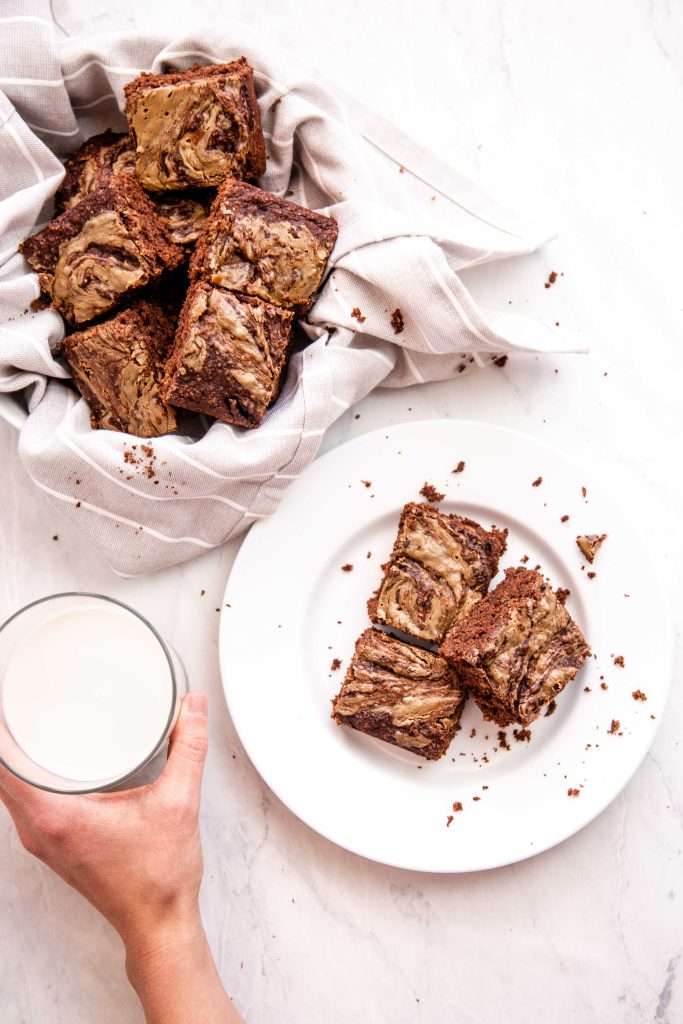 Fiber-Rich, Healthy Brownie Recipe
Whether you're gluten-free, vegan, or simply seeking a deliciously wholesome treat, these Sourdough Brownies will please.
With the health benefits of oat flour and chia seeds and the use of sourdough discard, you can relish each bite, knowing it supports your gut health.
So, gather your ingredients, preheat your oven, and let the baking adventure begin!
More Sourdough Recipes to Try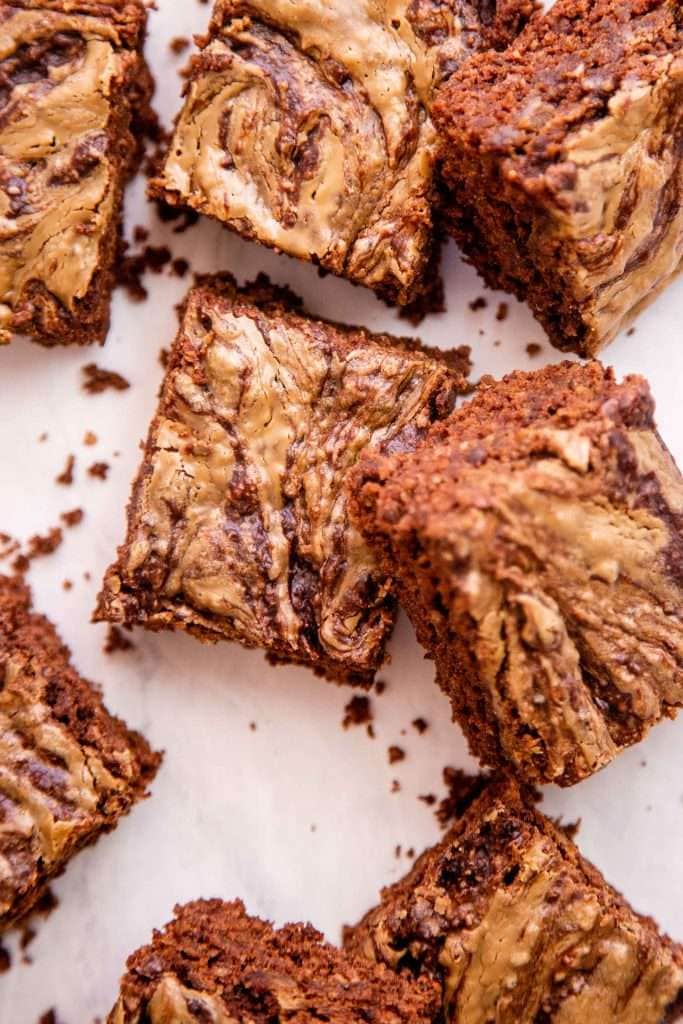 Print
Healthy Sourdough Brownies (Gluten-Free and Vegan Options)
We're excited to introduce you to a delightfully healthy dessert- Sourdough Brownies! Packed with gut-healthy ingredients like oat flour and chia seeds, these sourdough discard brownies are as delicious as they are good for you.
Author:
Prep Time:

25 minutes

Cook Time:

35 minutes

Total Time:

1 Hour

Yield:

9 Servings

Category:

Dessert

Method:

Baking

Cuisine:

Dessert

Diet:

Vegan
1/4 Cup

Mashed Banana

3/4 Cup

Pure Maple Syrup

1/2 Cup

Coconut Oil, Melted

1/2 Cup

Milk*

3/4 Cup

sourdough starter*

2 Tablespoons

Chia Seeds

1 Cup

Oat Flour

1/2 Cup

Chickpea Flour

1/4 Cup

Cacao Powder

1/2 Teaspoon

Salt

1/2 Teaspoon

Baking Soda

1/4 Cup

Sunflower Seed Butter
Instructions
Line a small baking dish with parchment paper. Preheat oven to 350 F. 
Combine the mashed banana, maple syrup, coconut oil, sourdough starter, and milk in a mixing bowl. 
Whisk until evenly combined. 
In a seprate bowl, combine the dry ingredients: chia seeds, oat flour, chickpea flour, cacao powder, salt and baking soda. 
Pour the wet ingredients into the dry ingredients and fold together until they're just evenly combined. Don't over mix.
Pour the brownie mixture into the parchment paper lined baking dish.  Using a spatula, spread the mixture out evenly. 
Measure out your sunflower seed butter, and swirl into the top of the brownies. I like to use a butter knife to spread the sunflower seed butter around in a swirled pattern. 
Bake the brownies for 35 minutes. 
Notes
You can use GF sourdough starter to make this recipe fully Gluten Free
You can use plant based milk to make this recipe vegan
Keywords: fiber rich,gluten free,vegan,brownies