Light, sour, briny, and full of delicious onion flavor. You're going to love this green onion kimchi inspired fermented relish. Use it anywhere you would use kimchi.
Green Onion Kimchi
Kimchi is usually a spicy mix of fermented cabbage and other ingredients. What kimchi is made of depends on who is making it and where you are trying it!
In Korea, families use local and seasonal ingredients in their kimchi recipes, so there are over 200 types of kimchi, each unique.
One type of kimchi is green onion kimchi, also called Pa-Kimchi. It is made similarly to cabbage-based kimchi, but with green onions as the base.
Fermented Relish
My recipe is inspired by the flavors and ingredients used in pa-kimchi, but it is quite different. If you want to make traditional pa-kimchi check out this recipe from Korean food blogger, Maangchi. Otherwise, stay here and try making my green onion kimchi relish!
Instead of keeping the green onions whole, I like to chop them and mix them with cucumbers for a relish. So this recipe has all the great flavor of green onion kimchi, but it's easy to incorporate into meals as a relish.
Green Onion Kimchi Relish Ingredients
Here is everything you need to make this recipe:
325 grams green onions, chopped
175 grams cucumbers, minced
10-15 grams Kimchi spice blend (or to taste)*
150 grams filtered water
23 grams unrefined sea salt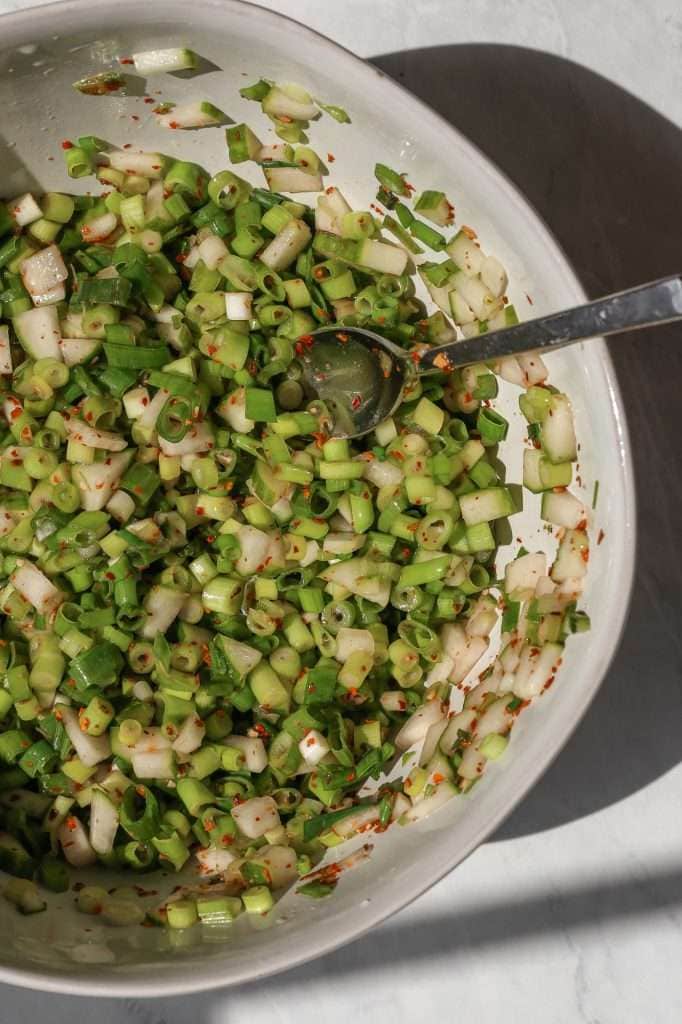 Kimchi Spice Blend
This recipe calls for my kimchi spice blend. I blend these spices in bulk and keep them in an airtight jar to easily use the kimchi spice whenever I want to start a new batch.
This is a dry spice blend, and I use organic bulk spices from Starwest Botanicals.
Here is how I make it:
You will need 455 grams gochugaru chili flakes, 300 grams minced garlic, 100 grams ginger powder, and 75 grams kelp granules (all of these are dry ingredients).
Mix the ingredients in a large bowl until evenly combined.
Store in an airtight container, such as a mason jar or weck jar.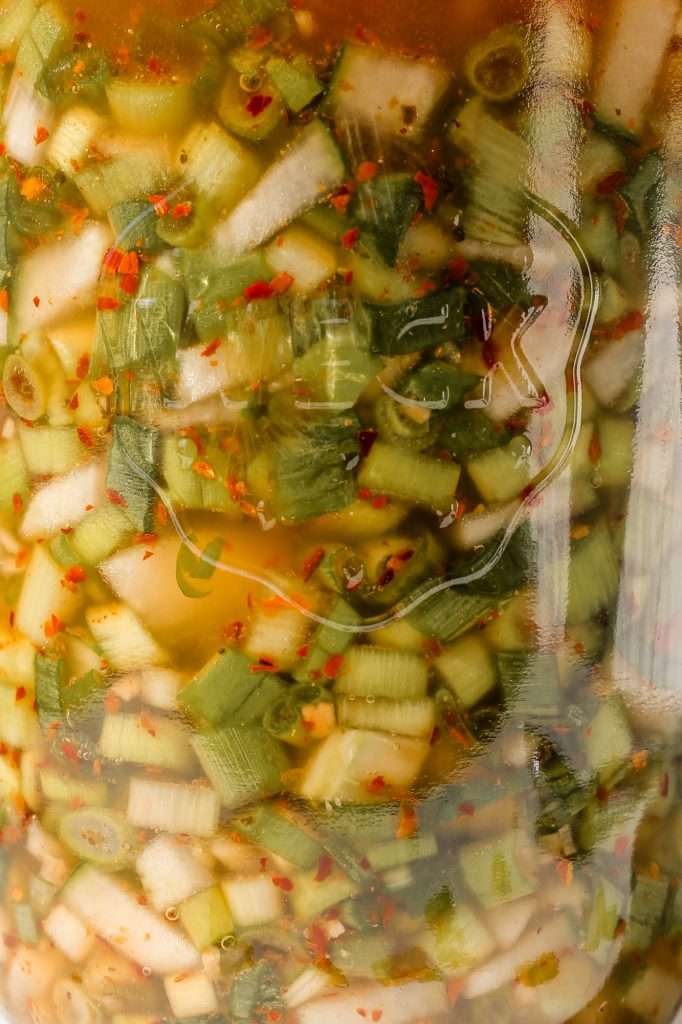 Timeline for Green Onion Kimchi Fermented Relish
24 – 48 hours: All contents in the jar should be submerged beneath the brine. At this time, there are still Gram-negative bacteria and possible pathogens present.
48 hours – 5 days: After 48 hours, you should start to see lots of bubbles being produced. This is when the ferment enters stage two of vegetable fermentation. Leuconostoc bacteria begin to thrive, and Gram-negative organisms die off.
5 – 10 days: The bubbles in the brine will decrease as the ferment leaves stage two and enters stage three. The ferment will become cloudy, the color will change, and a pleasant sour smell will develop. You should also recognize onion, garlic, and pepper smells. Lactobacillus species begin to thrive at this time.
10 – 15 days: Next, Lactobacillus make up most or all of the microbial population. They produce copious amounts of lactic acid, making the fermented green onions smell even more pleasantly sour. This is when the relish becomes naturally preserved.
14-21 days: This is when you want to smell and taste test. Wait for the green onion relish to smell and taste as you like, and refrigerate when you find the smell and taste most pleasant! We like ours best when we refrigerate at about 15 days.
Supplies You Need for Fermenting Green Onion Kimchi Relish
For the best sauerkraut flavor and texture, you should use weight measurements for your fermentation ingredients. That means you need a kitchen scale. Weighing your ingredients gives you consistent and superior fermentation results. This is the scale we use in our home kitchen.
Here is the equipment you will need to make it:
Wide Mouth Mason Jar
Standard Metal Mason Jar Lid (this can rust in the presence of salt)
OR Rust-Free Plastic Lid
or you can use a Weck Jar (without the gasket; only use the clips to secure the lid)
Sea Salt
Mixing Bowl
If you would like to read more about the best jars and lids for fermenting vegetables, click here.
More Fermentation Recipes to Try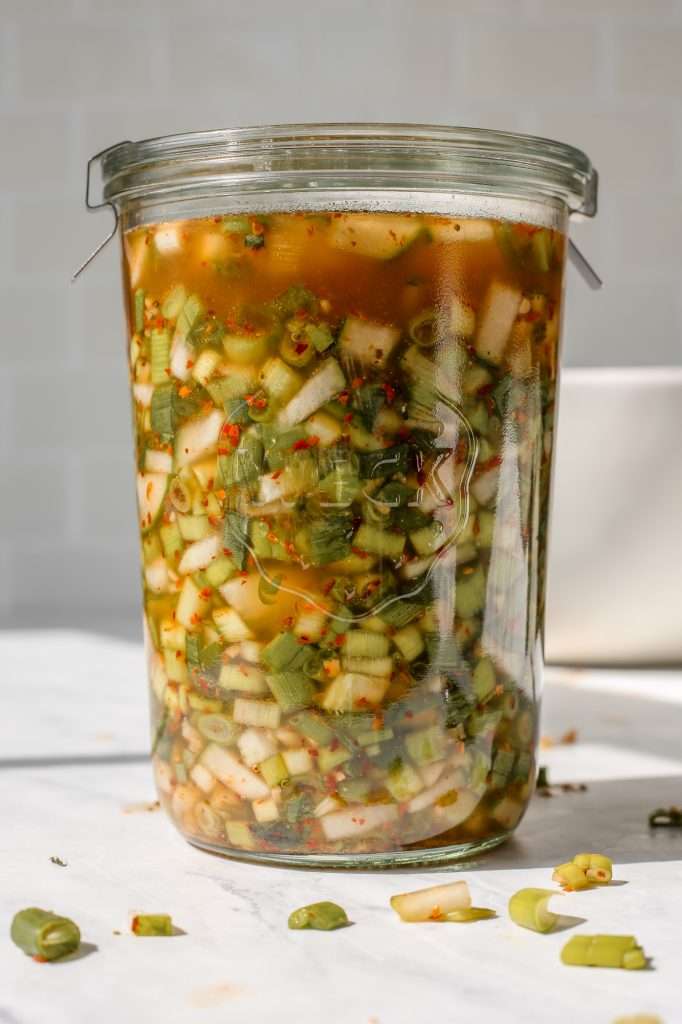 Print
Green Onion Kimchi Inspired Fermented Relish
Light, sour, briny, and full of delicious onion flavor. You're going to love this green onion kimchi inspired fermented relish. Use it anywhere you would use kimchi.
325 grams

green onions, chopped

175 grams

cucumbers, minced

10

–

15

grams Kimchi spice blend (or to taste)*

150 grams

filtered water

23 grams

unrefined sea salt
Instructions
This recipe at 1x fits best in a 25-ounce jar.
Wash your fermentation equipment (jar, weight, and lid)
Mince the green onions, tops and bulbs, (removing the roots), and lightly rinse with cool water removing any dirt.
De-seed the cucumber and mince it.
Place your kitchen scale on the counter. Turn it on and set it to weigh in grams.
Place a mixing bowl on your kitchen scale and tare/zero the scale.
Add the designated amounts green onions, cucumber and spice blend.
Remove the bowl from the scale and set it aside.
Place a small, empty bowl on your scale and tare/zero the scale. Weigh out the salt.
Add the salt into the bowl with the green onions and cucumber and mix with your hands until it becomes wet.
Place your empty, clean jar on the scale, and tare/zero the scale. Make sure your scale is still set to grams, and add the designated amount of filtered water to your jar.
Add the water into the bowl with the green onions and cucumber salt. Mix everything well.
Add the entire contents of the bowl into your jar, and pack everything down. (If you have a large cabbage leaf, you can stick that in the top of the jar to help hold all the onion pieces down).
Place your glass fermentation weight in the jar, submerging everything and the weight fully into the liquid.
Secure the lid to the jar.
Ferment for 14-21 days, then refrigerate. Don't forget to burp the jar daily during the bubbly phase. You can place the jar on a plate to catch any drips.
Notes
See the blog post above this recipe for kimchi spice blend directions.