This quick and easy recipe will give you the most flavorful, healthy fermented cherry tomato pickles. You only need a few ingredients and in just 24 hours, you'll have absolutely delicious probiotic cherry tomatoes!
Pickled Cherry Tomatoes
Tomato fermentation requires a wild heirloom culturing process, which is different from wild fermentation. Sometimes vine-growing vegetables, like cherry tomatoes, contain higher amounts of fermentable sugars. I mean, they are called cherry tomatoes because they are sweet and small. This method employs using sauerkraut brine and apple cider vinegar to ferment fresh vegetables, using wild bacteria found in sauerkraut brine. You can use any extra fermented vegetable brine you have though, like pickle brine or fermented pepper brine.
This method of fermentation is quite similar to yogurt fermentation, but here we are culturing vegetables with natural sauerkraut brine and ACV instead of using industrially manufactured starter cultures. This method is somewhat similar to refrigerator pickling too, but with microbes.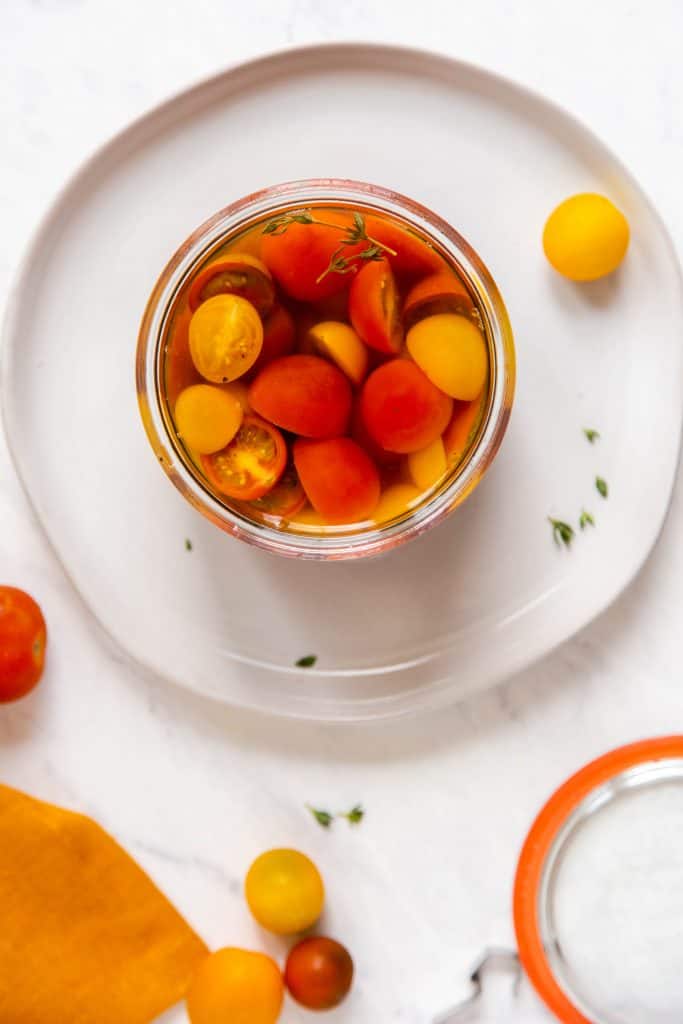 Lacto Fermented Tomatoes
So can you ferment tomatoes? If you'd like to stick to a true wild fermentation method for fermenting cherry tomatoes, be my guest. But I do not suggest it. Cherry tomatoes are more like fruit, they contain a good bit of fructose, so they are more prone to alcohol fermentation. I know a lot of people love to experiment though, and I always encourage it. Just use a 4% total salt concentration and see what happens. Through my own experience and through microbiological testing of my results, I cannot guarantee that traditional wild fermentation of cherry tomatoes is the healthiest option.
To read more about salt concentrations in fermented vegetables you can reference our Complete Guide to Safely Using Salt in Vegetable Fermentation.
Fermented Tomatoes
You are welcome to test out other types of tomatoes with this recipe. We also have a How to Ferment Green Tomatoes recipe blog you should try! For this recipe, you will need some naturally fermented sauerkraut brine (or any fermented vegetable brine), apple cider vinegar, and a bit of salt. We, of course, utilized some of our leftover sauerkraut brine and regular unrefined sea salt for this recipe. If you've fermented pickles or sauerkraut at home, either brine will work great!
Fermenting Tomatoes
This is a different kind of vegetable fermentation: You are culturing the tomatoes using sauerkraut brine, so you only need to ferment them for 24 hours, then place them in the fridge.
Always Trust your sense of smell: Fermented tomatoes should smell pleasantly sour and similar to a brined olive. Never eat anything that smells repulsive.
Never eat anything that had mold growing on it: By following the recipe you should not encounter this problem.
Taste test at 24 hours: If you prefer the tomatoes to be more tart and sour, let them sit in the refrigerator for a few days before eating. After 24 hours they should taste similar to brined olives.
Cherry Tomato Pickles
This recipe for making fermented cherry tomato pickles is very easy, but there are some things you will need to remember:
Keep your fermenting tomatoes at a temperature between 70-80 degrees F for 24 hours.
Keep out of direct sunlight
Since this is a fermentation with added cultures from the fermented vegetable brine, you should only ferment the Tomatoes at room temperature for 24 hours max. Then place the tomatoes in the refrigerator.
Consume within 6 months for full probiotic benefits!
Supplies You Need to Make Fermented Cherry Tomatoes
Fermentation Weight to fit your mason jar
Standard Metal Mason Jar Lid (this can rust in the presence of salt)
Unrefined Sea Salt
Mixing Bowl 
or you can use a Weck Jar (which is what is pictured here)
Print
How to Make Fermented Cherry Tomatoes
This quick and easy recipe will give you the most flavorful, healthy fermented cherry tomato pickles. You only need a few ingredients and in just 24 hours, you'll have absolutely delicious probiotic cherry tomatoes!
Author:
Prep Time:

15 minutes

Total Time:

15 minutes

Yield:

16 servings

Category:

Fermentation

Method:

culturing

Cuisine:

American

Diet:

Vegan
200 Grams

 Cherry Tomatoes, sliced

5 Grams

 of Unrefined Sea Salt

175 Grams

 of Fermented Sauerkraut Brine

75 Grams

 of Raw Apple Cider Vinegar
Instructions
Wash your fermentation equipment (jar, weight and lid). I like to sterilize my jars by pouring a little vodka in them, and shaking it around, then emptying it and letting it air dry.
Wash your cherry tomatoes in cool water.
Place your kitchen scale on the counter. Turn it on and set it to weigh in grams.
Place a mixing bowl on your kitchen scale and tare/zero the scale.*
Add tomatoes into the bowl on your scale until the scale reads 200 grams.
Remove the bowl from your scale.
Place your empty, clean mason jar on the scale, and tare/zero the scale. Make sure your scale is still set to grams and add 175 grams of sauerkraut brine (or any fermented vegetable brine) and 75 grams of apple cider vinegar to the jar.
Add the 200 grams of tomatoes, into the mason jar.
Place a small bowl on your scale and tare/zero the scale. weigh out 5 grams of salt. Then add the 5 grams of salt to the jar.
Place your standard mason jar lid on the jar, and secure. shake the jar vigorously for 2 minutes. (if you do not have a fermentation weight, simply stop here and place the jar in the fridge! Otherwise, move on to step 11)
Remove the silver standard mason jar lid. Place your fermentation weight in the jar making sure to submerge the tomatoes and weight fully in the liquid.
Secure the lid on your jar
Ferment for 24 hours.
Then remove the weight, secure a lid to the jar, and store in the fridge.
Notes
Once you eat all the tomatoes, use the brine for salad dressing! It's delicious.
Keywords: cherry, tomatoes, fermented foods, probiotic