I love parmesan bagels! These savory, cheesy, vegan parmesan sourdough bagels are perfect for breakfast and breakfast sandwiches! Try them with a little bit of butter or some vegan cream cheese.
Sourdough Starter
We have a few sourdough starter recipes on our blog, but my favorite type of sourdough starter to use for bagels is is our Sprouted Rye Sourdough Starter.
If you'd like to try another type of starter or a quick 2-day starter option, check out our Easy Sourdough Starter Recipe with Sourdough Starter Feeding Instructions. I know many people can struggle with sourdough starters in the beginning, so if you're new to the practice and have questions visit this blog: The Most Common Sourdough Starter Problems and How to Fix Them.
Types of Flour for Sourdough Bagels
When I get stressed out, which has happened often in 2020, I like to bake sourdough. My favorite sourdough product to make is bagels, by far. When making sourdough bagels, I find that the type of flour used is significant. I only use bread flour when I make bagels. All-purpose does work, but organic bread flour is the best and results in that true bagel texture. I have not tried making bagels with whole wheat flour. I have used half rye and half bread flour with success, though.
Making Sourdough Bagels
It may seem like bagels are a tough product to make, but I promise it's easy. It's especially easy if you have experience working with sourdough. Allow me to summarize the process. You start out with a big, relatively dry dough ball. The dough will be of less hydration than a traditional sourdough loaf. Then you'll let the dough rise for a few hours, stretching and folding once. Next, you'll divide the dough into 12 equal pieces and shape each of the pieces just as you would a loaf. Next, you'll allow the small dough balls to rise for one hour, and then final shape them into bagels.
After shaping the dough goes into the fridge overnight. In the morning, each bagel gets dipped into boiling water, then gets a sprinkle of toppings before baking.
Not too difficult, right? In the recipe, I tried to explain the hand technique I use to shape bagels clearly. If you need a visual, I have a video tutorial on making sourdough bagels in our Instagram story highlights.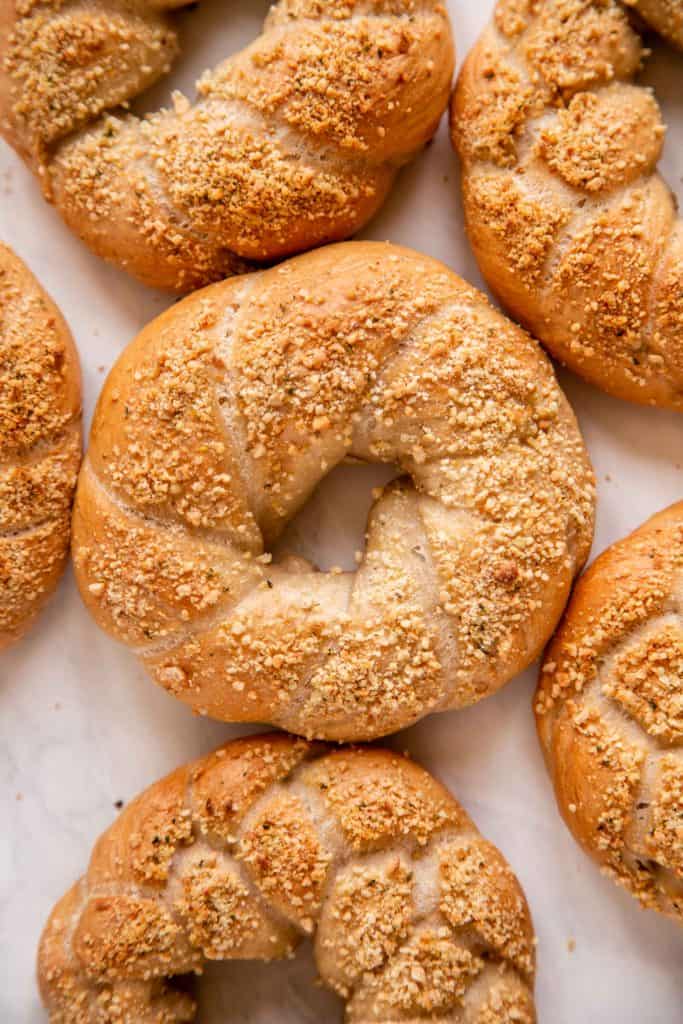 Making the Vegan Parmesan Sourdough Bagel Topping
This vegan parmesan topping has surprised me. I thought it would be something I made specifically for this recipe, but now I want to put it on everything! It's really easy to make, and doesn't require many ingredients. Here's what you will need:
Raw Cashews
Hemp Seeds
Nutritional Yeast
Salt
Garlic Powder
To make the cheese, just add all of these ingredients to a food processor or blender and pulse until it forms a parmesan cheese-like texture. It's really that simple. Just make sure you're pulsing the ingredients. If you blend continuously at a high speed, you may end up with a cashew butter consistency.
Braided Shaping Option for Vegan Parmesan Sourdough Bagels
This is a more laborious and complex shaping method. In the recipe below, I detail a regular shaping method that results in smooth traditional bagels. For the braided bagels, you will need to split each dough ball into thirds. Then gently pull out the pieces into little rectangles. Next, you roll up the rectangles into medium-long, semi-thick strands. Last you will braid the three strands together into a wreath shape.
Other Bagel Recipes to Try
Other Sourdough Recipes to Try
Print
How to Bake Vegan Parmesan Sourdough Bagels
I love parmesan bagels! These savory, cheesy, vegan parmesan sourdough bagels are perfect for breakfast and breakfast sandwiches! Try them with a little bit of butter, or some vegan cream cheese. 
Author:
Prep Time:

6 hours

Cook Time:

25 Minutes

Total Time:

6 hours 25 minutes

Yield:

8 Bagels

Category:

Fermentation

Method:

Baking

Cuisine:

American

Diet:

Vegan
6 Cups

Bread Flour

1 Cup

Sourdough Starter

1 1/4 Cups

Water, Cold

2 Teaspoons

Salt

2 Tablespoons

Maple Syrup

1/4 Cup

Water, Set Aside
For the Boiling Water Bath
1 Tablespoon

Baking soda

1 Tablespoon

Maple Syrup
Vegan Parmesan Ingredients
1/2 Cup

Cashews

1/4 Cup

Hemp Seeds

2 Tablespoons

Nutritional Yeast

1 Teaspoon

Salt

1/2 Teaspoon

Garlic Powder 
Instructions
In a large bowl, combine the starter, flour, salt, maple syrup, and cold water. 
Knead the ingredients together until a uniform dough ball forms. Use the extra 1/4 cup of water if necessary. 
Cover the bowl with a towel and rest the dough for 1 hour. 
Using a spray bottle filled with water, mist your clean countertop. Wet your hands and wet the top of the dough ball with the spray bottle. Turn the dough out onto the wet counter surface. Scrape out the bowl and rinse the inside of the bowl really well. Leave the bowl wet. 
Stretch and fold the dough. Stretch the top of the dough over the bottom, side over side, and bottom over top. Place the dough back in the bowl with the seam side down. Let the dough rest for 1 to 2 hours.
Do another wet stretch and fold at this point and let the dough rest for another 1 to 2 hours.
Next, lightly sprinkle some flour on the surface of your counter. Remove the dough from the bowl and place it on the floured surface.  
Stretch the dough into a rectangle that's a little bigger than a sheet of paper. Be gentle with the dough!! You don't want to flatten it. Just lightly pull the sides until it's a rectangle about the size of a sheet of paper. 
Using a knife or a pizza cutter, cut the dough into 8 even squares. 
Line a baking sheet with parchment paper and sprinkle flour on top of the parchment paper. 
Grab a single square, and fold in the corners of the dough over each other, forming a small round dough ball. Place the dough ball on the floured parchment paper. Repeat for the other squares. 
Lightly sprinkle the top of the dough balls with flour. Cover the dough balls with a towel and let them rise for 1 to 2 hours.
Flour your hands and pick up a dough ball. Place it in your right hand. Using your thumb on the top of the dough ball and middle finger on the bottom, squeeze a hole through the center of the dough ball. Bring your index finger and ring finger through the hole in the dough to touch your thumb. 
Use your other hand to guide the donut-shaped dough through your right-hand palm and fingers that are held in a circular shape. This is how you create a nice bagel shape. 
Place the shaped bagels back on the floured parchment paper. (lightly sprinkle more flour if you need to)
Let the shaped bagels proof at room temperature for 2 hours.
Place the bagel dough in the refrigerator for a final proof of 12 hours. 
After 12 hours, preheat your oven to 450° F. 
Prep the parmesan topping: In a blender or food processor combine all of the parmesan cheese ingredients. Pulse for about one minute, until the ingredients combine to resemble parmesan cheese crumbles. Don't blend on a high speed, or you will end up with cashew butter. 
Bring a large pot of water to a boil. Add in the baking soda and the maple syrup. 
Using a slotted spoon, place each bagel in the boiling water for about a minute, flipping after 30 seconds. 
Remove the bagel from the water, place it back on the parchment paper, and sprinkle on the vegan parm topping. 
Repeat for the remaining bagels. Once they all have toppings, place the bagels in the oven. 
Bake for approximately 20 minutes until golden brown. Rotate the bagels at 10 minutes for even baking. 
Remove and allow to cool for 30 minutes. 
Notes
*While kneading, you can add 1/4 to 1/2  cup more water to the dough to help it come together. 
*Bake time may vary. I usually end up baking for 35 minutes total. You can check the bagels every 5 minutes to ensure you do not overcook them. 
Keywords: Sourdough, Bagel, Vegan, Parmesan