This is a comprehensive guide to safely using salt in fermentation. Learn about different salt fermentation methods, the best salt for fermentation, and the best salt concentration to use when fermenting different vegetables.
Different Salt Fermentation Methods
There are a few ways we can use salt to ferment. For this blog, I want to focus on wild fermentation, wild heirloom culturing, and salt curing.
Wild fermentation is an ancient form of food preservation that requires salt. Also known as lacto fermentation, this fermentation occurs when certain bacteria ferment plant compounds and produce lactic acid as a byproduct. All it takes is the addition of a precise salt concentration to vegetables, and you can turn plain vegetables into wild fermented foods.
Popular wild-fermented foods include sauerkraut, kimchi, and pickles.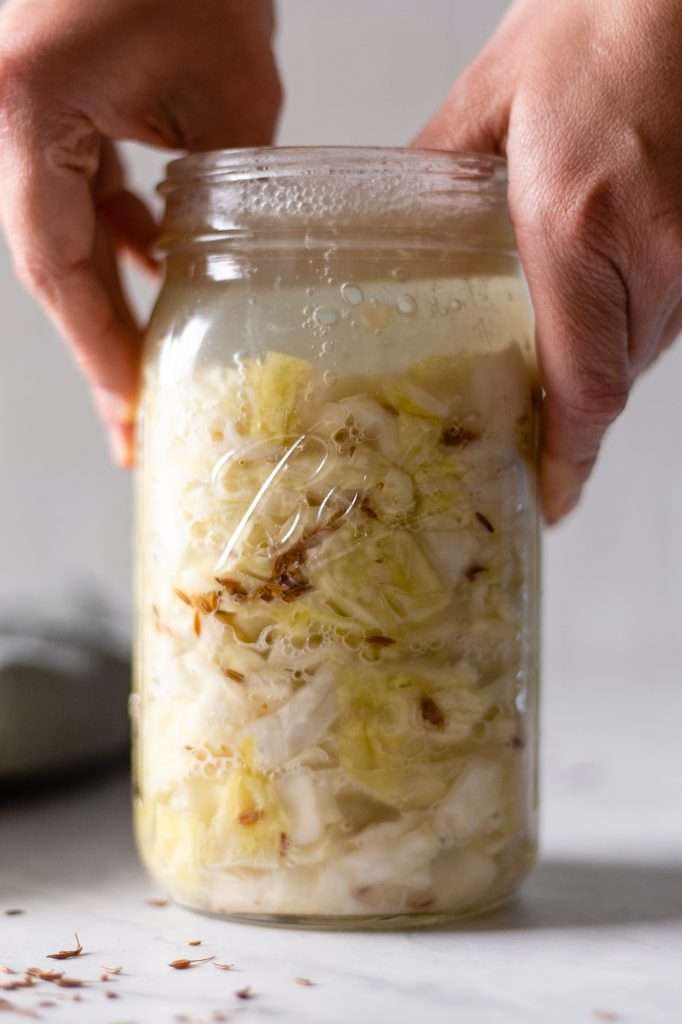 Wild heirloom culturing is also a salty fermentation process with beneficial wild microbes, but it is quite different. To wild heirloom culture vegetables, we use salty, acidic fermented sauerkraut brine (or any wild fermented vegetable brine; brine is the liquid in a jar of already fermented vegetables) and apple cider vinegar.
This fermentation method is more similar to yogurt fermentation than to something like sauerkraut fermentation… and it's very similar to refrigerator pickling but with more salt and beneficial microbes included. My favorite vegetables to wild heirloom culture are red onions, cherry tomatoes, and mushrooms.
Lastly, there are high-salt fermentation methods called salt curing. Salt curing uses exceptionally high levels of salt to preserve ingredients.
While the other two methods usually include water, either added or from the vegetables themselves, salt curing does not. Curing is a "dry" process. No water is added, and so much salt is added that it reduces any water activity. Foods like miso and Moroccan preserved lemons are considered salt-cured. These foods still contain microbes but are not as microbially active as the previously discussed methods.
The Best Salt for Fermentation
Any salt will work for fermentation. Contrary to popular belief, even iodized salt works in fermentation. Though, some salts are much better for fermentation than others due to their trace mineral content. Trace minerals in salt can sometimes encourage more beneficial microbes to thrive in fermentation.
The four best salts to use in fermentation are:
How Much Salt Should You Use?
How much salt you should use in fermentation depends on several factors. First and most importantly, what are you fermenting?
What you want to ferment determines which salt fermentation method you should use: wild fermentation, wild heirloom culturing, or salt curing.
To decide what method to use, you must look at the sugar and complex carbohydrate content. Don't worry, though; I've broken it down for you. You'll notice some things can be salt fermented using different methods.
I want you to note that I do not recommend wild fermentation with salt for sweet fruits and root vegetables. These can be added to cabbage sauerkraut with great results. However, they can be difficult to wild ferment and most often lead to alcohol fermentation instead of lacto fermentation. With high-sugar ingredients, it's best to stick to drinks like kvass and making vinegar.
What to Wild Ferment:
Cabbage
Leafy cruciferous vegetables
Cucumbers
Bok choy
Peppers
Green beans
Celery
Swiss chard
Zucchini
What to Wild Heirloom Culture:
Tomatoes
Onions, and the whole onion family
Garlic
all root vegetables
Mushrooms
Zucchini
What to Salt Cure:
Beans and legumes (miso)
Citrus fruits
Other sweet fruits
High fructose and fructan vegetables
Root Vegetables
Winter Squash
The Best Concentrations for Salt Fermentation
Now, when using wild fermentation, you should use different salt concentrations for different types of vegetables. The salt concentration is a total w/w salt concentration %. That means the salt we add is a % of the weight of all water-containing ingredients. Click here to learn how to calculate the grams of salt to use.
Before you get to the chart, I want to clarify the term "grows from a blossom." I sometimes also call these "vine-growing vegetables." This category includes anything that grows above the ground, from a flower on a vine-like or bushy plant. So, all the vegetables that are fruits: zucchini, eggplant, green beans, okra, yellow squash, corn, tomatillos, chayote, string beans, and snap peas.
For the best results, these are the salt concentrations I recommend when wild fermenting:
How to Measure Salt Correctly
To measure salt correctly for wild fermentation (lacto fermentation), you must use a kitchen scale to measure all ingredients.
The amount of salt you should use will depend on the type of vegetables you want to ferment and the weight of all the water-containing ingredients you add. Using grams (metric units) to measure your ingredients for wild fermentation is best.
Click here to learn how to calculate the grams of salt to use.
More Articles You'll Enjoy