The fermented beet and red cabbage sauerkraut recipe is the best way to make fermented beets and cabbage. This beet sauerkraut is excellent for beginners and is ready to eat in three weeks.
Red Cabbage Sauerkraut with Fermented Beet
I should have titled this blog: How to Magically Get Nothing on Your White Sweater While Mixing Red Cabbage and Beets. I usually don't cook with an apron; maybe I should. Lol.
Homemade sauerkraut is the best fermented food to make if you're new to fermenting vegetables at home. Sauerkraut is particularly easy for a first fermentation project since cabbage ferments exceptionally well.
The water content and the microbial species richness of cabbage make it optimal for wild fermentation!
This recipe teaches you how to make probiotic red cabbage and beet sauerkraut in a mason jar.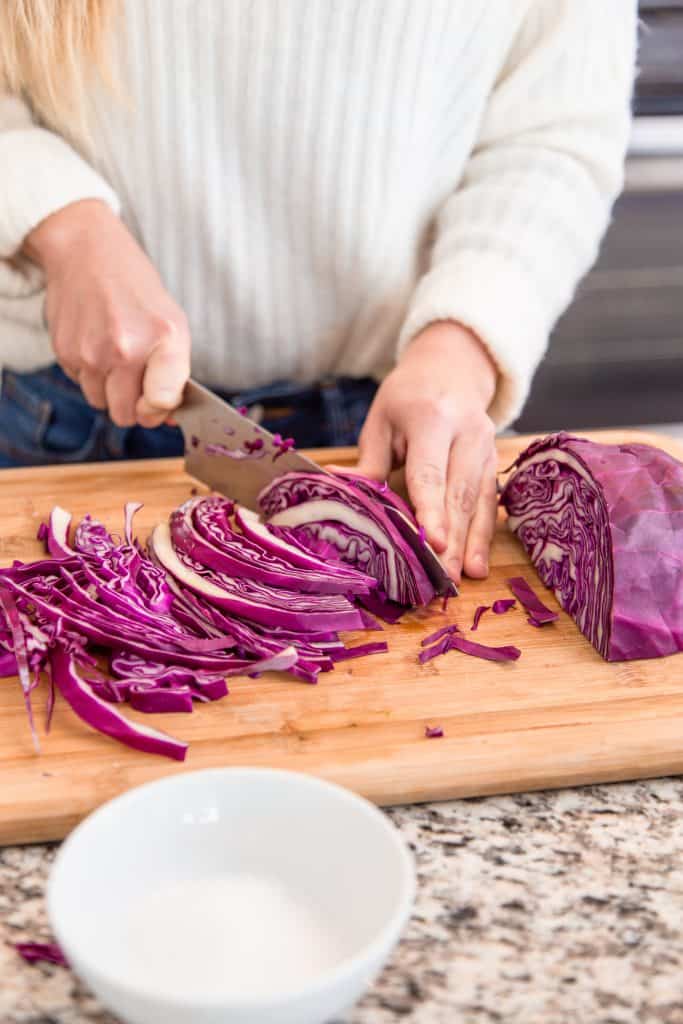 Can you make sauerkraut with red cabbage?
I love ginger beet sauerkraut. It's especially great for fall, aka cold and flu season. With just a few simple ingredients and a few weeks of fermentation, you can craft a nutrient-dense, probiotic, flavorful sauerkraut.
Using red cabbage to make sauerkraut is the best. It's a slightly sweeter cabbage and contains tons of beneficial nutrients, and purple cabbage has more vitamin C, carotenoids, and flavonoid antioxidants, such as anthocyanins and kaempferol, than green cabbage.
Beets are another great source of nutrients, and they're packed with potassium, betaine, magnesium, and folate. And let's not forget about ginger! Phenolic compounds in ginger are known to help relieve gastrointestinal irritations and aid in digestion.
All these nutritional benefits combined with the natural probiotics from wild fermentation make ginger beet sauerkraut a superfood.
I add a bit of water to all my cabbage fermentation recipes, and water is still drawn out of the cabbage when salt is added. However, having water as a part of this recipe accounts for seasonal changes in produce hydration levels. So no matter where you are in the world or what your cabbage is like, you should be able to keep everything submerged in the brine and succeed with this recipe.
Fermenting Red Cabbage Sauerkraut
To master fermentation, you'll need to use weight measurements for your fermentation ingredients, which means you need a kitchen scale. To select the best probiotic bacteria (the beneficial ones) in your ferments, you must weigh salt to create a specific salt concentration.
Weighing salt is the only way to create a salt concentration that will select only probiotic microbes to thrive. You can read more about why you must weigh your salt & how to calculate salt concentration here.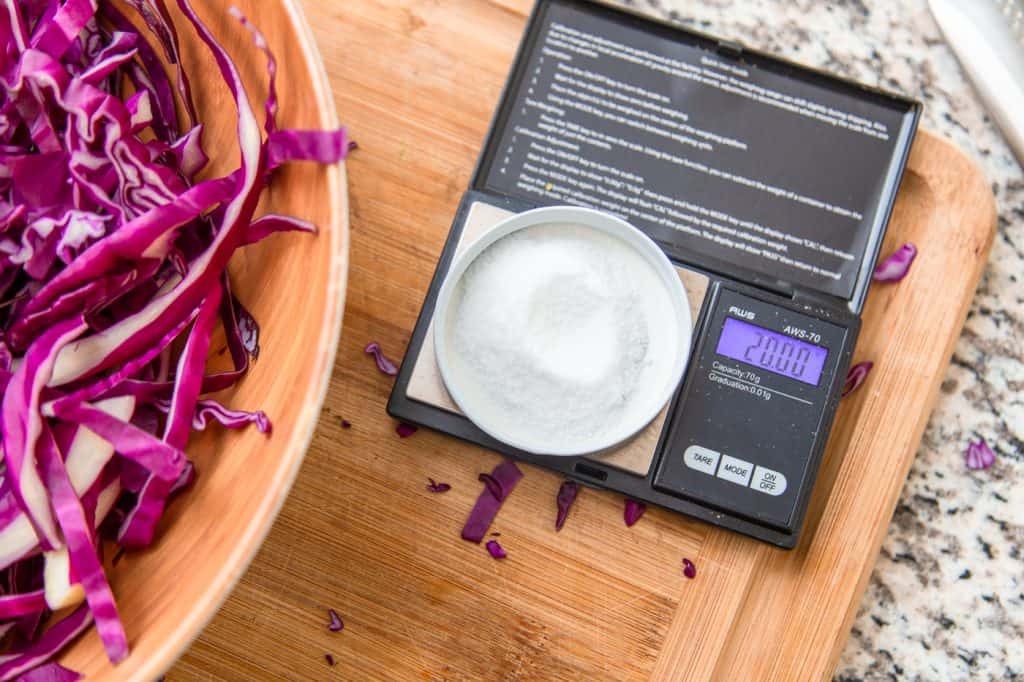 In this recipe, we are adding 2.5% salt (that means we are adding 2.5% of the cabbage + water weight in salt → i.e. 2.5% x 800 grams = 20 grams.
So we are adding 20 grams of salt to give us a 2.44% total salt concentration.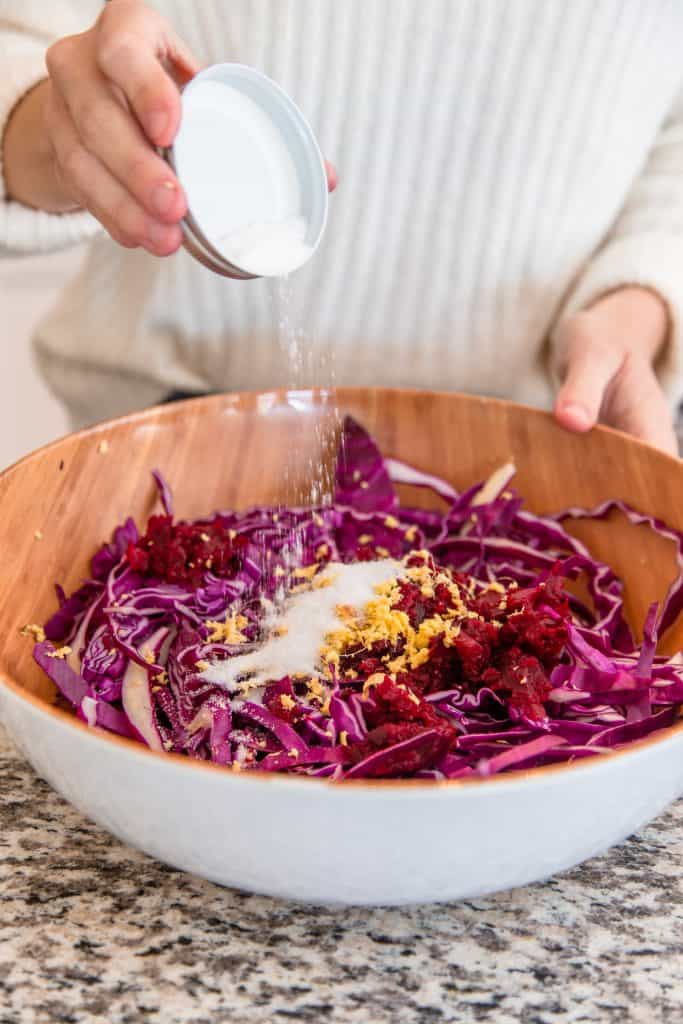 Supplies You'll Need to Ferment Beet and Red Cabbage Sauerkraut
Standard Metal Mason Jar Lid (this can rust in the presence of salt)

or you can use a Weck Jar (without the gasket; only use the clips to secure the lid)
Sea Salt

Mixing Bowl
Red Cabbage Sauerkraut Fermentation Timeline
We tracked our kraut throughout the fermentation process. By checking the progress of microbial stages using microscopy, we have provided you with this handy timeline! If you follow our recipe and directions, your timeline of sauerkraut fermentation should approximately match ours!
24 – 48 hours: All contents in the jar should be submerged beneath the brine. At this time, Gram-negative bacteria and opportunistic pathogens are present, and these microorganisms utilize oxygen and will use up all the oxygen in the liquid.
48 hours – 10 days: After 48 hours, you should see lots of bubbles produced. This is when the ferment enters stage two of vegetable fermentation, Leuconostoc bacteria begin to thrive, and all Gram negative organisms die off.
10-14 days: The bubbles in the brine will decrease as the ferment leaves stage two and enters stage three. The ferment will become cloudy, the color will change, and a pleasant sour smell will develop. Lactobacillus species begin to thrive in this period.
14 – 21 days: Lactobacillus comprise most or all of the microbial population. Leuconostoc bacteria die-off. Lactobacillus spp. produce copious amounts of lactic acid and make the fermented cabbage smell even more pleasantly sour. This is the time in which the vegetable mixture becomes preserved.
What Temperature Should I Keep My Red Cabbage Sauerkraut At?
Keep your fermenting cabbage at a temperature between 70-80 degrees F. Keep out of direct sunlight
How Long Should I Ferment Beet Sauerkraut?
After 3-4 weeks, remove the fermentation weight, smell, and taste test. Your fermented cabbage should smell pleasantly sour and taste tart, lightly salty, and cabbagey.
Do I Need to Refrigerate Beet Kraut?
After fermenting for 3-4 weeks, remove the weight and place a regular mason jar lid on the jar and refrigerate. Consume within six months for full probiotic benefits.
Homemade Beet and Red Cabbage Sauerkraut Tips
During the first few days of fermentation: carbon dioxide and bubbles will be produced. Sometimes jars will become full of liquid, which can seep out.
Remove the lid and tamper everything back down using a gloved hand, tamper, or spoon. Ensure everything, including the weight, is submerged below the brine. Rinse off the lid if it is dirty.
Always Trust your sense of smell: Fermented cabbage should smell pleasantly sour and like strong cabbage. Never eat anything that smells repulsive or yeasty.
Never eat anything with mold growing on it: You should not encounter this problem by following directions.
Taste test at three weeks: If you prefer the sauerkraut to be more tart and sour, let it ferment for four weeks.
Print
Fermented Beet and Red Cabbage Sauerkraut with Ginger
The fermented beet and red cabbage sauerkraut recipe is the best way to make fermented beets and cabbage. This beet sauerkraut is great for beginners and is ready to eat in three weeks.
Author:
Prep Time:

15 Minutes

Cook Time:

0 minutes

Total Time:

15 Minutes

Yield:

1 Quart

Category:

Fermented Foods

Method:

Fermentation

Diet:

Vegan
500 grams

Red Cabbage

100 grams

Shredded Beets

1 Tablespoon

Fresh Grated Ginger

20 grams

Unrefined Sea Salt

200 grams

Filtered Water
Instructions
Wash your fermentation equipment (jar, weight, and lid)
Remove the outer leaves of your cabbage and lightly rinse with cool water. Using a knife, chop the cabbage to your desired thickness.
Place your kitchen scale on the counter. Turn it on and set it to weigh in grams.
Place a mixing bowl on your kitchen scale and tare/zero the scale.
Add the designated amounts of chopped cabbage, beets, and ginger.
Remove the bowl from the scale and set it aside.
Place a small, empty bowl on your scale and tare/zero the scale. Weigh out the salt.
Add the salt into the bowl with the cabbage, and mix with your hands until the cabbage becomes wet.
Place your empty, clean jar on the scale, and tare/zero the scale. Make sure your scale is still set to grams, and add the filtered water to your jar.
Add the water into the bowl with the cabbage and salt. Mix everything well.
Starting with the liquid, add the entire contents of the bowl into your jar, and pack everything down.
Place your glass fermentation weight in the jar, submerging the cabbage pieces and weight fully into the liquid. If your weight is smaller than the diameter of your jar, you can tuck everything in with a large cabbage leaf and place the weight on top. If you don't have enough liquid, place your glass fermentation weight in the jar and submerge as much as possible. Over the next 12 hours, the cabbage should release more liquid, and you can press down your fermentation weight below the brine.
Secure the solid lid to the jar.
Ferment for 21-28 days, then remove the weight and refrigerate. Don't forget to burp the jar daily during the bubbly phase.
If you try this recipe and love it, please leave a five-star review below!
Notes
See fermentation care instructions and timeline above this recipe.
Taring/zeroing the scale with a container on it subtracts the weight of the container, allowing you to weigh only what is added to the container. After taring/zeroing the scale, the scale should read 0.0 with the container on it.
Keywords: fermented,beet,red cabbage,sauerkraut,fermentation