How do you quick pickle and ferment carrots at the same time? Easy, you just need sauerkraut brine, apple cider vinegar, and some fresh carrots! You can slice or chop the carrots any way you like. try adding in some jalapeno slices or garlic for flavor.
Fermented Carrots
The way I ferment carrots is different from the way I usually ferment other vegetables. I've done quite a few fermented carrot recipe tests using traditional wild fermentation techniques… and I wasn't too fond of them. They usually tasted yeasts and effervescent. So I turned to my other favorite method of fermentation called wild heirloom culturing.
Quick Pickled Carrots
My wild Heirloom culturing method uses sauerkraut brine (or any fermented vegetable brine) and apple cider vinegar to ferment fresh vegetables using wild heirloom cultures found in the fermented sauerkraut brine. 
This method of fermentation is more similar to yogurt fermentation than it is to something like sauerkraut fermentation… and it's very similar to refrigerator pickling (aka quick pickling), but with beneficial microbes included. Now, it does take a little longer than a straight vinegar quick pickle. Kind of like in yogurt culturing, you need to give the microbes a little time to ferment the carrots.
Options for Fermenting Carrots
You can use this recipe to ferment carrots with any mix of spices and additions you like. So you can add in some garlic, or some jalapeno to put your own twist on it. Just keep the total weight of vegetables at 300 grams in the recipe.
You can wild ferment carrots in a salt brine if you want, it's just my preference to do it this way. If you can just dump already acidic brine with a lot of Lactobacillus already present, you can skip the first two stages of wild fermentation (you know the part with all the bubbles). Lactobacillus bacteria only make lactic acid, they can't make alcohol. So the carrots will still ferment, but only the desirable homolactic fermentation occurs.
How to Pickle Carrots with Sauerkraut Brine
Here are the supplies you need to make these quick pickled fermented carrots:
Fermentation Weight to fit your mason jar
Standard Metal Mason Jar Lid (this can rust in the presence of salt)
Unrefined Sea Salt
Mixing Bowl
or you can use a Weck Jar (which is what is pictured here)
Probiotic Pickled Carrots Recipe
Here are the ingredients will need to make low-sodium fermented carrots:
Sauerkraut Brine (the liquid from already fermented sauerkraut)
Rice Vinegar or Apple Cider Vinegar
Carrots
Pickling Spices
This is a different kind of vegetable fermentation: You are culturing the carrots using sauerkraut brine, so you only need to ferment them for 48 hours, then place them in the fridge.
Always Trust your sense of smell: Fermented carrots should smell pleasantly sour and a bit carrot-y. Never eat anything that smells repulsive.
Never eat anything that had mold growing on it: By following directions you should not encounter this problem.
Taste test at 48 hours: If you prefer the Carrots to be more tart and sour, let them sit in the refrigerator for a few days before eating.
Fermented Carrot Sticks
This recipe is great with carrots cut any way you like. I've even used already cut bags of carrot matchsticks to make this recipe, with great results.
Peeling your carrots is also optional. I often make this recipe with unpeeled, very fresh carrots from my garden. Since carrots grow in the soil, it is a good idea to scrub them well if you aren't going to peel them.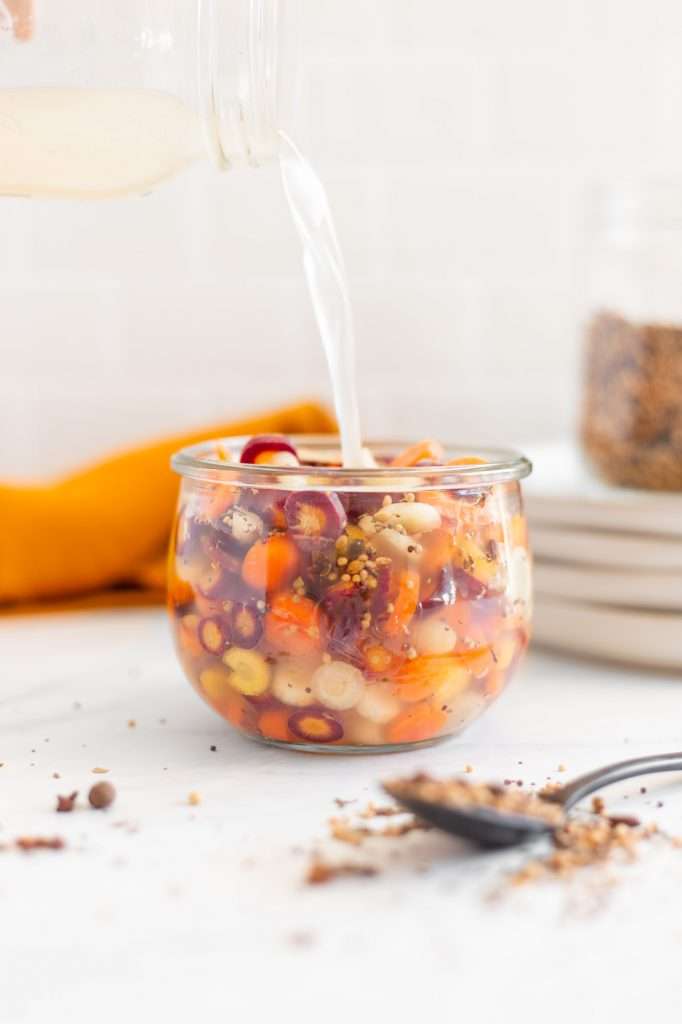 Print
Easy Fermented Quick Pickled Carrots
How do you quick pickle and ferment carrots at the same time? Easy, you just need sauerkraut brine, apple cider vinegar, and some fresh carrots! You can slice or chop the carrots any way you like. try adding in some jalapeno slices or garlic for flavor.
Author:
Prep Time:

10 minutes

Total Time:

10 minutes

Yield:

12 Servings

Category:

Fermented vegetables

Method:

Fermentation

Cuisine:

american

Diet:

Low Salt
300 Grams

Carrots, peeled and chopped

5 Grams

Unrefined Sea Salt

175 Grams

Fermented Sauerkraut Brine

75 Grams

Raw Apple Cider Vinegar

2 Cups

Boiling Water
Instructions
Wash your fermentation equipment (jar, weight and lid) 
Wash your chopped carrots in cool water. (You can chop them, grate them, cut them to whatever consistency you'd like).
Place your kitchen scale on the counter. Turn it on and set it to weigh in grams. 
Place a mixing bowl on your kitchen scale and tare/zero the scale.
Add chopped carrots into the bowl on your scale until the scale reads 300 grams. 
Remove the bowl from your scale. Add two cups of boiling water to the carrots and blanch for 3 minutes. Immediately strain the carrots from the boiling water after three minutes, and put aside.   
Place your empty, clean mason jar on the scale, and tare/zero the scale. Make sure your scale is still set to grams and add 175 grams of Cultured Guru Sauerkraut Brine and 75 grams of apple cider vinegar to the jar. 
Add the 300 grams of carrots, into the mason jar. 
Place a small bowl on your scale and tare/zero the scale. weigh out 5 grams of salt. Then add the 5 grams of salt to the jar of carrots.
Place your standard mason jar lid on the jar, and secure. shake the jar vigorously for 2 minutes.
Remove the silver standard mason jar lid. Place your fermentation weight in the jar making sure to submerge the carrot pieces and weight fully in the liquid. 
Secure the standard mason jar lid to the mason jar. 
Ferment for 48 hours. Then remove the weight, secure a standard lid to the jar, and store in the fridge.
Notes
Taring/zeroing the scale with a container on it subtracts the weight of the container, allowing you to weigh only what is added to the container. After taring/zeroing the scale, the scale should read 0.0 with the container on it. 
Keywords: carrots, low sodium, fermentation